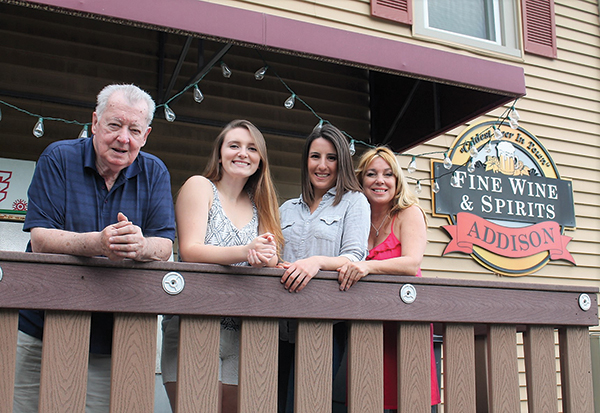 Addison Fine Wine & Spirits
802 Hebron Avenue
Glastonbury, CT
Square Footage: 2,000
Years in Operation: 8
By Savannah Mul
Tom Taylor and his family are no strangers to the liquor industry. Beginning in the 1980s, he has owned multiple stores, ranging in size from 2,000 to 10,000 square feet, throughout Connecticut. Today, at 81, he sits behind the register at Addison Fine Wine & Spirits in Glastonbury, greeting guests with kindness, humor and laughter.
"It's a great retirement," Tom Taylor said. "It gives me an agenda every day; I know when my sales[people] come in and when my liquor is delivered. It's a good, consistent industry."
Prior to buying the Hebron Avenue space, Taylor said he used to drive by the location, each time thinking "it would be a good location to do business in." When it was listed for sale, he had his chance. He purchased the store, completing the cosmetic updates and changing the stock to increase variety. With new branding, fresh paint and window displays, the store has developed a loyal customer base and is known "for the coldest beers in town," laughed Donna Taylor, Taylor's daughter who works at the store.
Addison Fine Wine & Spirits is a family affair, and now has third-generation family members working at the store, which includes Taylor's granddaughters, Eleni Medici and Ashlynn Taylor, who is studying for her sommelier certification.
"The store is a second home to all of us. My passion lies in wine after seeing my grandpa and father work in the industry," Ashlynn Taylor said. Donna Taylor said, "It helps having all the different age groups working together. Each of us has been able to capture our own audience of shoppers; it's very diverse."
After being in the business for nearly four decades, Tom Taylor has seen trends come and go and said as a retailer, "Your job is [to] make people feel comfortable and give them a reason to come back." The staff fosters personalized service from sharing stories behind each wine brand to handling special orders of craft beers and unique spirits.
The store's sales are spilt nearly evenly across beer, wine and spirits, but as the seasons shift they see beer sales increase in the summer and wine sales increase in winter. Tom Taylor makes sure to keep a chilled variety of products year-round for those guests looking for that special Sauvignon Blanc or rosé to pair with dinner.
"It's a small store, so we rotate products and do special orders. We follow three things [when evaluating products], price, taste and packaging … every slot we have is real estate," said Donna Taylor.  Tom Taylor adds in, "We have a large selection of imported and domestic wines, beer and spirits in all price ranges."
Addison Fine Wine & Spirits lends an arm locally via donations to local charities, another extension of its family-centric operations and sense of community. "I've known one of my salesmen for 35 years," Tom Taylor said. "I've met great people and made good relationships."