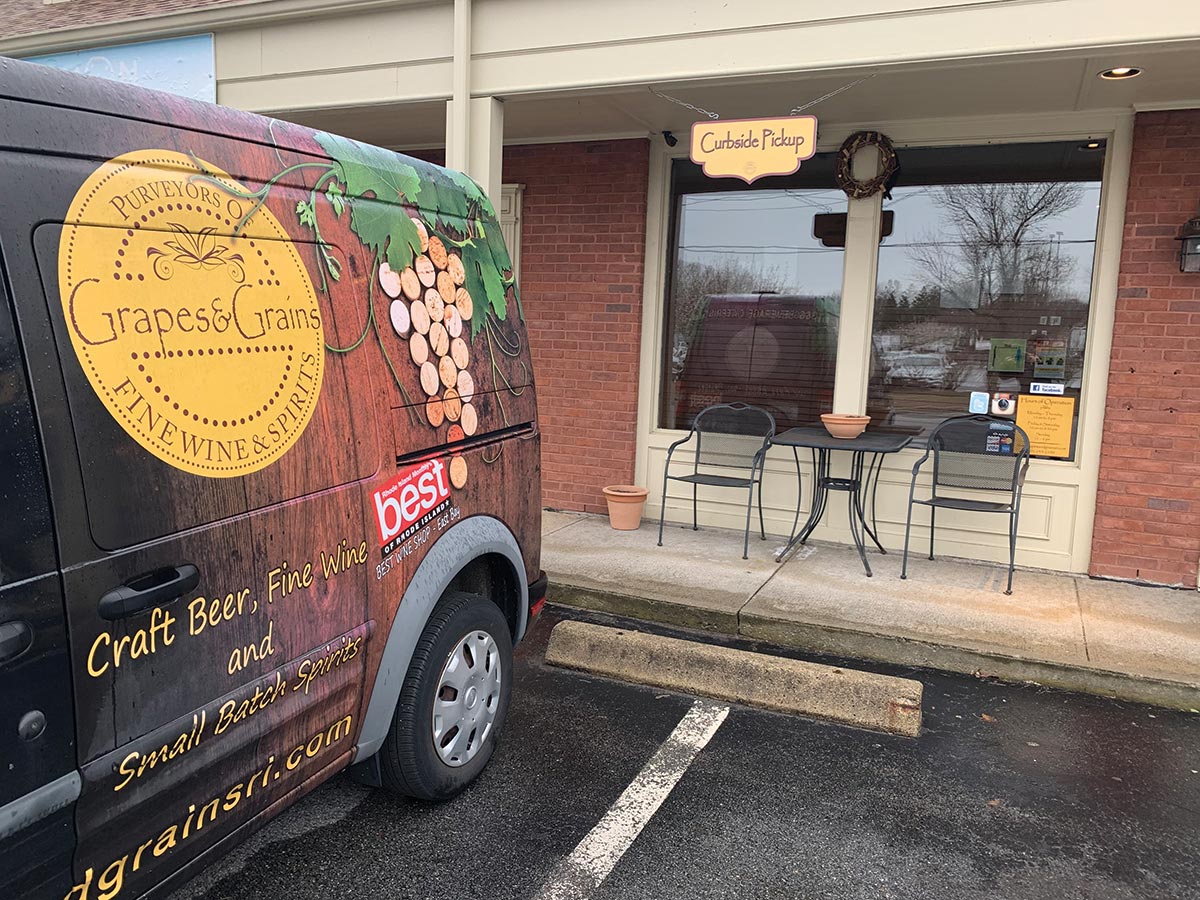 Demand for delivery and curbside pickup increases amid pandemic
By Sara Capozzi
As the industry continues to feel the effects of the coronavirus pandemic, package stores are adapting their operations. Governor Gina M. Raimondo's executive order deemed package stores an essential service in the state of Rhode Island, allowing them to remain open. Many have opted to change their business models to allow for more, if not all, business to transition to curbside pickup and delivery.
In talking to a number of stores across the state, the recurring theme was of balance in meeting customer needs while keeping staff and customers safe.
John Callaghan, Co-owner of Bellevue Wine & Spirits in Newport, said sales were up, at least initially, as the state's shutdown rules and timeline plans were announced. "We've seen an increase in sales, especially the week before," he said, noting that customers were buying their usual items, albeit in bigger volumes.
Bellevue offers curbside pickup and delivery options for its shoppers and requests for both have increased throughout the onset of social-distancing mandates. Callaghan, who reduced operating hours, estimates about a third of business as of the first week of April is curbside pickup and delivery. To encourage distancing when customers are waiting in line, they have marked 6-foot sections on the floor and only 10 people are allowed in the store at a time, including employees. The team regularly disinfects all surfaces, including counters and doors.
Callaghan attributes a portion of the early increased sales to the fact that "summer residents have returned early coming from the cities. I would suspect that any second-home communities outside the cities are going to get busier with people returning earlier. I would think that's going to be [the same] all over."
Frank Fede, Head of the Retailers Association and Owner of Kingstown Liquor Mart in North Kingstown, also elected to modify his store hours while keeping customers and staff safe. "We're trying to do everything possible to accommodate our customers," he said. "We have curbside service. We disinfect the store every day. Most of all we try and stay in touch with all of our independents on changing the time we're opening. We cut down our hours, especially at night. That way we're keeping people off the road."
Like Callaghan, Fede sees more customers opting for curbside pickup. "If it wasn't for the curb service, it would really be less than a normal business day. Not too many people are coming in the store right now that did previously. We're just trying to do our due diligence in the industry," he said, recommending that member stores reduce their store hours from the state's 14-hour maximum.
"Cut down your man-hours … It'll be easy on our help also to give them a break. You don't have to be open that many hours in a crisis like this. If all our retailers stick together, I'm sure we'll be able to get through this in a timely fashion," Fede said.
Michael Iannazzi, Owner of Nikki's Liquors in Providence, said by the week of March 30 that sales had normalized. "It's not as high as it's been for the previous two weeks. I think the panic-buying is over," he said. The store had always offered curbside pickup, and as he'd anticipated more customers would want delivery services, Iannazzi plans to have delivery through Drizly up in early April.
Iannazzi said he limits the number of shoppers in the 5,000-square-foot space to 10 people at a time and has hand sanitizer stations at the front doors and in checkout areas. "Right now, we're propping all the doors open, so you don't have to touch the doors when you walk through … there's no touch points there and then every hour or so we wipe down all the cooler doors and all the keypads. We're sanitizing pretty much every half hour to hour."
Staff at some stores were racing to keep up with demand. "I am swamped with orders right now. I can't even stop, I'm so far behind," said Bill Rizzini, Manager, Wines & More in Cranston.
Samantha Barberet at The Savory Grape in East Greenwich said, "We have seen a spike in retail sales, especially when the governor speaks; people stock up a bit more. We have moved to curbside pickup and delivery only. We are lucky to be open and we welcome all business."
Grapes & Grains in Barrington closed its store to the public on March 17. The store was busy working to convert all of its business to an online ordering model, including offering home delivery, during the early response days of the shutdown. Owner Matt Amaral, who is also a broker for Ocean Point Insurance, said he sees the mathematical equation of COVID-19 and takes it very seriously.
"As of March 17, I took this more seriously than other businesses in the community and the state, knowing it's not business as usual, and the only way we were going to distance ourselves was to lock our doors, implement and change how we conduct our business for the safety and health of our community," he said. Amaral said he hasn't allowed a consumer in the store since then.
Since cleaning every bottle and every shelf would be impossible, Amaral has had the shop fogged with a neutralizer that would kill any existing viruses and bacteria and has purchased medical-grade cleaning supplies, among other business precautions.
"We're working as hard as we've ever worked on developing an e-commerce store, making sure our rewards program is working, making sure the discounts are in place, that all of the inventory is counted and accurate, we're setting up the logistics of how we're going to pick and pack for delivery." Amaral said he believes the industry should be doing more to prevent the spread of the virus along the supply chain.
Amaral said he asks wholesaler delivery staff to drop off products at the store's gate so they don't walk into the store. "I want my employees to feel safe. I want my community to feel safer knowing we're conducting ourselves in a manner that we're taking precautions and putting new measures in place. It'll never be 100%, but at least our effort of trying is better than just keeping our door open and letting them use our community pen to sign their sales receipt. That is how this is spreading.
"Being a risk manager, my mind is wired differently than most entrepreneurs who are looking at expenses and possibly no income. I look at it as a loss of revenue for business continuation in a safe and secure way," Amaral said. "We are essential, but I feel like we shouldn't put ourselves at risk." Amaral said he encourages customers to buy beverages on a weekly or biweekly basis to cut down on shopping trips. "Delivery and pickup could be the new normal; time will tell."
With retail tastings off the table for the foreseeable future, many trade professionals, including wholesaler representatives, have been using social media to showcase brands and host virtual tastings as a means to reach both trade and consumers.
Among them is Shawna Dietz, Premium Portfolio Manager at Johnson Brothers of Rhode Island, who has been staying connected using Facebook Live and Instagram videos, and has been raising funds from the videos for causes including the Center for Women & Enterprise.
Donations via Venmo went toward women and small businesses affected by COVID-19. "I'm trying to activate more people during a time when sampling customers isn't possible," Dietz said. "I want to keep a connection to people and introduce new products, as well as seasonal items."
As coronavirus remains developing news, we will focus on other angles from wholesalers to hotels. Feel free to send in your story ideas to dana@thebeveragejournal.com.