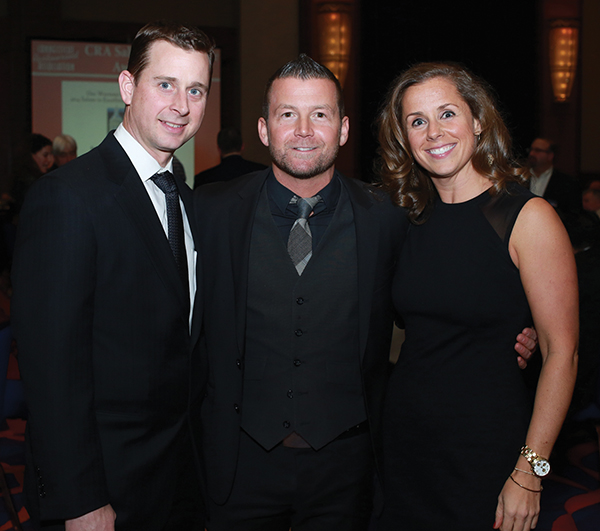 The Connecticut Restaurant Association (CRA) held its annual "Salute to Excellence" awards dinner at the Mohegan Sun Convention Center on December 2, 2014. Master of Ceremonies was a past "Friend of the Industry Award" recipient, The Honorable Larry Cafero, State Representative, CT General Assembly. UCONN Women's Basketball Coach, Restaurateur and Wine Entrepreneur Geno Auriemma, was the keynote speaker.
The following individuals and businesses were honored: James Martin, 85 Main as Restaurateur of the Year; Lenny's Indian Head, inducted into the Connecticut Hospitality Hall of Fame; Peppercorn's, inducted into Connecticut Hospitality Hall of Fame; Falvey Linen for Vendor of the Year; and the Honorable John McKinney, State Senator, Connecticut General Assembly, Friend of the Industry.
The annual event also included recognizing talent from the Connecticut restaurant scene with public online voting for Upscale Restaurant of the Year, Restaurant Bricco; Casual Restaurant of the Year, Dog Watch Café in Stonington; Chef of the Year, Tyler Anderson of Millwright's; Caterer of the Year, A Thyme to Cook; Mixologist of the Year, Dereke Vitale; and new to the event this year was the Server of the Year award, which went to Nancy Tighe of Fresh Salt at the Saybrook Point Inn.
Hundreds of guests enjoyed prepared cocktails made by mixologist of the year finalists with Roca Patrón and Belvedere RED, provided by Connecticut Distributors, Inc. (CDI) as well as a lively awards ceremony.
Photos by Brian Ambrose, courtesy of Connecticut Restaurant Association.