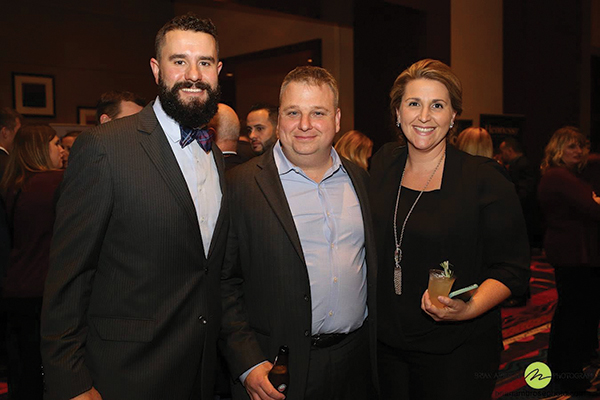 The Connecticut Restaurant Association (CRA) held its annual meeting and "Salute to Excellence" awards dinner on November 29, 2016 at the Mohegan Sun Ballroom. The event honored many of Connecticut's restaurants, caterers, chefs and bartenders with more than 400 people attending.
Dan Meiser, proprietor of both Oyster Club and Engine Room, was recognized as the Restaurateur of the Year. Rogo Distributors of East Hartford was awarded Vendor of the Year, and State Senator Len Fasano was named CRA's Friend of the Industry. Saybrook Point Inn Marina and Spa and Max Restaurant Group were both inducted into the Connecticut Hospitality Hall of Fame.
Awards from CRA's online public voting efforts included Server of the Year, Julie Francini of Restaurant Bricco; Casual Restaurant of Year, Plan B Burger Bar; Upscale Restaurant of the Year, The Capital Grille Hartford; Caterer of the Year, Coastal Gourmet Catering; Connecticut Distributors, Inc. (CDI) Mixologist of the Year, Mike Knudsen of the Hartford Restaurant Group; and Chef of the Year, which was a tie between Nicola Mancini of La Tavola and James Wayman of Oyster Club. Red 36 of Mystic was awarded Restaurant Newcomer of the Year. Larry Cafero, Executive Director of the Wine and Spirits Wholesalers of Connecticut (WSWC), served as event emcee.
"As I wrap up my first year as Executive Director, I am thrilled and proud of the CRA's growth in just one short year. With a dedicated Board of Directors and hardworking staff, we have been able to achieve above and beyond the goals set forth earlier this year," said Sarah Maloney, Executive Director. "It's an unbelievable honor to be in the same room with such talent and passion for our industry." The Connecticut Restaurant Association's mission is to serve as the voice of Connecticut's restaurants in advocacy, education and awareness. It is affiliated with the National Restaurant Association, and is Connecticut's only not-for-profit representing the state's restaurant industry.