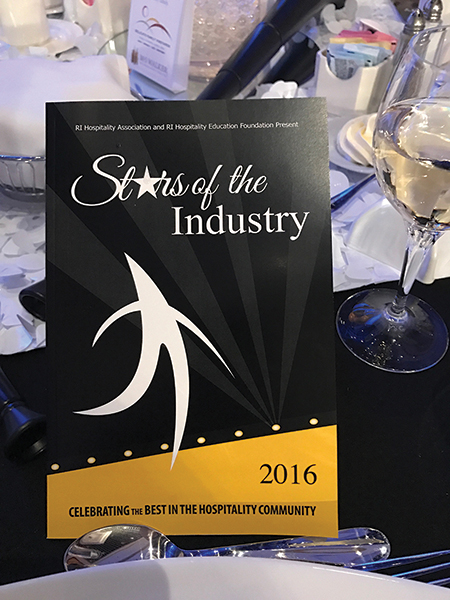 More than 700 guests attended the annual "Stars of the Industry" dinner and awards ceremony held on November 30, 2016 at Twin River Casino. RI Hospitality Association (RIHA) and RI Hospitality Education Foundation have hosted this event for more than 25 years to recognize a range of professions and personalities within the restaurant and hospitality industries. A cocktail reception and exhibition hour preceded the main awards dinner event, which was kicked off with a performance by the Troupe Monte Carlo, arranged by Fountain Street Creative. Dale Venturini, CEO and President of RI Hospitality Association, welcomed guests and Paul McDonald, singer/songwriter and "American Idol" finalist, performed during dinner.
Frank T. Galleshaw, III, of Wright's Farm Restaurant received the 2016 President's Award. The Lifetime Achievement Award was presented to Vincenzo Iemma of Capriccio & Café Nuovo. Hotelier of the Year went to Robert J. Burnetti, Hotel Viking. Restaurateur of the Year was awarded to David Lahousse of both The Lodge Pub & Eatery and Kay's Restaurant. Ecolab was voted Vendor of the Year. Volunteer of the Year was awarded to George McAuliffe, Mews Tavern. Matthew R. Varga of Gracie's earned Chef of the Year. Three were named Bartender of the Year: Kerri Lynn Handrigan, Champlin's Seafood Deck; Jeffrey C. DeSautels, Fred & Steve's Steakhouse; and Allison B. Willwerth, Shipyard and Blackstone Bar.
Tracy Rabar of Avenue N American Kitchen and The Pantry was named Woman of the Year; and Man of the Year was awarded to Norman L. LeBlanc, CPA, Kahn, Litwin, Renza & Co., Ltd. Three venues earned Farm to Fork Excellence in Sustainability: Nick's on Broadway, Persimmon and Tallulah. Rep. Lauren Carson and Rep. William A. Walaska were recognized as Hospitality Ambassadors of the Year. A complete list of award recipients and categories can be found at www.rihospitality.org. Hospitality professionals were nominated by the public and elected officials of the RIHA board.
Photos 2 – 16 provided by Richard A. Kizirian Photography and Photos 17 – 18 by Chris Almeida.