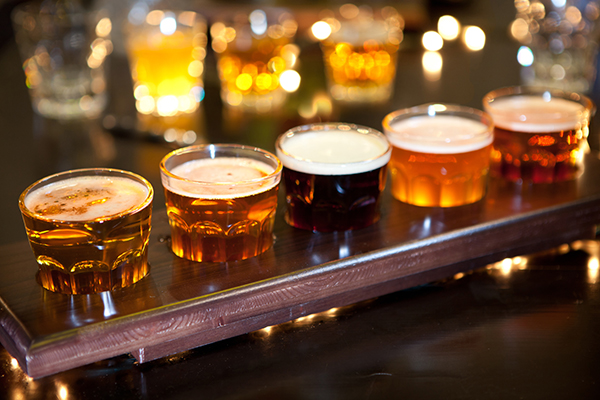 By Jack Kenny
About 85% of craft brew aficionados consume their beer mainly at home. The most common method of learning about craft beers and breweries is from friends and family members. About half of craft beer consumers have consumed all three main types of beer – domestic commercial, imported and craft – in the past two weeks. These are among the findings in a newly published report by GutCheck, a Denver-based market research company.
GutCheck specializes in new product introductions, advertising and marketing, and consumer research. The study of craft beer consumption, published November 2016, surveyed 300 consumers in the USA. Respondents, 32% of whom were female, were 21 years of age or older, the majority of whom ranged from 30 to 39, with a strong showing (19%) in the 55-64 bracket. The sampling covered all regions of the lower 48 states.
The purpose of the research was to understand how craft beer drinkers think about and consume craft beer. A stated goal was that larger beverage companies might "leverage the insights toward attracting the craft beer consumer segment." As we know well, that's something that the large beverage companies, particularly brewers, have been attempting to do through an increasing number of acquisitions over the past several years.
Here are some of the key findings of the GutCheck study (some of the top findings might appear to be obvious, but in context with all options surveyed they become clear):
No single craft beer brand dominates the market. Instead, highest awareness and purchase scores are for brands that are available nationwide. Here are the top 10 brands with their awareness scores: Blue Moon (Coors), 81%; Sam Adams, 63%; Yuengling, 59%; Sierra Nevada, 57%; Goose Island (AB-InBev), 52%; Dogfish Head, 48%; New Belgium, 48%; Lagunitas, 39%; Stone, 29%; Ballast Point, 27%.
Grocery stores and package stores are the main source of craft beer purchases for about two-thirds of respondents. In third place were restaurants and bars, followed in order by breweries (a strong showing there), mass merchandisers, convenience stores, and club and warehouse stores.
Nearly 80% of consumers ranked taste and flavor in their top three decision factors for purchase of craft beers. Again, another obvious choice, but one that major beverage companies might want to weigh more heavily against the other survey choices, which all ranked below 40% in the following descending order: brewery/brand, cost, mood, style, season/weather, alcohol content, occasion, recommendation, promotion/sale, rating, and packaging appearance.
83% of respondents named family and friends among the top three ways they learn about craft brands and brewers. The next two, at 64% and 58% respectively, were menus in restaurants/bars and seeing new beers on store shelves. The rest of the group included advertisements, brewery tours, recommendations from package store employees (at 39%, not a bad showing), brewery websites, and online forums and articles.
Craft beer attitudes (% = agreement with statement): Craft beers are more distinctive than domestic or imported commercial beers: 89%; A wider variety of flavors are available from craft brewers: 86%; I support local businesses when I buy craft beer: 82%; Craft beer tastes better than commercial beer: 81%; I will travel or wait in line to buy exclusive craft beer brands: 53%; I drink craft beer because it is higher in alcohol: 43%; Craft beer brands that get acquired by large/corporate beer brands are sell-outs: 38%; Craft beer has more health benefits than domestic and imported beer: 32%.
GutCheck classified its respondents in two groups: light beer drinkers and heavy beer drinkers. The light beer drinkers (69%) consume 10 or fewer 12-ounce servings of beer over two weeks. The rest are considered heavy drinkers, who indicated that higher alcohol content is a main reason for buying craft beer.
Craft beer devotees sample more than three styles of beer during an average two week period. These include, in order of preference, lager, pale ale, wheat, Belgian, IPA, pilsner, brown ale, stout, red ale, cream ale, sour, porter, and kolsch.
Worth noting in the study is that only 17% of respondents drank craft beer exclusively during the two weeks prior to taking the survey. 10% drank craft and imports, 27% consumed craft and domestic commercial beer, and 47% divided their consumption among all three types.
A summary of the GutCheck study, titled "Craft Beer Agile Attitudes and Usage," is available for download at www.gutcheckit.com/resources/craft-beer-agile-attitudes-usage-study/
Jack Kenny has been writing the Beer Column for The Beverage Journal since 1995. Write to him at thebeercolumn@gmail.com.