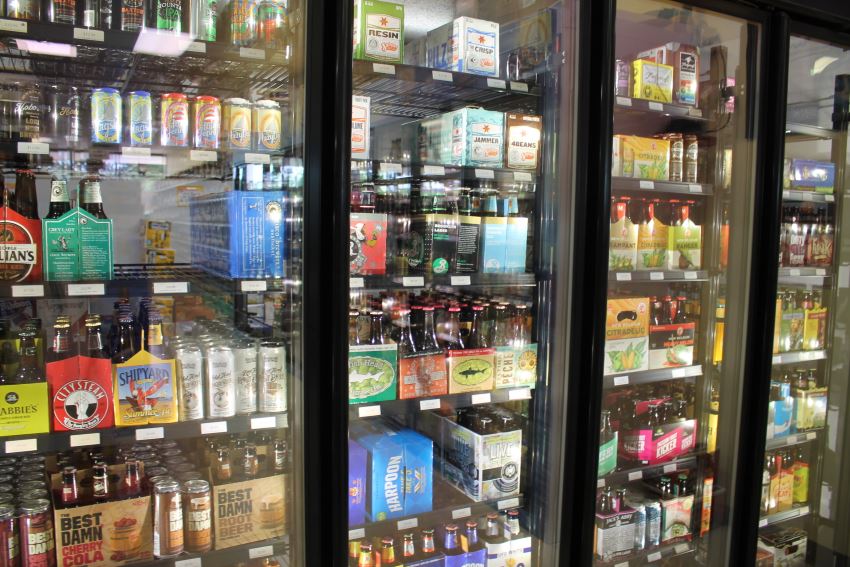 By Jack Kenny
Some years ago, when I worked in a liquor store with a large beer selection, I noticed a trio of boys who had escaped their parent and were wandering around, pointing at craft beers and giggling. I asked politely what was so entertaining, and they told me that they were in search of the funniest or coolest or weirdest beer name in the place.
With a meaningful glance I wandered away and they followed. Then they saw it: Arrogant Bastard Ale. They stopped and stared, and one said, "Game over."
Arrogant Bastard, a staple of Stone Brewing's portfolio, is quite a mild name by today's standards. Or lack of standards, as my Aunt Ruth might have put it. Brewers have gone far, far beyond Sierra Nevada Torpedo IPA and Rogue's Dead Guy Ale and Lagunitas' Little Sumpin' Sumpin' Ale.
They moved to names like the incomprehensible Gandhi-Bot (now G-Bot), Premeditated Murder and Schnitzengiggles from New England Brewing in Woodbridge, Connecticut; to Toxic Sludge Black IPA from Blue Point, to Dancing on My Own from Hanging Hills Brewery in Hartford.
Then there are those brewers who, for some reason, have left the planet and found names for their beers in other dimensions. Perhaps they are trying to appeal to hipsters (many beers feature hipster in the name, surprise, surprise). Perhaps they have simply run out of certain combinations of words and are relying on artificial intelligence to nudge them.
As a beer retailer, how far do you think your customers would go to purchase a six-pack or a pint of Permanent Funeral Pale Ale, made by the renowned Three Floyds Brewing in Indiana? (Unavailable in our state. Sorry.) Hanging Hills, though, attracts all kinds of attention with its unusual names, and high on the list is Irregular Heartbeat Double IPA. Beer'd Brewing in Stonington has three that are surely well above the bar, though where they came from is anyone's guess: Check Out My Trapper Keeper IPA, One Thing Led to Another IPA, and Vegemite Sandwich Imperial IPA. That last one …
Here are two more. Why they are the names of beers is completely beyond me. The second of these surely wins today's prize:
Spring Explosion in the Basement, an orange infused pale wheat from Bloody Stump Brewery, Green Tree, Pennsylvania, and
Goes to Dim Sum Restaurant, Orders One of Each. This one is a gose brewed with lychee, dragon fruit and soya by To Øl, a Danish brewer with locations in Copenhagen, Sweden and Iceland.
A few years ago, Georgia's SweetWater launched a beer called Happy Ending. Fireworks, not the fun kind, ensued. Today the beer is not listed on the brewer's website, so it looks like there was an ending, anyway.
Sometimes beer names aren't amusing, and they can be offensive. Names like Panty Dropper, Tramp Stamp, Stacked and Leg Spreader. Some of the boys no doubt get a good har-har from these. Some of the boys. Not all of the boys. Some of the boys have daughters and wives and are uncomfortable.
Sometimes, the bottle or can art is too implicit or explicit. These portrayals have angered many, but there are those who are not offended, who uphold the old attitude that "sex sells," who are not bothered by stereotypical roles and images of women. Product marketers have become more conscious of stimulating consumer behavior via images with sexual undertones and overtones. Big beer, which can afford national advertising, still uses attractive women in its ads, and to much lesser degree, men too. Still, it's about the physical, and a lot of women are rather sick of it.
Social attitudes are changing, and sexism is the elephant in the room. Though it is slow, the change is growing in scope. Just throwing this out there, food for thought. Regardless of opinions, there is a line between funny and wrong. Can we see it?
Jack Kenny has been writing The Beer Column for The Connecticut Beverage Journal since 1995. Write to him: thebeercolumn@gmail.com