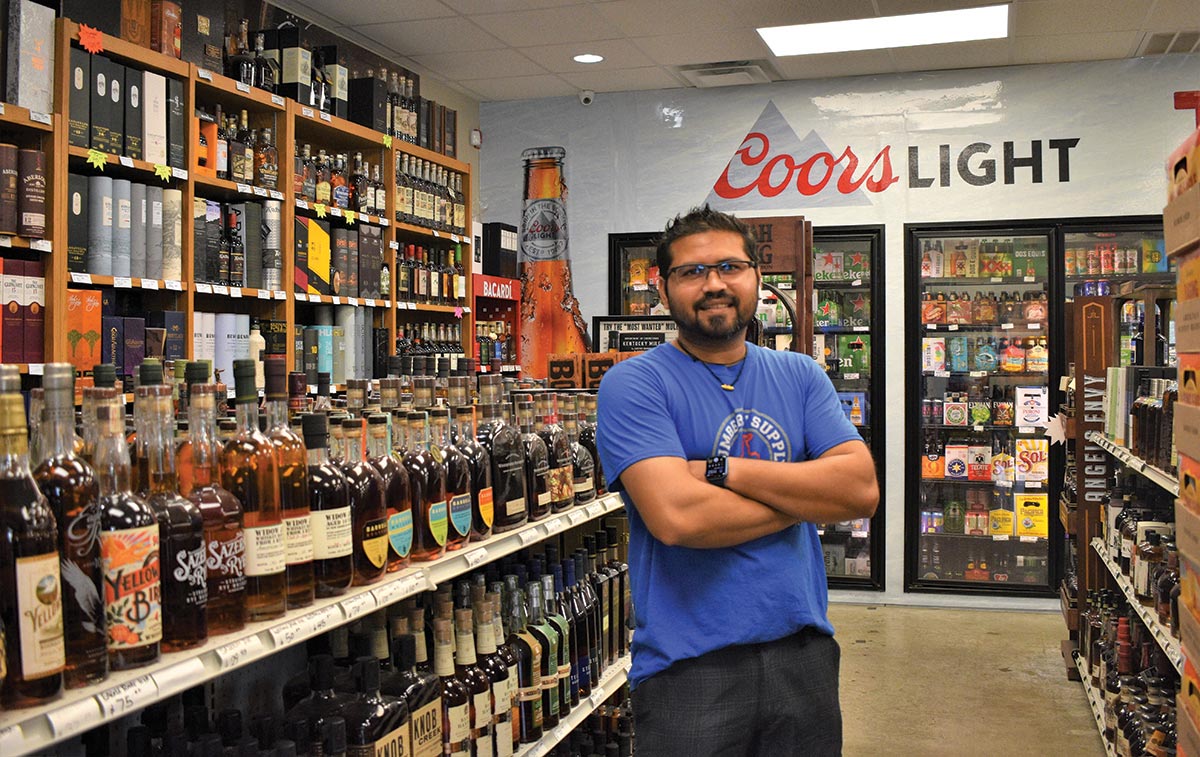 Crossroad Liquors
1540 Bulgarmarsh Road
Tiverton, RI
Square footage: 5,000
Years in operation: 15
By Sara Capozzi
Established in 1995, Crossroad Liquors has been owned by Paresh Patel since 2007. Paresh's nephew, Johnny Patel, runs the store day to day with his partner, Sunil Patel. The family has been in retail for decades: Paresh's parents, Naram and Sangita Patel, owned a few convenience stores in the area in the 1980s and '90s, and Paresh eventually got into the liquor store industry.
Following in his uncle's footsteps, Johnny Patel began his career working for another uncle, Tony Patel, at his Fall River, Massachusetts, store, Royal Liquors. After gaining six years of work experience and product knowledge, Patel became manager at Crossroad Liquors in 2010.
He runs the store with two main priorities, he explained: giving the customers great service and selling products at a fair price. "The service is 100% [the] key," Patel said. "That's the number one priority for business in my store." He also keeps prices low, consistently. "You know how some stores are constantly changing prices, or they might put something on special?" he asked. "I just keep it low prices every day, that way our regular customers can shop every day."
Patel keeps Crossroad's selection interesting for shoppers with a regular rotation of new products. "Anything that seems like it will be the next big thing, we try to carry," he said. "And if it has a good run, we keep carrying it."
Shoppers also appreciate Patel's guidance when he gives them product recommendations and pairing suggestions. He also doesn't hesitate to do special orders. "Whatever their choices, whatever the customer wants, we can get it for them," he said.
The store offers a diverse and expansive range of whiskies, allocated Scotches and rare bourbons. Awaiting shoppers is a wide selection of craft beer from local and national breweries, plus ready-to-drink items along with seltzer, the "fastest moving category right now," Patel said. Seltzers have been "flying off the shelves this past summer," he said, but with the approach of fall, pumpkin beers and craft beer in general become the most in-demand picks, along with bourbons.
Crossroad Liquors' customer base fluctuates with the seasons. In the summertime, traffic increases with tourists traveling between Little Compton and Tiverton, while in the winter, shoppers tend to be more local. "We get both, but seasonal is always better because you get that extra bump in business," Patel said. In the winter months, the clientele is mainly from Tiverton and the bordering towns of Fall River and Westport, Massachusetts.
Customers enjoy a variety of other perks, including tastings on Friday evenings, a vast cigar selection to pair with their purchases and the store's new private-barrel bourbons through its barrel programs. Patel stays connected with the client base through his Instagram account and the store's Facebook page, where he announces the arrival of new products to keep customers engaged.
Crossroad Liquors continues to find success with its plentiful selection, friendly atmosphere and convenient location. As the store continues to grow, the Patels hope to expand into more locations.