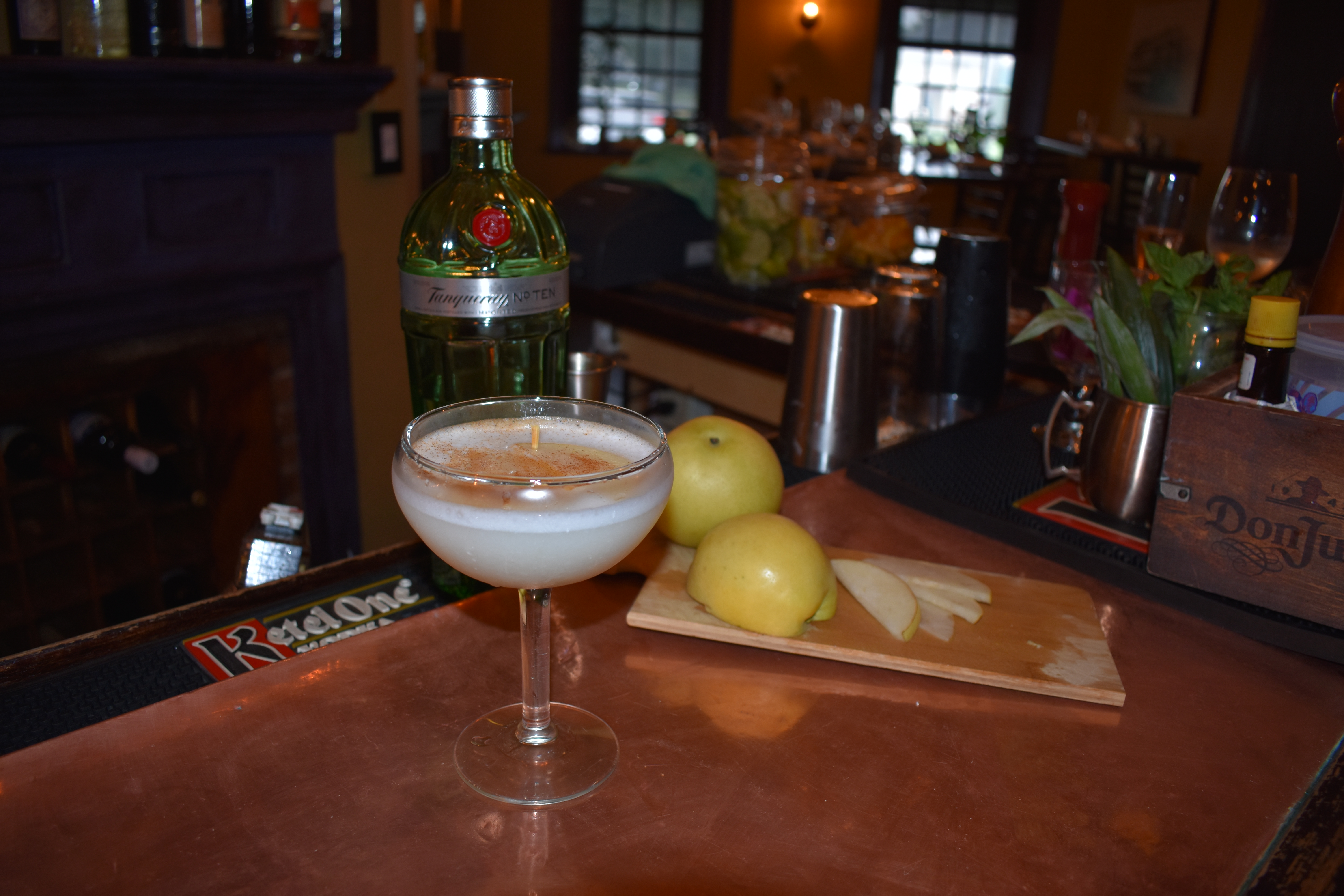 By Sara Capozzi
Connecticut has its share of historical sites and buildings, including some of the oldest inns and taverns in the country. It's no wonder then that many of these establishments are rumored to be haunted or, at the very least, imbued with an eerie sense of mystery. We traveled around the state to hear the ghost stories from those who work within their shadowy history… and grabbed a cocktail recipe from each along the way. As fall sets in, why not head to one of these neighborhood haunts?
Abigail's Grille and Wine Bar
4 Hartford Road, Simsbury, CT
The history of Abigail's Grille and Wine Bar goes back to the Revolutionary War era, when the original inn and restaurant was built in 1780 by Jonathan Pettibone, Jr., as a stagecoach stop outside of Hartford on the Boston to Albany turnpike. The restaurant's reported paranormal activity can be traced back to an incident shortly after it was built, when, according to town lore, Pettibone found his wife Abigail having an affair with another man – and killed both Abigail and her lover with an ax. Guests and staff report disembodied voices, seeing the ghost of a young boy, fireplaces lighting themselves and wine bottles falling out of their racks. Whether seeking the paranormal or not, guests will find a full dinner and pub menu, along with lunch, an extensive fine wine list, and a variety of dessert wines, ports, eau de vies and grappas, along with fine spirits and craft cocktails.
General Manager: Markus Lehofer
Bartender: Cat Schaller
Cocktail: Chai One On
Ingredients:
• 2 oz. Litchfield Distillery Double Barrel Bourbon
• 1 oz. Wild Moon Chai Liqueur
• 3 dashes Orange Bitters
• Cappuccino foam
• Cinnamon
Method: Stir together bourbon, chai liqueur, and bitters. Add cappuccino foam to the top along with a sprinkle of cinnamon. Serve up in a martini glass.
"It puts you in the fall mood," said General Manager Markus Lehofer of the spicy autumn cocktail. "And it's nice to be able to use all local products."
Captain Daniel Packer Inne
32 Water Street, Mystic, CT
Mystic's Captain Daniel Packer Inne was built by Capt. Daniel Packer in 1756 as an inn and tavern for seaport travelers. The beautifully restored inn overlooking Mystic River gives guests a chance to step back in time – and potentially experience the supernatural. So many experiences have been reported at the Capt. Daniel Packer Inne that the staff began keeping journals where both guests and employees can record their own paranormal event. Unexplained sounds of footsteps and pacing on the third floor is believed to be Daniel Packer. Many patrons say they've seen the ghost of a young girl believed to be the Captain's daughter, Ada, who died of scarlet fever at the inn when she was nine years old. The third-floor banquet space has experienced the most paranormal activity, with a bathroom door that has been known to lock itself. Whether searching out a paranormal adventure or just wanting to grab drinks in the New England-style pub, the inn has something for everyone: beer, an extensive wine list, spiked coffees and classic to seasonal craft cocktails.
Bar Manager: Paige Luethy
Cocktail: Corpse Reviver No. 1
Ingredients:
• 2 oz. Courvoisier Cognac
• 1 oz. Daron Pays d'auge Calvados
• 1 oz. Apricot Syrup
• ½ oz. Carpano Antica Sweet Vermouth
Method: Fill a cocktail shaker with ice. Combine ingredients. Stir to chill. Strain into a couplet. Garnish with orange peel and Luxardo cherries.
"It's a good fall drink," said Bar Manager Paige Luethy. Luethy's Corpse Reviver No. 1 cocktail was inspired by the 1930's cocktail book from the Savoy Hotel in London. Luethy makes her citrus rind garnish a generous size, allowing it to infuse in the cocktail. "I personally think adding citrus rind to a drink makes a big difference," Luethy said. "It sometimes can take things to a different level."
Fresh Salt, Saybrook Point Inn & Spa
2 Bridge Street, Old Saybrook, CT
The Fresh Salt bar sits within Saybrook Point Inn & Spa, a luxury resort located on the Connecticut sound. The resort lies on the same property that was originally the famed Terra Mar, a destination for Frank Sinatra and the Rat Pack of the '50s and '60s, and for celebrities such as Tom Jones, Walter Cronkite and Ted Kennedy. The building was remodeled and reopened in 1989. Guests report strange phenomena in the guesthouses across the street, which date back to the early 1900s. While there aren't regular reports of paranormal activity in the main building, Head Bartender Fran Coviello said the building can still be "creepy" in the side hall near the bar entrance. "Every time I lock up, I kind of scoot out really quick because it gives me the willies," Coviello said.
Head Bartender: Fran Coviello
Bartender: Patrick DeCesare
Cocktail: Witches Brew
Ingredients:
• 2 oz. Tito's Vodka, infused with blackberries at least 24 hours
• ¾ oz. Blue Curacao
• ½ oz Grenadine
• Edible pearl powder
Method: Infuse vodka with blackberries for at least 24 hours. Combine vodka, curacao and grenadine in a cocktail shaker with ice. Shake until chilled. Stir in pearl powder and serve.
"The blue of the curacao and the purple of the blackberry infused vodka makes it the witches brew," Coviello said. "It's a good fall drink."
"It's still light and refreshing," added Melissa Tarlton, Marketing Manager, Saybrook Point Inn and Spa. "It's sort of a Cosmo, so it's not as heavy as a winter drink."
J. Timothy's Taverne
143 New Britain Avenue, Plainville, CT
Built in 1789, J. Timothy's Taverne was originally known as Cooke's Taverne, operating as an inn and restaurant, and evolving into a stagecoach stop for travelers along the College Highway. Employees say they feel "uneasy" in certain areas of the sprawling old building, especially in the basement and certain special-event rooms. Phenomena reported includes unexplained noises, windows closing on their own and a shadowy figure believed to be Mrs. Cooke, the wife of the tavern's original owner. Throughout its rich 255-year history as a local gathering place for "man and beast," perhaps supernatural visitors are on the guest list, too?
Restaurant Manager: Marrit Canino
Bartender: Erica Richardson
Cocktail: Spiced Pear
Ingredients:
• 1.25 oz. Casa Noble Single Barrel Reposado Tequila
• ½ oz. Spiced Simple Syrup
• 2.25 oz. Pear Nectar
• Splash of lemon juice
• Garnish: Cinnamon stick
Method: Combine tequila, simple syrup, pear nectar and lemon juice. Shake over ice. Garnish with a cinnamon stick and serve.
Roberto's Real American Tavern
31 S. Main Street, East Windsor, CT
Professional ghost hunters have officially declared Roberto's Real American Tavern haunted and staff agree that they regularly experience the hard-to-explain. Originally Jonathan Pasco's Restaurant, named for the owner who constructed the building in 1784, the restaurant has had a reputation for being haunted for many years. A number of patrons and Roberto's staff have reported cold spots, glasses falling off of tables and seeing apparitions, most often "The Lady in White," believed to be Elizabeth Pasco, Jonathan's wife. Staff notice the apparition most when the restaurant is empty and they're closing for the night. She has been seen seated in the upstairs loft dining area and walking down the staircase into the bar area. As part of its fall cocktail menu, Roberto's plans to feature this cocktail, The White Lady, a variation on the classic White Lady cocktail, in honor of Roberto's "Lady in White."
Bar Manager: Justin DeGioia
Bartender: Kelsey Daniels
Cocktail: The White Lady
Ingredients:
• 2.5 oz. Tanqueray No. 10 Gin
• ¾ oz. lemon juice
• ¾ oz. Asian pear syrup
• 1 frothed egg white
• Garnish: grated cinnamon, Asian pear slices
Method: Pour an egg white into a cocktail shaker. Add gin, lemon juice and pear syrup. Dry shake till egg white is frothy. Add ice and shake again. Pour into a chilled cocktail glass and garnish with one or two Asian pear slices then sprinkle cinnamon on top.
"We thought [the Tanqueray Ten] went nicely with the lemon juice," Daniels said. "It's very herbal. We thought the cinnamon would be a nice compliment to the pear and the gin as well, plus it gives it a nice fall flavor. We wanted to use Asian pear because it goes nicely infused in food so we wanted to incorporate that into the liquor concept as well. We'll be doing a little bit of that in our food menu [for fall] as well."
Twisted Vine Restaurant
285 Main Street, Derby, CT
Known as one of the most haunted restaurants still operating in the Naugatuck Valley area, the Twisted Vine Restaurant has a dark and storied past. Originally a bank built in 1892, the building was used as a morgue during the Great Naugatuck Valley Flood of 1955. Owner Mike Picone and Head Bartender Stacy Mraz say they – and their guests – often notice paranormal activity, such as the bar's jukebox going on by itself and seeing shadowy figures. "You get the feeling sometimes when you're alone that someone's with you," Picone said. "And we've had customers go up to waitstaff and say, 'Somebody's bothering my daughter' and there's nobody here." Recently when a classic rock music act was performing in the downstairs bar area, bystanders witnessed a cloud of white smoke coming out of the wall – and say it was not from any artistic pyrotechnics. While customers can enjoy a variety of beer, wine and cocktails with their dinner, according to Mraz, the restaurant's martinis are the most popular, including the Bikini Martini, a frequent guest request during the last warmer days of the summer and early fall season.
Owner: Mike Picone
Head Bartender: Stacy Mraz
Cocktail: Bikini Martini
Ingredients:
• 2 oz. coconut rum
• 2 oz. vodka
• 2 oz. pineapple juice
• Ice
• 1 oz. grenadine
• 1 orange slice, garnish
Method: Combine rum, vodka and pineapple juice with ice in a cocktail shaker. Shake until chilled. Pour into cocktail glass. Slowly add grenadine. Garnish with orange slice if desired.