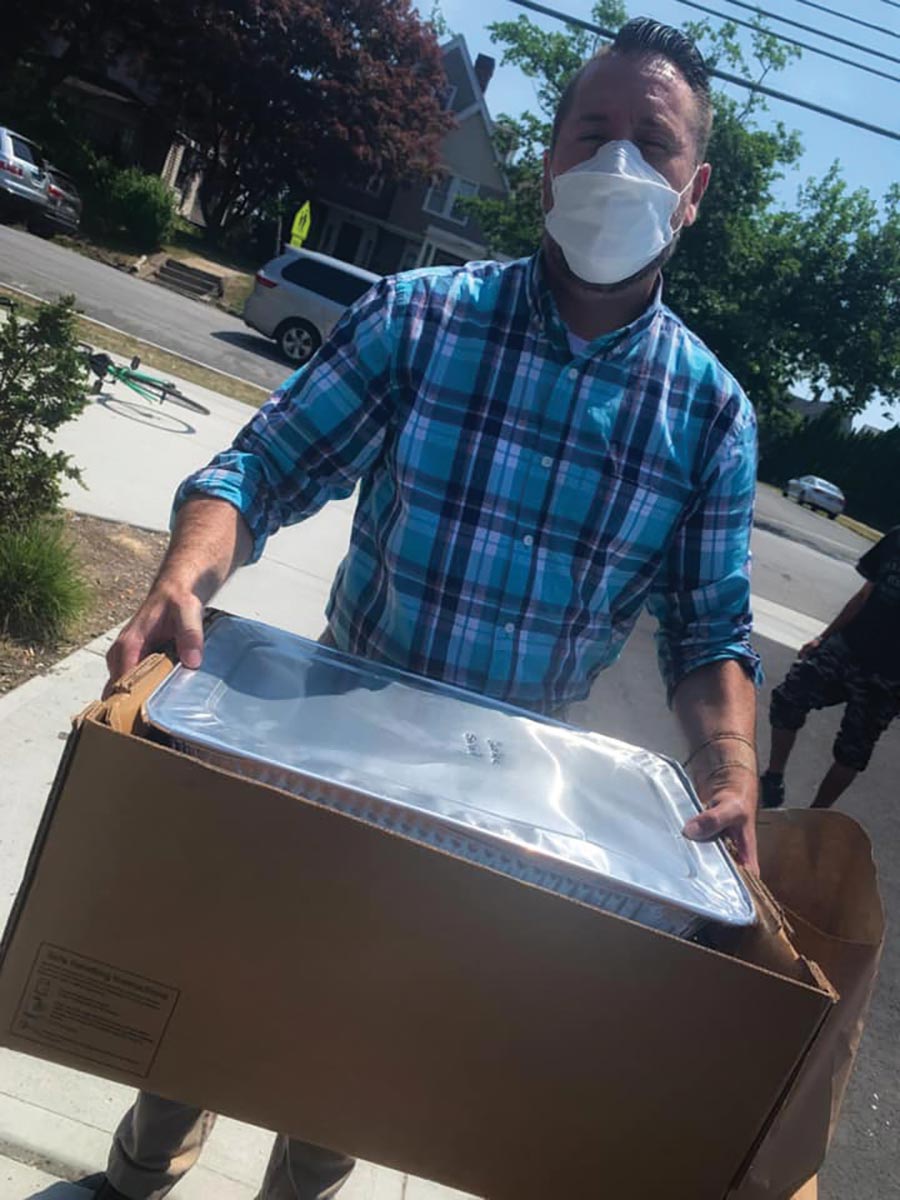 The business of celebration finds footing in the pandemic
By Sara Capozzi
The Connecticut hospitality industry continued to deal with changing business conditions under COVID-19-era restrictions in June and July as the state rolled out its phased reopening under phases one and two of Gov. Ned Lamont's plan. Restaurants were granted the ability to move beyond takeout and delivery, operate outdoors with reduced capacity and increased health protocols in place, while later opening up for reduced indoor dining and bar seating. With the rollout of phase two, eateries were allowed to operate at 100% capacity outdoors and 50% capacity indoors.
Following the reopening of bars and restaurants across the country, COVID-19 cases began spiking in many states. While the numbers of new cases and hospitalizations remained low in Connecticut and some neighboring states as of press time, Gov. Lamont formally announced on July 6 that the planned reopening of bars and nightclubs was on hold indefinitely as was all of phase three, originally slated for July 20.
Neighboring states New York and New Jersey halted their plans to allow indoor dining as of early July, with Rhode Island and Massachusetts allowing for their state's phased responses to move forward. Connecticut's cap for private gatherings was set to remain at 25 people inside and 100 people outside. Indoor dining was to remain at 50% capacity.
From the field
Despite the uncertainty, the state's industry continued to band together with creativity and support. From virtual events such as wine tastings, cocktail classes and fundraising efforts, the array of suppliers and wholesalers working to keep information and brands flowing through the tiers reflects how the COVID-19 crisis forced innovation within the industry in new and interesting ways.
"I have been in awe of and amazed and inspired by the response to COVID-19 here in Connecticut," said Brian Federman, Director – Learning, Leadership, Sales at Connecticut Distributors, Inc. (CDI). "Suppliers, distributors, restaurant owners and employees, and Connecticut residents have gone well above and beyond to rally around the restaurant industry in a truly remarkable variety of ways, from providing free meals for out-of-work employees and health care workers to supporting restaurants through takeout or donations. The innovation our restaurants have shown over the last 100-plus days, be it with their to-go programs or good, old-fashioned Yankee ingenuity in constructing patios, has been a consistent and impressive reminder of how much they all love their roles in the hospitality universe."
Federman, a longtime Connecticut beverage professional, remarked on potential ways the industry will evolve. "As we move more slowly toward full reopening, with an eye on public health and safety, I am excited to see how the industry continues to evolve. Stores and restaurants are already engaging in talks for tastings and charity events in the fall; these will look a little different due to social-distancing guidelines … CDI remains fully committed to supporting efforts toward public health and economic rebirth, and I am excited to be part of the process."
The Connecticut Restaurant Association (CRA) offered resources and support hosting webinars on topics such as understanding the state's evolving opening guidelines to the federal Payment Protection Program to handling an employee COVID-19 case, as well as working with state officials. CRA's Executive Director Scott Dolch posted a July 4 message that acknowledged the hardships and efforts restaurateurs have been facing, as well the steps taken which have contributed to Connecticut's dropping infection and death rates. "[Let's] make sure we continue to show why we are leaders in safety and sanitation, why we look out for our employees and why we look out for our customers as we work to recover as an industry as a whole. I look forward to continuing to fight for our industry each and every day. And for those listening, I hope you choose to support your local restaurants," he said.
Caterers pivot to scaled services
In the current environment, caterers across the state faced challenges they agree they have never seen before as the season of weddings, graduations and other large-scale events was completely halted due to restrictions and fears brought on by the pandemic. While some catering companies were forced to close, others remained operational in some capacity as small-scale events or meal preparation became the focus.
Before the crisis, Bridgeport-based Fortuna's Catering Co., a full-service catering company primarily serving Fairfield County, regularly served weddings, galas and corporate events of 600 guests or more, according to Owner Nancy Trifone Ferrarese. With all events canceled or postponed during the statewide shutdown this past spring, the company offered family meals for takeout, which "helped us stay afloat," Trifone Ferrarese said.
The company also provided 1,080 meals to hospitality workers through donations and matching throughout the pandemic's onset. Since the partial reopening of the state, the company has been catering small private events, such as a Fourth of July wedding of 20 people, a bridal shower of 50 and a backyard party of 30. Large corporate events and university events remained canceled and many couples chose to postpone their weddings until next year. A planned outdoor wedding for mid-August with 150 guests was on the books, but was awaiting guidance from the state on whether that number would be allowed.
Fortuna's hasn't made any changes to its usual beverage program offerings of beer, wine and a full bar per the host's preferences, but it has adapted to new regulations and health protocols, installing plexiglass barriers at all stations. Since buffet-style and self-serve setups are currently not allowed, a staff member must serve guests from behind the plexiglass barriers or guests are served plated food while seated. The company also now uses disposable plates, glasses and silverware. All staff wear masks while working events.
In late June, the company was booking events for later in the summer and fall all while waiting for further guidance. "It's an unknown and the governor wasn't giving a lot of information on events until just recently so we couldn't book anything," Trifone Ferrarese said. "People were calling us saying, 'How many people can we have?' and I didn't have an answer for them because he wasn't giving us answers … it's not only the caterers, it's the photographers, it's the florists, it's the event planners – we're all hurting."
Linda Sample, President of A Thyme to Cook based in Stonington, has also seen the bulk of her summer bookings postponed until next year. Many of her clients are couples hosting destination weddings at venues along the shoreline such as Saltwater Farm Vineyard, Jonathan Edwards Winery or Harkness Mansion, with guests often traveling from all over the country and internationally. Factors from travel restrictions to fears about guests who may be health-compromised have put the brakes on such events.
Other clients however are choosing to hold smaller "micro-weddings," she said. "This is a huge destination area because of the farms and the wineries. They're great venues for people that need a midway point between Boston and New York. It's crazy. I think this weekend we should have had five good-size weddings. We have one scheduled for August 1, but everybody's holding tight to see what regulations are."
Having guest lists slashed in half or more for the events that are taking place this summer leaves the company in a difficult place financially. "Next year will be a banner year, but you've got to get through [to] there," Sample said. "We're working hard but we don't want to compromise and drop prices for our guests. It's tough to make the same profit margins on a wedding of 25 as you would have for a wedding that's 200."
A Thyme to Cook adapted its creative displays and craft cocktails from small backyard barbeques to micro-weddings such as this on June 29 at Maple Lane Farms in North Stonington.
Cocktail conundrums
A Thyme to Cook is also known for its custom designs and creative displays, and that aesthetic carries over into its cocktail program. Craft cocktails continue to be popular with couples and Sample said she plans to continue the beverage program with a few modifications for safety, including plexiglass barriers at the bar area and paper covers for cocktails. In the past, the company created cocktail stations using spigots and flower accents, offering infused waters and decorated ice cubes. Now that communal stations have been eliminated for the time being, guests will order drinks from the bar station.
Sample said keeping with the state's regulations of having no more than eight inches of space underneath the plexiglass barrier has been a challenge when dealing with certain sizes of bottles and glasses. "Eight inches, which is what they require, is not a big enough space for longneck beer bottles and fancy wine glasses, which is another thing we encountered," she said.
Stephanie LeFrancois, Owner of Forks & Fingers, Catering by Design, served at just one wedding this spring before the executive order banning events of more than 50 people went into effect in March. In the first week of the state-mandated closure, the company lost half a million dollars, she said.
During the shutdown, Forks & Fingers opened a catering delivery service called "At Home," which had originally been planned to launch in mid-May. The original concept of "At Home" was to cater to small parties of 10-15 people at the host's home, so it was easy to transition the idea into a home-delivery meal service. When the shutdown made eating at home the only option, LeFrancois was pleased to see many of her regulars ordered the service, for themselves or for family members.
Forks & Fingers partnered with the cocktail company Wandering Barman to provide premade delivery cocktails to customers using the "At Home" service. They also offered wines from local vineyards, including the North Branford-based Rose Vineyards and Winery, on their delivery menu.
As restaurants have begun to open and smaller events have started to pick up, the company is working on bridal showers and several weddings this summer with limited guest lists. LeFrancois said she has noticed that more hosts are opting to hold functions outdoors at their homes instead of at venues, with smaller groups of their closest friends and family members.
The company has worked to make sure its operations meet the latest health guidelines, while keeping event expectations in mind at the same time.
"They can still keep their same menu," LeFrancois said. "We're just adapting it so that there's no contact from the guests."
With all the uncertainty, many couples have chosen to hold a civil ceremony this year and rescheduled their formal reception until next year, the impact of which the industry will be dealing with for years, LeFrancois predicted. "There will be remnants of this for at least two years to come as everybody navigates their rescheduling," she said.
Megan Palmer Rivera, Owner of Palmer's Catering & Events in Darien, has launched a line of "gourmet to-go" items along with family dinners for delivery. Staff have been given formal COVID training and the company communicates its health protocols with customers as well. The company has made changes to some of its operations to accommodate safety measures, but the food and beverages that clients expect will remain the same.
"We're tweaking the food and beverage a little bit just to make sure it's COVID safe," Palmer Rivera said. For instance, passed hors d'oeuvres are getting passed in individual containers, and all stations, bars and beverage stations have to be staffed and have plexiglass barriers in front of them. All food and drinks are individually served and plated.
For cocktails, "we've had a lot of requests for mini bottles with individual drinks so people don't have to go up to a station," Palmer Rivera said. COVID guidelines also require single-use glasses, so "that has been an added expense," she said. "The food and beverage [is] really what we're offering people. It's amazing food and delicious drinks and fabulous specialty cocktails. We're just tweaking them a little bit to make sure that the format fits the current guidelines so we can adjust it," acknowledging just how quickly things can change.
Popular features such as Palmer's margarita bar stations and other communal stations including water are a thing of the past, for now. "Everything has got be to highly manned," Palmer Rivera said. "People cannot touch anything. The bartenders really have to be involved with doing everything for the client … so we've had to do away with some of our formats just so we have one staffed individual touching everything.
"It's been a slow trickle," she said of business in late June. "We've had a ton of inquiries for later in the summer but people are still being cautious, so we're still doing a ton of pickup and drop-off. It's not the fear of the food, it's really the fear of having staff in their house. People are comfortable inviting their neighbors over and inviting their family and friends over, but there's still a question mark about how is this going to work, who's coming to my house and how are we going to keep ourselves socially distanced and safe while still being able to have an event."
Health measures meant to create safety need to be balanced with how to execute a successful event, which also includes training and education with the client. "It's so hard. We're the hospitality industry, we want to make people feel comfortable … We're approaching it like it's a partnership. We're there to make sure the food is safe, we're there to make sure our staff is safe and that everything that we're doing is keeping the client safe. The client is inevitably the host, so it's [also] their responsibility to keep their guests safe [in] a private residence; that's why we're doing training [too] for our clients," Palmer Rivera said.
Mobile maneuvers
Mobile bar owners also dealt with cancellations this past spring. Carly Kyd, Co-owner of Queenie's Cocktail Bar, said, "Our entire spring calendar was wiped with the shutdown. We had managed a fabulous 50th party in late February before. Then the rest of the year fell apart as the lockdown continued. We felt terribly for our wedding couples, who then had to decide whether to wait and see or change their summer dates many had booked a year ago. Even our fall weddings went ahead and postponed. We were happy to help where we could and thankfully every one managed to move to 2021."
Kyd's license doesn't allow for takeout or delivery, so she used the time during the shutdown to collaborate with local businesses, designing cocktails for The Winged Bear of Simsbury, which were featured with a Mother's Day takeout meal.
She also collaborated with Lisa Hamel of Wine Etc. in Simsbury to co-host a Facebook Live event on Thursday evenings where Kyd designs the cocktail for the evening and Hamel sells cocktail kits for customers to purchase beforehand. "It's been a saving grace for me. I've made lots of new contacts, booked events and, most of all, the feedback from the town and online community has been brilliant. We have fun doing the videos too."
Queenie's has now gotten back to serving guests as an outside service bar, mostly at small gatherings such as graduation parties, birthday parties and showers, all while keeping within health guidelines. "We have all the spacing rules posted and are following the CDC guidelines. We're partnering with local caterers and other food trucks to have all outdoor events, and so far we are getting booked up," Kyd said.
Casinos case options
After reopening to the public on June 1, Mohegan Sun Casino and Foxwoods Resort Casino have continued to slowly open more of their restaurants and other amenities.
Foxwoods reopened its Fox Tower and Rainmaker Casinos and dining at select locations. The Grand Pequot and Great Cedar Casinos and Tanger Outlets are also open daily. Guests can enjoy a cocktail at several of the casino's venues, including The Neon Palm Daiquiri Bar, while smoking is only allowed in designated areas. At press time, there were no plans to open the casino's club, Shrine.
At Mohegan Sun, the Casino of the Sky & Casino of the Earth are open along with Comix Roadhouse & Comedy Club, Mohegan Sun Golf Club, Race Book, Sachem Lounge and the Sky Hotel & Earth Tower. Many of the casino's restaurants were open for both to go and seating, including the Ballo Italian Restaurant and The Lansdowne Irish Pub & Music House. The Box Office, Mohegan Sun Arena, Mandara Spa, Poker Room, Wolf Den and Seasons Buffet remained closed as of press time. Mohegan Sun's club Avalon also remains closed.
"We will provide regular updates as more and more reopens across Mohegan Sun, though at this time we do not have a reopening date for Avalon," said Mohegan Sun President & General Manager Jeff Hamilton. "Venues such as Vista Lounge at Wombi Rock and Comix Roadhouse are currently reopened though, with some changes to their hours and safety and physical-distancing measures in place."
Barrooms face burdens
Bar and nightclub owners already hard hit by the shutdown were dealt a further blow when Gov. Ned Lamont announced that phase three was to be put on hold in response to spiking COVID-19 transmission in other states.
Helen Caffrey, a longtime bartender at Carmine's Café, a neighborhood bar in Waterbury, was frustrated with the announcement. Owned by Caffrey's fiancé, Dave DeLorenzo, the bar received permission via a special permit to open its patio and serve food and beverages to guests in socially distanced seating, but regulations keep them from exceeding 15 people at a time outdoors. The indoor bar area has remained closed.
"It's very limiting, it's difficult," Caffrey said of the decision. "I find myself struggling with the idea that pushing off phase three means that the whole world can be open except for bars … You can open the amusement parks, you can open every single thing except for a neighborhood bar. I don't understand that."
Carmine's Cafe in Waterbury is among many bars adapting to serving guests and state guidelines during the COVID-19 pandemic.
The neighborhood bar in Waterbury created an outdoor area for patrons. Indoor bar service is restricted by the state as of press time.
Caffrey reasoned that bars could take similar precautions as restaurants, opening just to a limited number of socially distanced customers wearing masks. "I understand the COVID thing and we have to take precautions in order to keep us all protected, I completely understand that, but why are the bar owners the only ones who can't open?
"There are some [bars] that are just not going to survive this. And now that [Lamont] has not only said that we're not going to open in July, he won't even give any ballpark figure of what he's thinking he just keeps saying well we'll have to see, which that's extremely unsettling because you're not giving out any other loans, there aren't any other stimulus checks – what do people do?" Caffrey said.
CDI's Federman commented on the range of change that has impacted every type of venue, summing up where things stand as of press time. "Our bars and restaurants … are making Herculean efforts toward safety, cleanliness and social distancing, which is of tremendous comfort as Connecticut residents ease their way carefully back into patronage."
The Connecticut Restaurant Association estimated that approximately 400 bars have been closed through all phases of reopening.