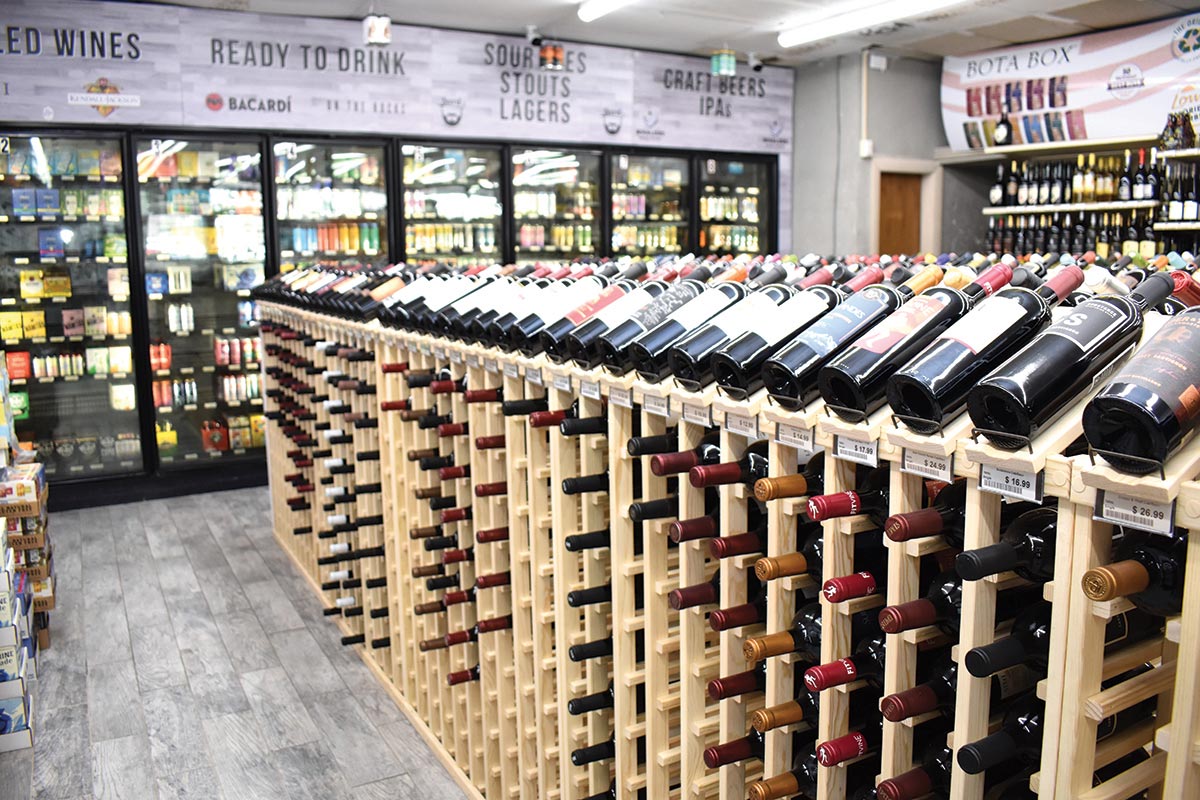 Cumberland Hill Liquors
3450 Mendon Road
Cumberland, RI
Square footage: 3,000
Years in operation: 4 years
By Sara Capozzi
Cumberland Hill Liquors, purchased by cousins and business partners Mayur Patel and Nayan Patel in 2019, has undergone a rebirth in the last few years under their run. When the duo bought the 50-year-old shop from its previous owner, they had laid out plans to renovate and combine it with the space of a vacant neighboring business. Then, COVID-19 hit. Following the sale, their plans to give the entire interior of Cumberland Hill a face-lift had to wait until they could commission a contractor to do the work and until the worst days of the pandemic were over.
After a year of operating the store, a construction team knocked down the adjoining wall of the two spaces, taking the floor space from 2,000 square feet to 3,000 square feet, and installed a new ceiling, flooring and shelves. To accommodate the many craft beers, seltzers and ready-to-drink offerings that are in demand with customers, a 28-door cooler space was added, along with a 20-door walk-in cooler and an eight-door reach-in cooler. "We built up the inventory as people asked," Mayur Patel said. "We put a lot of work into it."
Patel, who runs the shop day to day with Manager Akshay "AK" Kavade, was a relative newcomer to the industry. He had owned a convenience store selling beer and some wine in the Orlando, Florida, area, before selling it and moving back to the Rhode Island area. His cousin Nayan Patel, Owner of Paul's Fine Wine & Spirits, also in Cumberland, had learned of the opportunity to purchase Cumberland Hill and offered to help Mayur learn the business and manage the store.
Business was slow during the first year, but once the renovation was complete, customers who stopped in were excited by the change and told their friends and family, and through word of mouth, the customer base at Cumberland Hill began to grow.
"Pretty much, people who stopped in after the renovation could see there was a big change, so they told their neighbors to come in and they came back," Patel said. "As people started to come in, they realized that the store wasn't like it was before, so they can find everything in one stop."
Shoppers mostly hail from the neighborhood, with Patel seeing several new customers a day. The clientele is happy with the shop's redesign and the additions to its inventory, along with plenty of available parking in the front and back of the building. The store is conveniently located near several other well-frequented businesses, including a smoke shop, a pizza place and a gas station, giving customers the ease of a "one-stop shop," Patel said.
Perks for customers include a frequent shopper program, easy ordering through the store's website with free delivery throughout Cumberland, free curbside pickup and in-store tastings on Thursdays and Fridays. Business continues to grow at Cumberland Hill Liquors and Patel said he appreciates the help his cousin Nayan has been able to provide and daily teamwork with Kavade as manager.
"Owning a business has worked out for me," Patel said. "[Nayan] helped me through the process and trained me just before we bought it. He's still helping me when I need him, so it's good support … I'm glad it worked out and I'm happy that I have a great manager. The owner was ready to retire … It worked out for [me], worked out for my cousin, it pretty much worked out for everybody." And given its steady rise in sales, shoppers too.