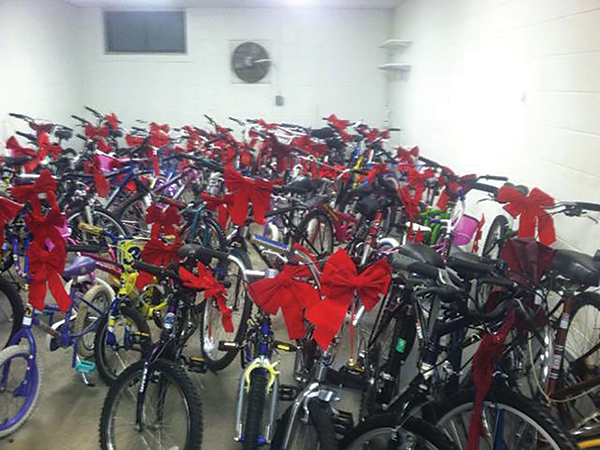 WHAT: Annual volunteering sessions for the Project Broken Wheel Foundation, led by Twin River Casino employees and Director of Beverage Operations, Frank Martucci. Volunteers for Project Broken Wheel Workshops are needed for two days to help refurbish bikes to be given to children in need throughout Rhode Island. Twin River Casino employees and volunteers refurbish donated bicycles on-site and prepare them to be delivered to local community organizations. The donated bikes get seat replacements, tires repaired, chains fixed, reflectors placed on tires and the front and back of the bike, touch up paint and a holiday bow.
Over the last eight years, the program has donated 964 bicycles to local children's organizations, including Manville Family Literacy Center, Lincoln Adopt-A-Family, Boys & Girls Club, YMCA, Institute for the Study & Practice of Non-Violence, Martin Luther King Family Center, Children & Family Services, Saint Lucy Heart, Salve Regina University Scholarship Program & local underprivileged families in the area. This year, organizers hope to donate an additional 50 bicycles to children during the holiday season.
WHEN: December 6, 2017, 5 – 7:30 p.m. and December 13, 2017, 5 – 8 p.m.
WHERE: Twin River Casino,100 Twin River Rd, Lincoln, RI 02865