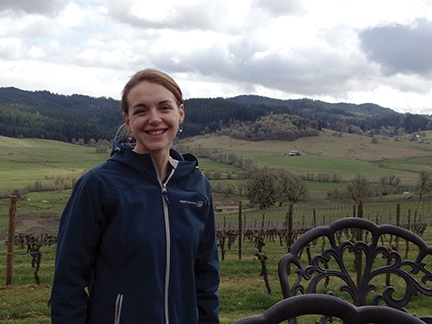 By Jillian Simms
There was some anxiety surrounding the 2010 harvest in the Willamette Valley. It was unusually cool and damp, so the grapes had to hang longer, daring nature and birds to take the crop. To some degree, they did. It was my first harvest in Oregon, and it came after two banner years that produced exemplary Pinot Noirs — fruit forward and smooth with intense flavor. The wines I would eagerly and exhaustedly help make had a lot to live up to, and conditions were looking iffy.
Yet, when I taste the 2010 vintage now, the more subdued fruit leaves space for notes of spice, forest floor and earth. The trials of the growing season that year added to a complexity that's characteristic of Oregon Pinot Noir and differentiates it from its rich, big-fruit California counterpart.
Oregon's vines and vintners also produce varying flavors from year to year because they are primarily small-scale operations. The Willamette Valley is at a special point is its history — where the winemakers have honed their craft for a couple of generations, yet tourism remains at a healthy level that doesn't distract from the winemaking. Just a few brands, such as Willamette Valley Vineyards and Erath, make over 100,000 cases annually.
The region's climate is similar to that of Burgundy, so naturally Pinot Noir is king. The vines don't require irrigation, which allows their roots to reach deep into the volcanic soil — fitting for growers who by and large see themselves as stewards of the land, many practicing organic, sustainable or even biodynamic farming.
While old world wines can be daunting to the American palate, the Pinot Noirs of the Willamette Valley offer some of the same nuance and elegance, along with a freshness and immediacy best experienced with moderate aging (2-7 years). From predominantly French Oak barrel programs to the use of native yeasts, winemakers have favored practices, but ultimately let the grapes lead their decision making to highlight the best in each unique vintage. The melody remains Oregon's signature cranberry and earth, but the harmonies change with each passing season.
While the Golden State may offer a wider price range, Oregon Pinot offers a degree of exclusivity. Many of them are hard to find in the Northeast. When I moved back to Connecticut a year and a half ago, I was surprised to find how few of the producers I'd come to love out West were available here, despite rapid growth in the Oregon wine industry (production topped 2 million cases for the first time while I was there).
One reason for the boom is that winemakers are perfecting a wider selection of varietals. Initially, Chardonnay was the white grape of choice, but growers found that the cuttings brought in from California were producing sub-standard fruit in Oregon soil. Perplexed, they turned to Pinot Gris as a safer bet, producing lovely examples with bright acidity and citrus. The question remained: why, if Pinot Noir was so successful, was its Burgundian counterpart failing?
The answer finally came to light in the 1980s, when experiments with French clones proved successful. A concentration of plantings in the Columbia River Gorge have helped make Chardonnay the third most planted varietal in Oregon behind Pinot Noir and Pinot Gris. A beautiful expression of the French clones can be found in Phelps Creek Vineyards Estate Reserve Chardonnay, which is characterized by a restrained oak that accentuates apple and pear notes.
Another by-product of this clonal confusion was discovery that traditionally Alsatian varietals thrive in Oregon as well. Montinore Estate's Gewurztraminer, with its nose of rose and lychee, is a particularly aromatic example of what Oregon winemakers can do with naturally fragrant grapes and stainless steel fermentation. Pappas Pinot Blanc by Boedecker Cellars is another crisp, refreshing, somewhat rare white. Lees contact and a rest on the skins contributes to delightful notes of quince on the finish.
Oregon is known for embracing extremes — long mustaches, strong hops, rabid soccer fans — but the wines grown there are quietly adventurous and find their niche in subtle balance. While Oregonians can't help but express themselves, the winemakers also have to be good listeners and echo the voices of the land and season. This balancing act is not the envy of other, tamer AVAs, but the sense of place it produces likely is.
Jillian Simms is Co-Founder and Portfolio Manager of Cellar Fine Wines. Follow @CellarFineWines on Twitter and find their offerings from Oregon, Italy, France and more at www.cellar-fine-wines.com.