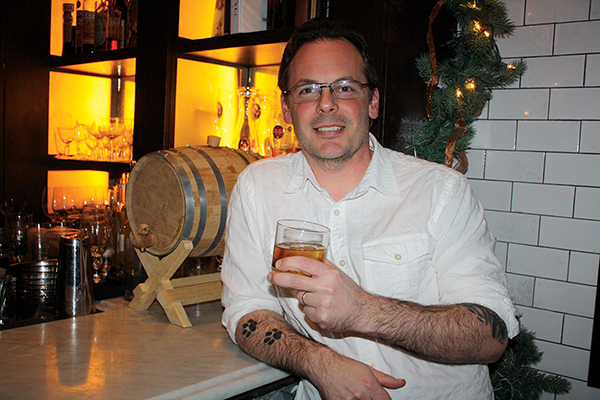 By Anthony DeSerio
Toffee, caramel, vanilla, spice, hints of citrus, and maybe a little apple or pear with a dash of smoke or a hint of charcoal sounds rather warming and very comforting this time of year. No, it's not the latest and greatest cocktail though it can be used in some fantastic ones. I'm talking Brown Spirits.
Rye Whiskey, Irish whiskey, Scotch whisky, American Whiskey and Canadian Whisky — they're all on the shelves and back bars just waiting for your use. Along with a few other friends like Aged Rum and Cognac or Brandy, for what has been a trend for centuries, winter is the time for them.
For two decades I've always heard "red wines and brown spirits in winter." And as much as I do love my gin, I have to agree. Why though? Is it the physical warming quality? I don't think so. I believe it has to do with the warmth. Those flavors mentioned in the first sentence. They are reminiscent of holidays, winter nights by the fire and the flavors are comforting, the aromas relaxing.
To answer my question I went to an expert. One of the most knowledgeable women of whiskey/whisky Nicola Riske, Secretary General, National Board of Directors for the United States Bartending Guild (USBG) and Brand Activation Manager with The Edrington Group. Riske spends her days and nights educating on Famous Grouse and Highland Park among other brands. Who better to ask about brown spirits?
I was given the reply that confirmed warming comfort from winter browns. Riske said, "I enjoy brown spirits year-round, but find them delicious fireside during the colder months. My current favorite cocktail is a smoked apple toddy—a very simple variation on the classic hot toddy—using fresh pressed apple cider, honey, lemon, winter spices (cinnamon and star anise) and a smoky scotch whisky like the Black Grouse, served hot in a nice big mug with a cinnamon stick. It's something I can make at home for entertaining friends during the holiday season."
Riske continued, "This cocktail warms you down to your toes and the winter spices waft through the air leaving the apartment smelling absolutely divine. When I have this cocktail in a bar, I feel like I'm immediately at home. It's so simple, warm and welcoming. My comments are a bit warm and fuzzy – but that's how I feel about whisky and the winter months!"
Riske confirms it, then. It is about the comfort this time of year; the flavors, the easy mixability with favorite winter flavors. The simple extra few dashes of bitters in a Manhattan, switching a Negroni to a Boulevardier, to hot apple cider and honey and another favorite of mine, hot tea. My favorite winter cocktail is Michter's US1 Rye, agave nectar, fresh lemon, and Earl Grey tea.
Speaking of cold winter whiskey in America: Michter's is rumored to have been the choice of George Washington to serve the troops at Valley Forge (and that goes back to before we were officially Americans). Maybe the tradition started there?
Let's not forget our other "aged" friends with their own nutty, buttery, vanilla profiles that make the best egg nogs, Tom and Jerry's, toddies and tots: aged rum, cognac and brandy. Those will keep you just as comfy as any whisky/whiskey. Have you ever tried aged rum in egg nog, a Negroni or a Manhattan? It is still, by definition, a neutral spirit made from a great winter flavor, molasses aged in oak.
Rum isn't just for a Mojito on a hot July afternoon. A Mojito is a variation of a mint julep, a traditional summer drink made with whiskey. Why not interchange in winter too? The nuttiness of cognac marries well with hot apple ciders and lemon, maybe with a dash of port, to give a little raisin note. Here's to a warm and comfortable winter. Cheers!
Anthony DeSerio, president of the United States Bartenders Guild Connecticut Chapter in 2014, has been tending to the bar for 18-plus years. When not promoting the Roca Patrón line as an ambassador-at-large, he can be found behind the bar at Splash in Guilford. DeSerio holds multiple spirit certifications and awards.