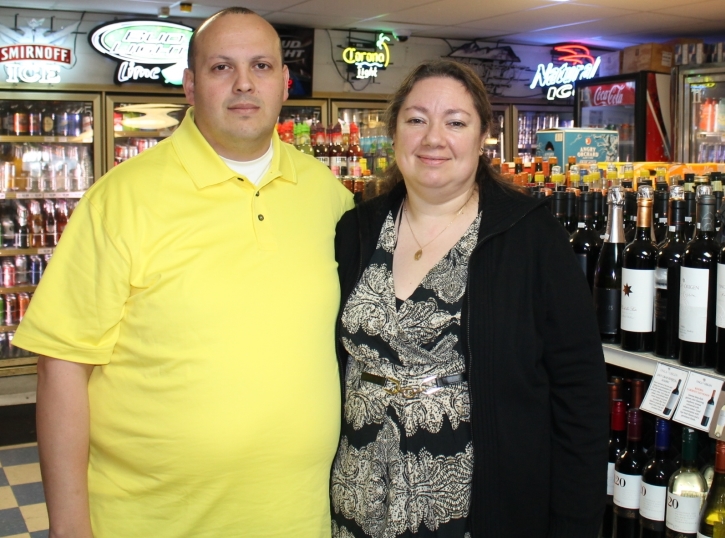 Dexter Warehouse Liquors
265 Barton Street
Pawtucket, RI
Square footage: 2,500
Years in operation: 8
By Savannah Mul
Eight years ago, Alicia and Hector Lopez decided to become business owners. The residents of Massachusetts researched and visited liquor store properties within their own state as well as Rhode Island. When the couple discovered the Barton Street liquor store in Pawtucket, they purchased it and never looked back.
The existing liquor store had been operating for 25 years, however the previous owners were ready to retire and the shelves were half empty. "At first, it was hard for us to learn, and the prior owners helped us for a few months … but we grew and we grew with the business to learn more," Alicia Lopez said.
The rapid growth of Dexter Warehouse Liquors under their ownership surprised the Lopezes. "We grew so fast. I believe it's how you treat people … and [offering] a lot of variety," Alicia said. "When we bought the store, we changed the place around and added more coolers, but people stayed with us because they like who we are," she said. A second key factor in their success is the emigration of a new generation of buyers to the area: Millennials.
Recent loft housing developments in the area are attracting the next wave of young professionals, which helps drive business, Hector Lopez noted. Alicia said she sees a difference in the buying habits of the neighborhood's new inhabitants, particularly trending toward wanting variety and brand-specific requests, whereas the older generation purchases the same product every time they come in.
The Lopezes keep the shelves stocked with local and national craft beers, tequilas and new varietals of wine, and respond to many individual requests as well. Alicia said Luccio Bello Rosso wine is popular with her consumers. "Ever since last year, no matter if [the customer is] a guy or a girl, we can't keep enough of that in stock," she said.
Hector added that bourbons and gins are increasing in popularity with their customers. Overall, the store's sales are driven by beer, with wine and spirits sales spilt evenly.
Alicia also attributes continued success to the couple's bilingual ability, which allows them to connect to their Spanish-speaking customers. "We want to make every customer feel important and call them by their name. People like that attention," she said.
The owners conduct in-store tastings and promotions when they bring in new products, helping to familiarize customers with the new spirit, beer or wine. Although they aren't regular drinkers, Alicia said, "We try our products before we sell them, [so we can] recommend things we like."
Most recently, the husband and wife team made another big business decision. They opened a bar, Tio Pepe's Cantina, in Central Falls, Rhode Island, minutes from Dexter Warehouse Liquors. Their goal is to appeal to the young professionals who are now making the area their home.