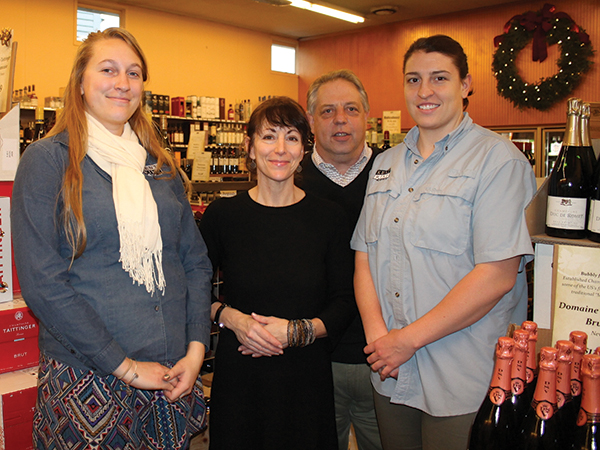 Kent Wine and Spirits
24 North Main Street
Kent, CT
Square footage: 3,100
Years in operation: 20
By Savannah Mul
Ira Smith never had any intention of owning Kent Wine and Spirits for as long as he has: 20 years. His original plan was to build up equity in the business and sell the establishment. "Once I was here, the community is what really seduced me. Kent is an amazing community and likely the most enriching part of the experience," Smith said.
Smith had been in the beverage and hospitality industry for about 35 years, working with luxury catering companies and traveling to various international wine regions, before coming to own Kent Wine and Spirits. When he purchased the store in 1995, he, with the help of his staff, stripped the store down and rebuilt it back up, adding new floors and custom-built steel wine racks.
Smith says an important attribute of success is to just listen to your customer base. Smith said the vibe of his store is very community-centered. "We'll do anything we can do in order to make the customer's experience easier, more fun and more rewarding." This includes donating to, and helping with, local and national nonprofit causes, carrying packages out to consumers' vehicles, and helping select the best beer, wine and spirit for their price point.
Smith said he believes in delivering the best value he can to his consumers. When tasting new products, he asks himself "if the product will deliver for what it costs, based on quality and value." It's not just Smith who seeks to enhance value. Each employee is part of the shared experience, including through the recent addition of Kent Wine and Spirits' newsletter. Casey Kern, store wine specialist and employee, began writing the newsletter to educate consumers on in-store brands.
"There are lots of great products in the wine and spirits world and sometimes you have to point [those] out to people," Kern said. "One of my main goals with the newsletter is to educate people on different styles, fun facts, break up some misconceptions and include staff picks."
Wine dominates the majority of sales, but beer sales are close behind, as the store stocks more than 425 SKUs of craft beer, which keeps growing. "It's [sales are] consistent with that department [craft beer]," Smith said. "It has drastically increased making that aspect of the business very dynamic."
Smith said an interesting growth in the industry, and his store, is the rise of American whiskey, which he carries about 85 SKUs of, and the requests for quality Vermouth, and increased hard cider sales.
Kent Wine and Spirits offers weekly in-store tastings on Saturdays and Sundays. "We're a destination store now; it's exciting to achieve that level of trust [with the consumer]," Smith said.