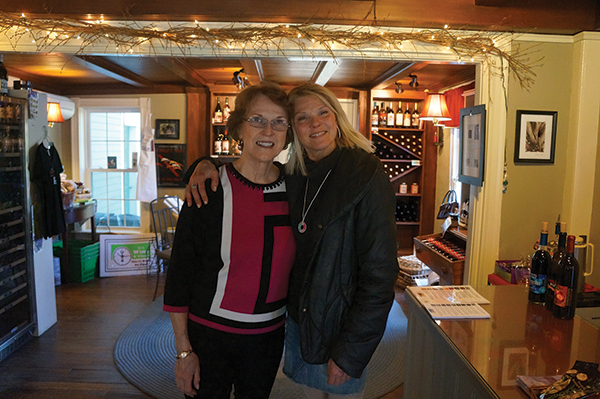 40 Years Old and Going Strong
Diamond Hill Vineyards makes its customers at home
By Nancy Kirsch
Forty years of making and selling wine haven't diminished Claire Berntson's enthusiasm for Diamond Hill Vineyards' customers. "If we had a competition about who has the best customers, we'd win hands down," says Claire, who, along with husband Peter, runs the vineyard. "They appreciate everything we do; they love coming into our home [the site of the tasting room and gift shop]. They make you feel like you're part of their family – and that's reciprocal."
During the Vietnam War, Peter fulfilled his military service based in France, where he and Claire caught the "wine bug" – but only to drink. After returning home to Rhode Island, growing a variety of grapes and visiting countless vineyards to learn from the experts, Peter left his full-time job and he and Claire took the leap to establish the family business. In 1976, when they started, there was no focus on local foods and local wines, said Chantelle Berntson Rogers, their daughter. "Their friends and family thought they were crazy," said Chantelle. "They had to be very committed."
Flash forward to today, five adults and two children all pitch in at the Cumberland, RI winery. They invite guests to bring a picnic and enjoy a glass of wine on the Bernstons' front porch. Chantelle's husband, Stephen, is the vineyard manager; Chantelle's brother, Allan Berntson, is the vintner; Chantelle and Stephen's children, Nate and Chloe, also help. Chantelle and Claire, who run the tasting room, are the wines' final taste-testers. Peter, at 75, still drives the tractor. "I grew up in the business; I worked, but never got paid. My kids get paid way better," Chantelle said, laughing.
Six of their 34 acres are dedicated to growing grapes, mostly for their sole estate wine, Pinot Noir, which Chantelle said is the most expensive to make. Although open acres could be planted with grapes, the current workload keeps everyone busy. Given New England's short growing season, the winery produces, at most, 200 cases a year, said Claire, though 100 cases is a more frequent yield.
Wines include River Valley White (a Chardonnay/Riesling blend), Scarlet Run (a Cabernet Sauvignon), Pinot Noir, and Pinot Noir Rose, among others. Their fruit wines continue to be big sellers. They buy the best apples, peaches, blueberries and cranberries they can find, generally from New England, to make those fruit wines, said Chantelle. Stephen makes customized wine labels, at a customer's request.
"We don't spray grapes with herbicides or pesticides," said Chantelle, though they haven't sought organic certification. Diamond Hill's wines, which don't have many sulfites, are aged in French oak barrels and go through gravity flow, not a commercial filtration system,
said Chantelle.
Their wine tastings include every wine currently in production – as few as four and as many as 12 wines. "We consider you our guests; so we never charge [for tastings]," said Chantelle, who welcomes customers who return week after week, month after month. "When they want to have a glass of wine [and] bring friends back, then I know I'm doing my job."
Strong customer interest and market share are now more significant to the winery than are awards. "A [medal] around [a bottle] doesn't do anything for us anymore," said Chantelle. "We don't need to fight for shelf space any more, where we sell in [area stores]. We know [the wines] are good."
The vast majority of the wines are sold in the gift shop; those wines sold in package stores are top sellers, said Chantelle, who noted that demand sometimes outstrips their supply.
At harvest time, customers help pick the grapes in trade for wine – yet another example of treating customers as family. "All those years, I used to think that work was so tough," said Chantelle. "But the customers think it's fun. At the harvest, [there is] something lovely about seeing all our work of the year come to fruition."
Still channeling the French approach to wine, Claire said that she tells young people today, "Do what the French do; have it with food … don't think of wine as an alcoholic beverage; it's a food [and] it complements what you eat."
Diamond Hill Vineyards is located on 3145 Diamond Hill Road in Cumberland, Rhode Island.