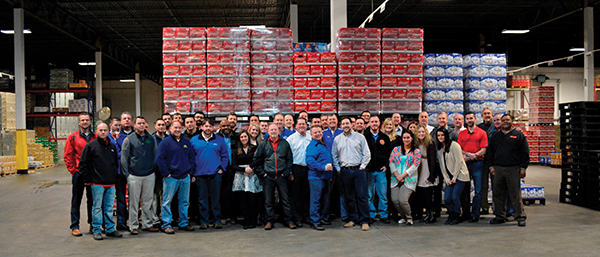 Focus on Teamwork Leads to High Performance
By Bob Sample
Connecticut's Dichello Distributors was recently named Anheuser-Busch's top-performing wholesaler in the Northeast, earning the company's prestigious Ambassador of Excellence award for 2014.
The Ambassador of Excellence Award recognizes Anheuser-Busch partner companies in six regions throughout the United States. Orange-based Dichello was the Gold-level recipient for Region 1, which extends from Maine to Virginia and encompasses 99 wholesalers. Dichello distributes Anheuser-Busch products in Fairfield, New Haven and Middlesex counties.
The award ceremony took place on March 10 at Anheuser-Busch's senior management meeting in Las Vegas. "Dichello has set the bar high for other wholesalers," said Anheuser-Busch Region 1 Vice President Brendan Whitworth. "There is a sense of pride, intensity and commitment to win in the organization."
In accepting the award, Dichello CEO Sal DiBetta called it a special time in the history of Dichello Distributors. "We're proud that we will be representing Anheuser-Busch for Region 1," said DiBetta. "We applaud the entire team at Dichello Distributors for having the vision and leadership to make this happen."
Recipients are chosen for Gold, Silver and Bronze awards in each region. The selection process is rigorous and requires an independent Anheuser-Busch Management auditor team from St. Louis, who reviews performance data for each nominee before finalists are named.
"Earning this award requires a company to meet some pretty lofty performance objectives," said DiBetta, who joined Dichello in 2013 after several decades in sales and marketing at Anheuser-Busch. "This program is a key enabler for driving consistency and focus across the entire wholesaler system, maximizing Anheuser-Busch execution and sales in more than 500,000 retail accounts."
To that end, Dichello now puts a strong emphasis on building partnerships with retailers. "Our retail customers have embraced the new Dichello selling approach and they have been so supportive of our programming throughout the year. Our retailer customers are sharing this award with us, as it's because of their commitment to the Anheuser-Busch brands and our team approach that pushed us to the top in 2014. Our personal thank you goes to every one of our retailer customers," said DiBetta.
The program also focuses on consistency in wholesalers' business practices, the formulation of action plans to close achievement gaps, results tracking and utilizing a scientific approach to setting objectives.
In the year prior to being named an Ambassador of Excellence, Dichello embarked on an ambitious organizational-improvement program. Key among its innovations, it adopted an enterprise-wide system of performance metrics. "We now track every aspect of our business, which gives us the information we need to make continuous improvements," said DiBetta.
Programs such as the Ambassadors of Excellence have helped Anheuser-Busch to continue to dominate the U.S. beer industry, DiBetta pointed out. Besides introducing a variety of specialty brews – such as Shock Top – the company has recently purchased small craft breweries throughout the U.S. One nearby acquisition is Long Island's Blue Point Brewing Company.
"The Millennials are returning to Budweiser, and Bud Light continues to have strong loyalty among beer drinkers of a variety of ages," said DiBetta. Several Anheuser-Busch breweries supply most of the product distributed in Connecticut: the landmark Newark, N.J. brewery, one in New Hampshire and another in Baldwinsville, N.Y., outside Albany.
DiBetta said earning the Ambassador of Excellence Award is a testimony to the hard work of all of the Dichello employees. "It showcases our excellence as an organization," said DiBetta. "It also increases our company's perception as a great place to work. It's like a football team winning the Super Bowl – it's not the coach making the accomplishment, but everybody on the field working together. I'm proud to be a part of the Dichello team."