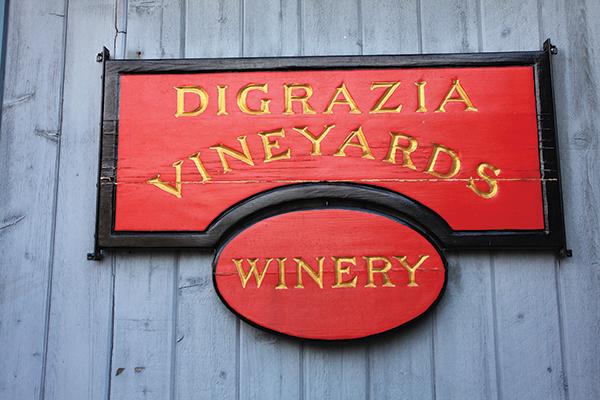 Old School Winery Continues to Grow New Business
Family-run DiGrazia Vineyards' past enhances its future
By Nancy Kirsch
"We're probably the only company in the industry with an 83-year-old delivery guy who's also president of the company," laughed Mark Langford, business manager of DiGrazia Vineyards, in Brookfield, Connecticut. That "guy" is Dr. Paul DiGrazia, Sr., President of DiGrazia Vineyards, a family-owned company that he and his late wife, Barbara, founded.
"DiGrazia Vineyards is very much an old school winery founded by someone with a passion for wine and grapes," said Langford, Barbara's son and Paul's stepson, who grew up in the business. "It's been a lifelong pursuit," he said.
That pursuit is paying off. DiGrazia Vineyards' wines were poured for hundreds at the Connecticut State Society of Washington, DC's "Taste of Connecticut, an event that showcases hand-picked selections of foods and wines by state senators that best exemplify their state's offerings. Open to members of Congress and their guests, the function takes place at the Russell Senate Office Building every fall.
The DiGrazias began the company in 1978 with a 20-acre vineyard in Armenia, New York, just across the Connecticut border, and added 20 more acres in 1979. They planned to simply grow grapes, said Langford, to sell to fledgling wineries in Connecticut, New Jersey and New York.
When a large purchaser reneged on its commitment to purchase 50 tons of grapes in the summer of 1984, the DiGrazias – Paul was practicing medicine and Barbara was a career chemist – jumped into winemaking. Lacking industry expertise, the DiGrazias were fortunate that their neighbor, Carl Lemb, was a boutique wine distributor. He took us, said Langford, "from zero to [being in] 250 package stores." When Lemb retired, Langford took over sales and marketing responsibilities.
Today, DiGrazia Vineyards produces 8,000 gallons of grape wines and 2,000 gallons of fruit wines each year. The company that began with four wines now produces 17 wines, including whites, reds, ports, dessert wines and more.
When erratic weather patterns emerged some 10 years ago, the company added fruit wines to its inventory. Their pear and apple wines use fruit grown in Connecticut, and the blueberry wines use Connecticut- or Maine-grown blueberries, when possible. Grapes are grown and processed in Armenia, and aging, bottling and selling happen in Brookfield, where DiGrazia Vineyards offers wine tastings, tours and picnic areas.
Wild Blue, one of the company's best sellers and Langford's personal favorite, has also won judges' hearts throughout the years. It received the Best of Show, Best Fruit Wine, Double Gold Medal and Best Connecticut Wine in The Big E Wine Competition in 2007, said Langford, adding that their Blacksmith Port earned a national gold medal in 1998 from the American Wine Society.
Currently, DiGrazia Vineyards sells wines in its own store, retail stores throughout Connecticut and online to customers in California, Connecticut and Florida, though Langford said the restaurant industry is an untapped market. The company is eager to increase its fruit wine offerings and continues to make infrastructure investments, by planting a few more acres of grapes and upgrading its barn.
DiGrazia Vineyards truly is a family affair. During peak season, it has 12 employees, five of whom are family: Dr. DiGrazia, Langford, his daughter Alexa Langford, who works in the retail store; his half-brother Paul DiGrazia, Jr., vineyard manager; and Paul's fiancée, Sarah Marden. Lemb's grandson, Aaron Cox, who studied winemaking under Dr. DiGrazia for some 25 years, took over as winemaker several years ago.
"Wholesale business is more than a business, it's my life," said Langford. "Name any small town or large city in Connecticut and I could name the package stores [there]… it's a unique way to know [a state]."
Photos by Alexa Langford, Jeff Simon. Provided by DiGrazia Vineyards.