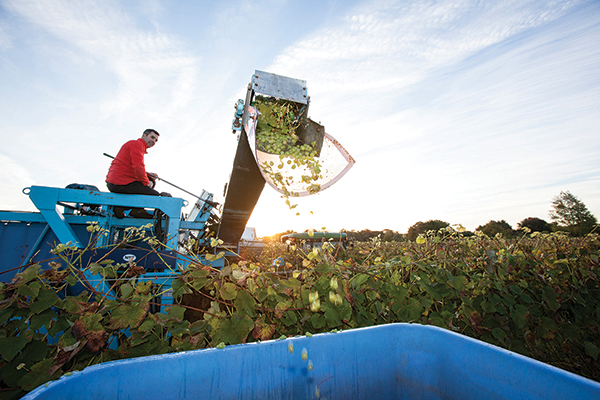 Big Family History Makes for Big Wine
Celebrating its 20th anniversary, Newport Vineyards goes 'bigger and better'
By Nancy Kirsch
Newport Vineyards, the largest producer of grapes in New England, has blossomed into a year round destination venue along the Coastal Wine Trail. Some 60,000 to 70,000 people visit Newport Vineyards each year for food, wine, fun and festive private, semi-private and public functions, said co-owner John Nunes (pronounced "noons").
Brothers John and Paul Nunes, whose family has owned the land on which they grow grapes since the early 20th century, have owned Newport Vineyards since 1995. The vineyard began when Richard Alexander, a retired U.S. Navy captain, planted the first grape vines in 1977 and built a winery some years later. Describing winemaking in the '70s as "a wild frontier," John, who has 52 first cousins, added, "My cousins and I always helped with picking grapes and planting."
Twenty years in, Newport Vineyards now produces about 20,000 cases of wine annually, which are sold in the vinyard store, online to customers in about two dozen states and to retail stores in Rhode Island and Massachusetts. Head winemaker George Chelf, assistant winemaker Michael Walton, vineyard manager Paul Nunes and John all have a hand in producing the wines.
Their 2014 Pinot Gris and their 2014 Great White won Golds in the Atlantic Seaboard Wine Competition, hosted by one of the oldest wine organizations on the East Coast. These days, John is particularly fond of the Riesling, which, he said, will "kill" any competitor's Riesling. The vineyard's white wines have nice fruits and aromatics, and some red wines are aging for 18 months in oak barrels. "We extended [the aging of] the Merlot and we were really impressed with the difference," he said.
In celebration of their 20th anniversary, the brothers renovated and expanded the building. In addition to the actual winery operations, the 35,000-square-foot complex now houses a bakery/deli, a full-scale restaurant, a tasting room, a private events space and a gift shop. Their live music and comedy shows, clambakes and yoga and ballet classes enable Newport Vineyards to differentiate itself from other wineries, said Cassandra Earle, Director of Marketing and Events.
Another distinguishing feature is that the vineyard is the first in the United States to import a grapevine baler from Italy, said John. The grapevine bales are ground into wood pellets that the vineyard uses for heating fuel. Solar panels, as well as recapturing and re-using the heat created in the wine chilling process, also save both energy and energy costs, he said.
Preserving the environment is second nature for the Nunes brothers, who own 80 acres of preserved farm land, of which 53 acres are planted with grapevines. The year-round Aquidnick Growers' Saturday Farmers Market is on vineyard property, as is part of the Sakonnet Greenways Trails. "Quality wine is made outside in the vineyard; [we] massage it in the winery to get what we want," said John. "If you take care of the grapes and do a good job with Mother Nature to maximize what she's going to give you, nine times out of 10, you're going to get a good wine."
The employee base has grown from 25 to 100 just in the past year. Tastings occur seven days a week; tours are held once daily, and more frequently on Saturdays. "We're a destination within a destination [of Newport]. That's what sets us apart," said Earle.
Photos provided by Newport Vineyards. Credit: Marianne Lee Photography.