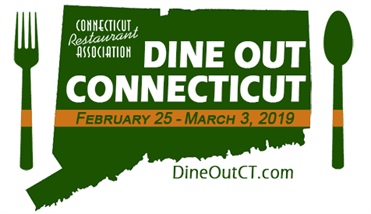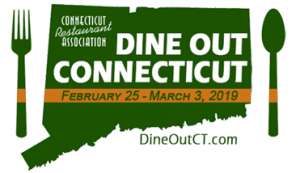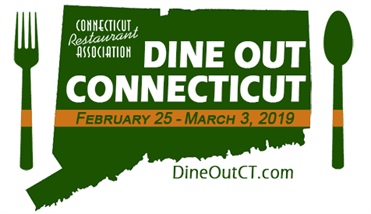 Connecticut Restaurant Association member restaurants from throughout Connecticut are participating in a new week-long initiative to encourage people to support the state's restaurant industry. Restaurants across the state will offer an array of choices, which may include prefix menus, specials, discounts and more, running Monday, February 25 through Sunday, March 3.
"We know that almost every town in Connecticut has their own version of Restaurant Week, so we feel it is time to launch a new brand that highlights the entire state," said CRA Executive Director Scott Dolch. "Dine Out Connecticut is an open invitation for every restaurant to showcase their best, while also allowing us to raise funds for the future generation of our industry."
All participating restaurants will be encouraged to promote and donate to the Connecticut Hospitality Educational Foundation (CHEF), the CRA's 501(c)(3) non-profit organization that is dedicated to the development of future restaurant industry leaders through educational scholarships and programs like ProStart®, a two-year culinary and management program for high school students. On Friday, March 1, the Connecticut ProStart® Invitational will be held at Gateway Community College, where high-school students will compete for scholarships and a chance to represent Connecticut at the 2019 National ProStart® Invitational in Washington, D.C. in early May.
 More information can be found at www.dineoutct.com