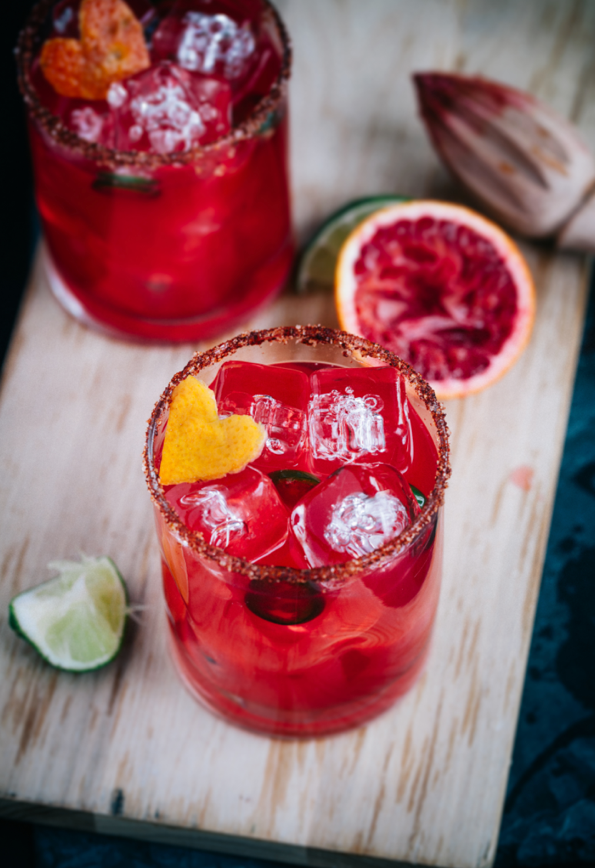 Cocktails delight in hues of reds, pinks and purples for Valentine's Day. Take inspiration for one of the season's best on-premise sales opportunities.
Rosé Clover
Ingredients:
2 oz SVEDKA Rosé
.75 oz Lillet Rose
.75 oz Lemon Juice
.75 oz 1:1 Simple Syrup
4 Raspberries
2 Dashes Orange Bitters
Method:
Add all ingredients to a mixing tin and shake vigorously with ice. Strain into a chilled coupe glass. Garnish with a triangular lemon twist and two skewered raspberries.
Purple Spring
Ingredients:
2 oz. Brockmans Gin
2 oz. Beetroot juice
4 oz. Wild Berry Cider
Method:
Add Brockmans and beetroot juice to a shaker with ice. Shake and strain into a stemmed Copa glass (bowl glass) filled with ice. Top with Wild Berry Cider and give it a gentle stir. Garnish with a very thin slice of dehydrated beetroot and edible flowers for a touch of spring.
Feelings Catcher
 Ingredients:
3/4 oz. Elijah Craig 12
3/4 oz. Lustau Spanish brandy
1/2 oz. Coruba
1/2 oz. The Perfect Purée Pink Guava Puree, thawed
3/4 oz. Donn's Mix (2:1 grapefruit to cinnamon syrup)
1/2 oz. Lemon juice
Peychaud's Bitters (float)
Mint sprig (garnish)
Method:
Build in a swizzle glass and swizzle with crushed ice. Float Peychaud's Bitters. Garnish with a mint sprig. (Created by Ivy Mix, Co-Owner and Head Bartender, Leyenda, Brooklyn, N.Y.C., Courtesy of The Perfect Purée.)
Casamingos Hearts on Fire
2 oz. Casamigos Blanco Tequila
1 oz. Blood orange juice
1 oz. Fresh lime juice
.5 oz. Simple syrup
2 Dashes of firewater bitters OR 3-4 slices of a serrano pepper
Rim of salt / sugar / tijan or chipotle mixture (equal parts)
Method:
Add all ingredients into a tin shaker, muddle the fruit and add ice. Shake vigorously for 8-10 seconds then fine strain into a rocks glass. Add fresh ice and garnish with heart-shaped cutout of a blood orange peel and place on top of the cocktail.
Mezcal Mama,  The New York Edition
5 oz. Gem & Bolt Mezcal
5 oz. Jasmine Tea
.75 oz. Fresh Lime Juice
.5 oz. Agave Syrup
.25 oz. Benedictine
3 or 4 Raspberries
Method:
Shake all ingredients and strain over ice. Garnish with three or four raspberries.
Roses & Berries Tanqueray
Ingredients:
1.25 oz. Tanqueray London Dry Gin
½ tsp. Rose Water
Fever -Tree Elderflower Tonic
Strawberries
Rose petals
Alt. add rosebuds to garnish as well
Method:
Build 1.25 oz of Tanqueray London Dry Gin, ½ teaspoon of rose water and Fever-Tree Elderflower Tonic to fill over ice in couple class. Stir. Top with tonic. Dress with strawberries and rose petals.