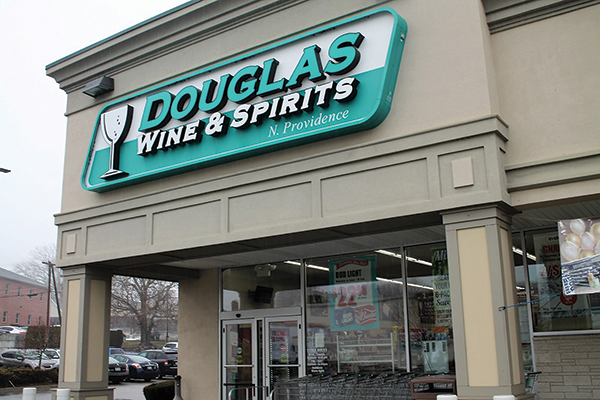 Douglas Wine and Spirits
1661 Mineral Spring Avenue
North Providence, RI
Square footage: 7,000
Years in operation: 40 (2 years under current ownership)
By Savannah Mul
Douglas Wine and Spirits recently finished store renovations to its existing 7,000-square-foot location, allowing it to nearly double the selection of wines, increase craft beer SKUs and offer more variety in spirits and novelty items, said Store Manager Nate Borges.
"We just gave it a fresh face," said Borges, who has worked at the store for the past seven years. Among the improvements: shelves were increased by one level up, a fresh coat of paint, new floors and new artwork, transforming the location into a bright and variety-filled shopping experience that now features "at least" 5,000 SKUs.
Borges said buyers in the area are generally focused on wine, which brings in the majority of the store's sales, but more recently he is seeing buying trends swaying towards craft beer. "I'm seeing a lot of [craft beer] buzz with people," he said. Borges described craft beer as one of his passions and when the renovations allowed him to bring in more styles, he did his research.
Borges created a bell curve graph to see what styles of beer sell more than others in the store. He was expecting the outcome to be favoring IPAs as the beer of choice, but said, "I was surprised to see it was white wheat and porter style beers that people were after." So he stocked accordingly.
"I love talking with people and I give out a lot of recommendations and it's always nice when they come back and tell you they enjoyed it," said Borges.
Borges is working towards implementing a local craft beer night on Thursdays, coordinating with area brewery representatives to give consumers a chance to learn more about their offerings. "Every Thursday would be a different beer," he said. Douglas Wine & Spirits offers wine tastings on Fridays.
Craig Power, Vice President of Wine & Spirits Retail Marketing, a consultant for Douglas Wine & Spirits, said the internet and technology has made the consumer a smarter shopper. The staff of 10 employees offers their expertise to educate and answer questions on site, he said. For the consumer who "may be nervous to try new products," a "Beer of the Month" display and "Employee Picks" with shelf-talkers help aid in suggestions, offering monthly features.
Douglas Wine & Spirits also offers a variety of more than 75 ready-made gift baskets for walk-in "gifts on the go" or will create a custom order gift basket based on price points and product styles.