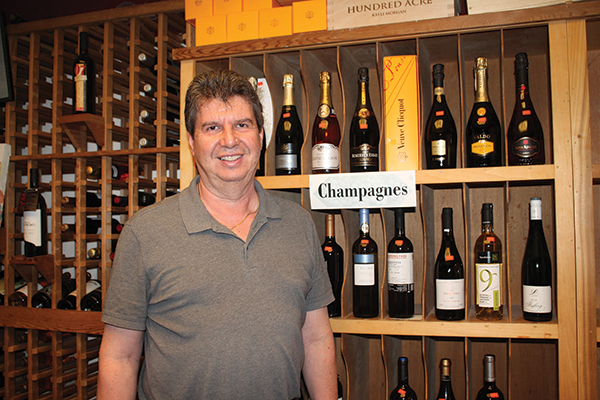 Surrey Wine Shop
1019 Farmington Avenue
Farmington, CT
Square footage: +/- 1,000
Years in operation: 30
By Savannah Mul
Demetris Tolides has found his niche in the Farmington Valley. He owns and operates Surrey Wine Shop, an eclectic collection of wine, coupled with a smaller variety of beer and spirits, located on a busy stretch of Route 4 in Farmington.
"Wine is my thing," Tolides said. "I like to find the completely unknown or small production items that have good points." He said by stocking wines with a story or interesting and different grapes, "you eliminate competition because you are offering something different." Ninety percent of the store's sales are from wine and he features about 500 different labels at the store.
The open space at Surrey Wine Shop introduces a friendly environment and allows Tolides to provide his brand of personalized customer service. "I'm behind every product I sell here and if I don't have something the customer is looking for, I can recommend another product that is similar. It's very personal, the interaction, tête-à-tête," he said.
Tolides works at the store six days a week and closes the shop on Sundays for a day of rest, but he said being at the store daily works to his advantage. "I'm here all the time and you get to know your customers and the products." Tolides attends distributor-hosted tastings and wine seminars to further his knowledge and ability to sell products. After being in the industry for 30 years, he has built up his knowledge of wines, he said.
Last year, Tolides updated the store with new mahogany shelves that feature "uncommon" wines under $20. Popular price points for purchases fall between $15-20. Surrey Wine Shop also features a temperature-controlled wine room, which was added in 1997, to house its finer selections of wine, Champagne and sparkling options.
"Everything is all rosé now, like smaller microbrew beers … a couple years ago it was all Mike's Hard Lemonade. When I got into the business it was Peachtree Schnapps," he said. "It's always changing and we have to change with the times." In April, Tolides began preparing his summer inventory and increased his rosé, Sauvignon Blanc and other white varietal offerings.
Surrey Wine Shop hosts in-store tastings with visiting winemakers or sales representatives and also partners with area restaurants to host wine dinners.
"I have met amazing people in this business. It's long hours, but you have to enjoy it. You got to like what you're doing, too," Tolides said. "You have to find a niche and you have to be there." Tolides also owns Pizzeria Artistica, a brick-oven pizza eatery located next door to Surrey Wine Shop.