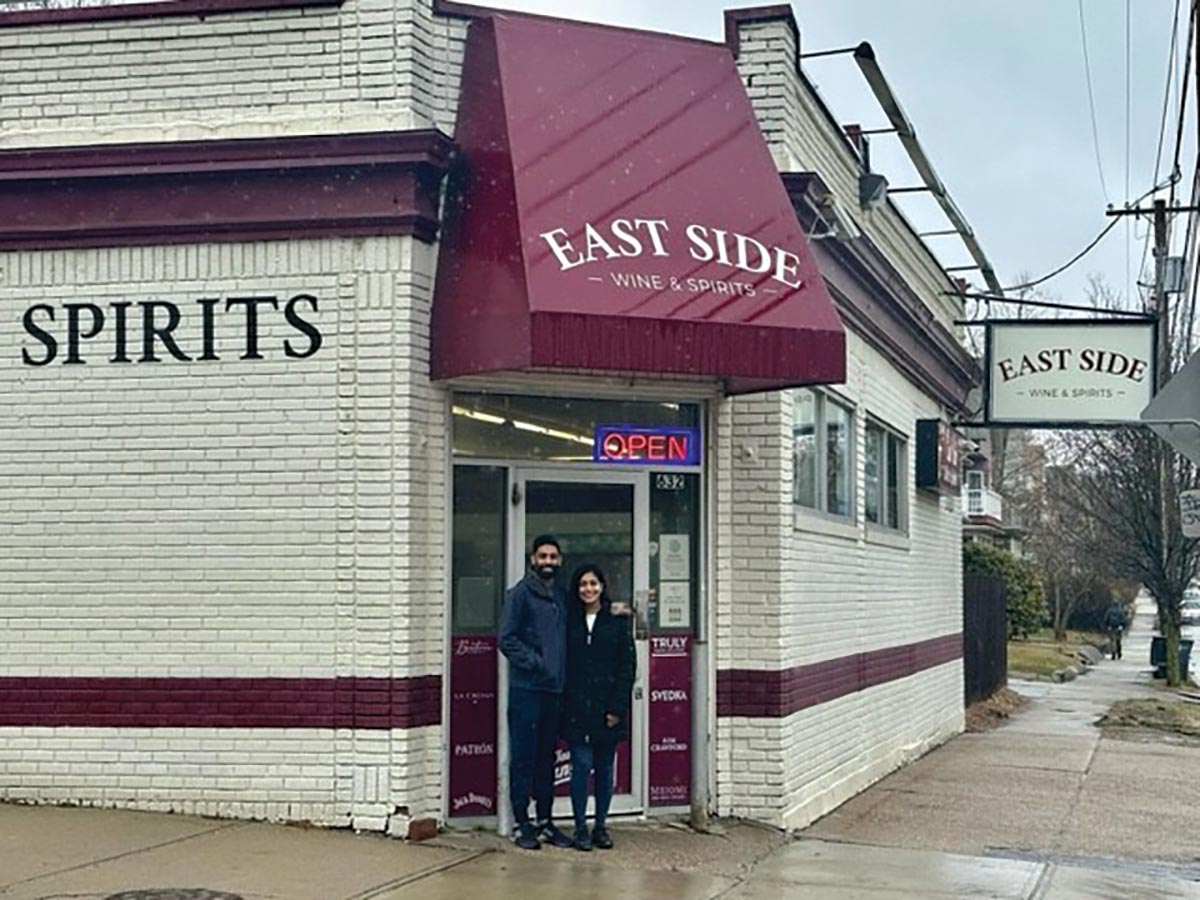 East Side Wine & Spirits
632 Hope Street
Providence, RI
Square footage: 2,000
Years in operation: 4 years under current ownership
By Sara Capozzi
Taking on several incarnations over the last 40 years, East Side Wine & Spirits has remained a popular fixture in Providence's Blackstone neighborhood. Originally an independently owned pharmacy, the store continued to operate as a drugstore with an adjacent fine wine shop for years. Then, in 2018, Owners Shiv and Dhvani Patel purchased the business and brought it into its next phase, converting the entire building into a beer, wine and spirits shop.
"When the final pharmacy section was sold by the previous owner, it became a full liquor store," said Marc Guillotte, East Side's Beverage Director. "That's when Shiv came in and bought it and has taken it to the next level." Guillotte, a sommelier who has a background in hospitality, importing and distribution, worked as a seller and adviser to the store for more than 10 years for both its previous and current owners before becoming its Beverage Director in November 2022.
The walkable neighborhood is home to an affluent and diverse client base, with plenty of locally owned stores and restaurants. A team of five to six employees under Manager Michelle works to appeal to its customers by offering an inclusive environment while continuing to interest and engage shoppers with products that are outside of the mainstream.
"East Side Wine & Spirits has always been a part of the community where it is and that's very much what we want to keep up," Guillotte said. "To give something unique, not to be a cookie cutter of every liquor store of everything you can get there. We still want to provide those things so the local customer can choose us and not go to a bigger store, but also to always offer something else, something more."
Alongside best-selling national brands, East Side offers an eclectic selection of Spanish, kosher and organic wines to appeal to a wide range of tastes. The Patels are planning to bring in more items produced by women and to support more local, "mom and pop wineries. We want to diversify what we're selling," Shiv Patel said. Tequila and ready-to-drink cocktails remain popular, with rum the latest spirit to gain a bigger share of sales. Guillotte said the store plans to "invest heavily in rum" for the summer months, including a 12-year-old barrel of Fiji Rum from Plantation, one of many barrels they've brought into the state. Guillotte's approach to buying is to put himself in the customer's frame of mind. "You want to separate yourself from your competition and you want to provide something new for your customer—usually that can be done in the same stroke," he said. "If you think of your customer first, walking to the store, walking down the aisle, what they're looking for and what you want to surprise them with and excite them with, then if you do that, you're separating yourself from your competition."
Guillotte said his favorite part of the job is his interactions with customers. "Sales is a conversation … And in that conversation, you give them the story of the item. You mention things like organic, family-owned, single-vineyard, biodynamic, sustainably farmed and the other person is picking up the shared words that they liked and you settle on those words and those concepts that you both share and that is what a sale is … I like that we're having conversations about things that matter to us." The store continues its evolution under the Patels' ownership, with plans to renovate the storefront later this year.