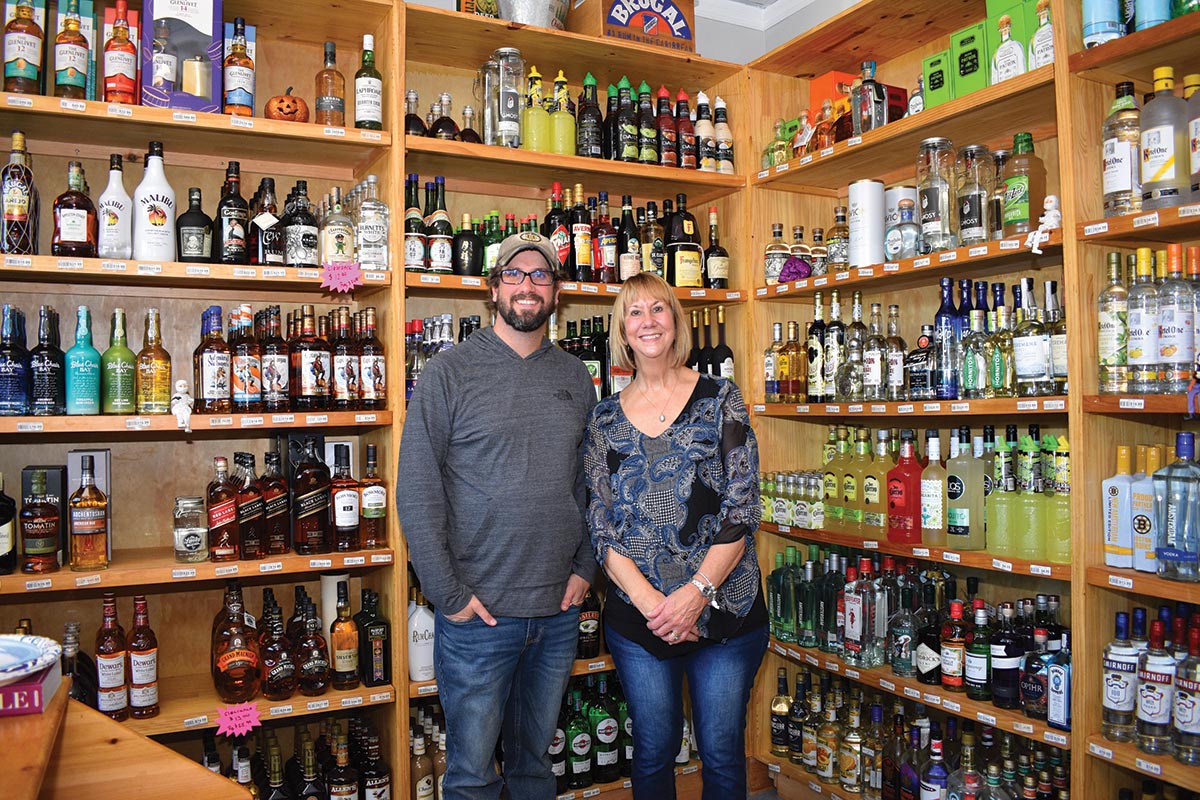 Em's Liquor Store
1285 Park Avenue
Cranston, RI
Square footage: 1,250
Years in operation: 3 years
By Sara Capozzi
Chad and Sue Kelliher have established a thriving business after switching careers to run their retail operation, Em's Liquor Store, in Cranston. The mother and son team both worked in different fields before making a jump into beer, wine and spirits sales. Chad, a senior accountant with an MBA, had worked for local firms and had several package stores as clients, and seeing their numbers, thought he could be successful opening his own store. Sue had recently retired from nursing after 40 years.
Together, the idea came to fruition when the two purchased a liquor license in Cranston and opened Em's Liquor Store, named after Chad's daughter, Emma, in December 2018.
Being new to the industry, the two say there was a bit of a learning curve when it came to becoming versed in products and prices, and seeing which products sell most, but they've mastered it through day-to-day experience on the job, and their sales continue to increase. "Each year that goes by, we've filled in more experience, learning from our mistakes that we made or saying, 'Hey, that really worked, let's do that again,'" Sue said.
With the experience of knowing now what sells best, the team's goal is "bringing in what moves … you want to have the Tito's [Handmade Vodka] and the Ketel One; that's the bigger thing, that's kind of what we focus on," Chad said. "Because we're small, we have to try to bring in what we know is going to move."
"We know we can't compete with the liquor store up the street that brings in tons and tons of wine. We try to bring in quality products," Sue said. "We're smaller, so we don't have much space; that's how we try to stand out in this neighborhood is to bring the customers a good variety with reasonable prices and quality products. That's what we focus on."
Em's Liquor Store started out in a 1,600-square-foot retail space in Cranston's Magnolia Plaza; and while they had more square footage, the business was set so far back from the road that it wasn't easily accessible to customers. Still, the duo focused on building the business for more than two years and when they had the opportunity, moved to their current space on Park Avenue in July 2021.
The new space offers much more visibility from the main road, and the Kellihers have gained new customers from the shop's neighborhood residents. The Kellihers have also prioritized building relationships with other business owners in Cranston, through networking and community involvement with charitable contributions and causes, including the St. Mary's Feast and the Warwick and Cranston Fire Departments.
Em's, like all package stores in the current pandemic-stressed economic climate, is currently dealing with the challenge of product shortages, the latest of which have been among best-selling brands. Since it is a smaller store with limited storage, the Kellihers don't buy too much in bulk, which makes keeping items in stock more challenging. In October, their focus was to buy more inventory in advance of the holidays to keep up with customer demand toward the end of the year.
"There's going to be more and more shortages we think, we're hearing," Sue said. "We just have to readjust, that's all. If you can't bring in one product, you try to bring in another one so that there's at least something."
The Kellihers have plans to broaden the store's footprint in the near future, either by expanding the store into a neighboring business' space, or leasing the basement for storage. "That's our goal," Sue said. "To continue to grow, and continue to meet new customers, continue to support the community and make our mark as a business in this community."