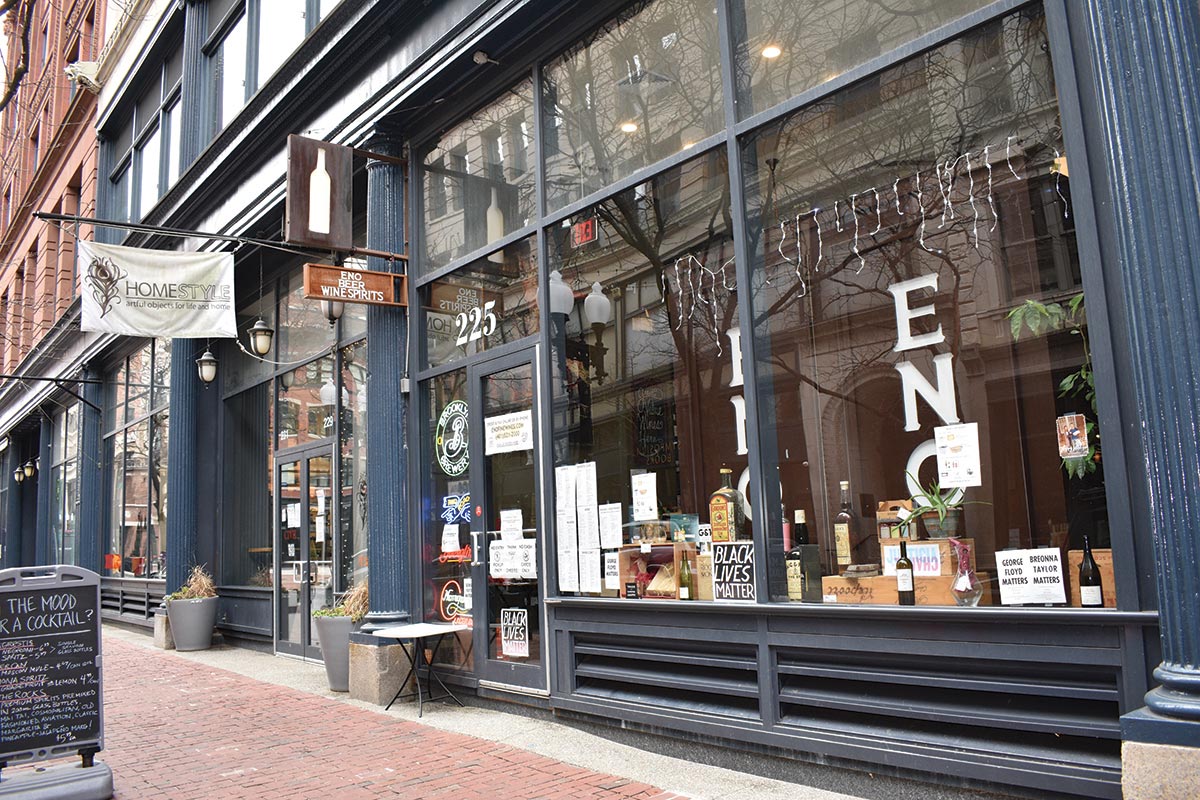 Eno Fine Wines
225 Westminster Street
Providence, RI
Square footage: 900
Years in operation: 14 years
By Sara Capozzi
When the COVID-19 pandemic hit, Eno Fine Wines closed its downtown Providence retail location to in-store shopping, choosing to serve its customers through expanded pickup and delivery options. Almost a year after making that decision, the shop is still operating with this new model.
"For us, it's worked out pretty well," said Manager and Wine Buyer Aubrie Talarico, DipWSET. "There's a lot we would have to do in here to make it pandemic-friendly, and it's just not really a space that is very easily reorganized." The team fits Eno Fine Wines' vast selection of products within a 900-square-foot space with floor-to-ceiling shelves and there isn't much room for a core safety protocol: social distancing.
While the store has always drawn clients from locals, visitors for conventions and tourists for annual events such as PrideFest, customers can now enjoy shopping through the store's new e-commerce website. Many regulars live in the neighborhood, or even the same building, making pickup and delivery easy and convenient options.
The shop carries "a little bit of everything," with a focus on small-production, organic, biodynamic, natural, sustainable and specialty wines, and selections encompass every varietal and region worldwide.
"We have [wines] from everywhere – Lebanon, Slovenia, Greece, France, the U.S., all the classics … A lot of [which are] micro-production, 100 cases or less, which is really, really special that we're able in Rhode Island to get access to things like that … it's very cool to be able to represent people who are making very small amounts of wine," Talarico said.
The shelves of spirits match the approach in diversity and uniqueness, with a focus on single-malt Scotch found among them. The store is also known for its unparalleled selection of sakes and imported European beer, Grower Champagne and sherry, according to Domenic Merolla, WSET III, Wine Buyer. There is also an emphasis on products from Rhode Island breweries, wineries and distilleries, including RI Spirits' Rhodium line.
Rhode Island native and owner Jerry Ehrlich and his wife, Roberta, opened the store in 2007 after living in Tuscany, with the vision of opening a boutique wine shop that focused on small-production wineries. The store's inventory has continued to reflect that vision and draws like-minded customers who also appreciate sustainably produced wines and niche names. When the store opened, natural and organic wines weren't as well-known, but since then, more imports are available through the state's wholesalers.
As with food, consumers are more interested in sustainable agriculture and fair-trade practices in beverages, too, Talarico explained. "The organic focus in supermarkets is indicative of people being more conscious of what they're putting in their bodies," she said. And just because wine is organic or biodynamic doesn't mean it is expensive or out of reach for consumers, Merolla explained.
"There's this perception that natural wine makes wine more esoteric … that makes it fancier or more inaccessible," he said. Eno's provides customers with value to match quality; the majority of bottles are priced between $12 and $30 and every wine Eno's sells has been tasted by the shop's WSET-trained staff.
"Everybody deserves to drink well and drink things that they like," Talarico said. Speaking on product diversity in the market and choice, she said: "It is one of the nice things about the way that the retail of alcohol works in Rhode Island … it enables us to offer [items] that are a better value to people and that are a lot more responsible."