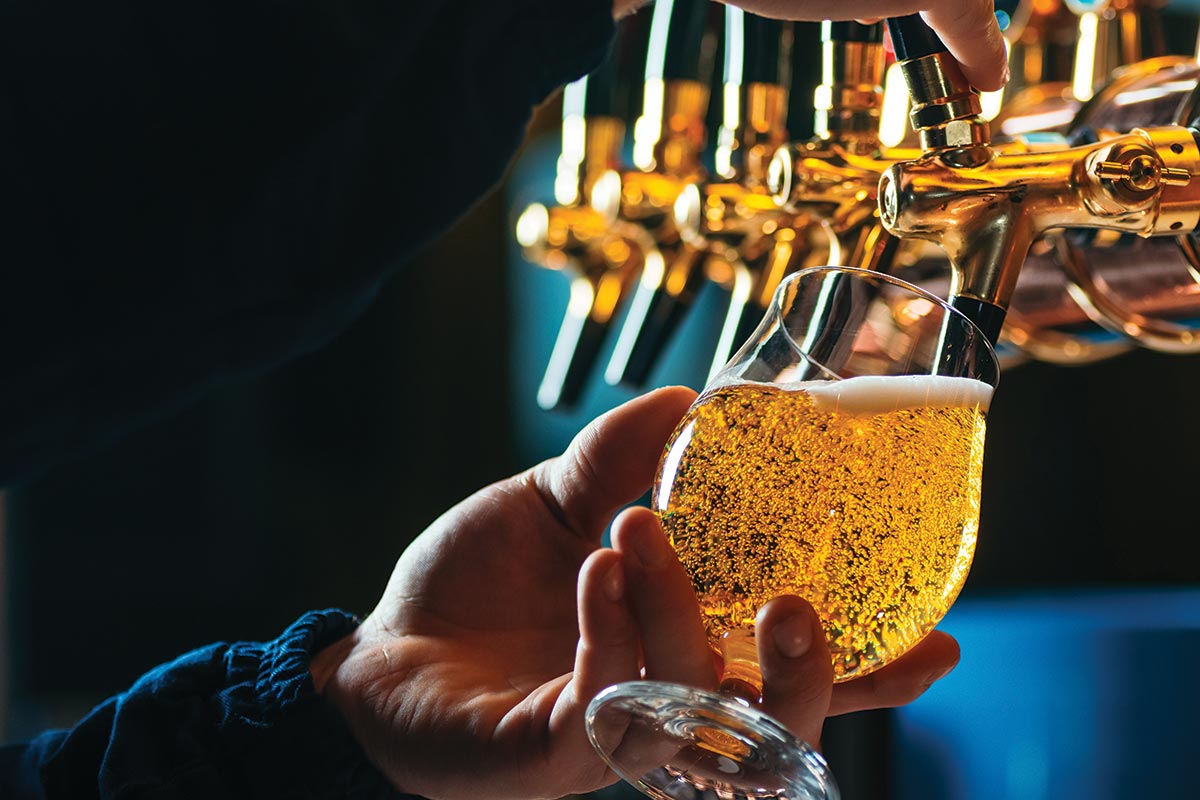 By Jack Kenny
Today's retailers are used to a dizzying array of beer styles from brewers large and small. It's still growing, did you know that? Hah. They have to, the beer makers. If one introduces a cotton stout or a broccoli bock and it looks like a winner, the others jump in and hope the trend lasts. Because of its wide popularity, India pale ale has been the chosen one in recent years, and some solid brews have emerged from the experiment kettle.
Enter Brut IPA. Here is a style that was created barely two years ago. Word of it spread quickly, and within a few months, every craft kettle had one on the boil. Those with national distribution got theirs to market by the end of 2018, and this year the big commercial beer companies began to weigh in. They usually wait and watch a trend before they muscle into a market, bringing a powerful following into the bars and shops.
Brut IPA is an ale that lacks the characteristic sweetness of the style – not cloying, but there – but keeps the strong presence of IPA's hoppy nose and taste, and offers restrained bitterness, good carbonation and bright appearance.
It follows on the heels of New England IPAs, which became a very big deal a few years back after the explosion of interest in Alchemist Beer's Heady Topper, produced in a little Vermont neighborhood. That type of beer is cloudy and intensely fruity from the presence of pricey new hop strains. One either loves it or doesn't.
The brut is a strong response to NEIPA and its wild popularity. Some consider it a restatement of respect for the traditional India pale ale and its pleasing blend of good body and hop complexity. But because the residual sugars are not there, it is unmistakably dry on the palate.
IPA was born in England in the 18th century, but its parentage and birth date are uncertain. Brut IPA's origin, on the other hand, is on the record. It was the result of experimentation at Social Kitchen & Brewery in San Francisco, and released in November 2017. Its parent is Kim Sturdavant, the head brewer.
The special ingredient needed to produce a Brut IPA is the enzyme amyloglucosidase. Its job is to help yeast break down the sugar molecules in beer that have managed to escape the fermentation process. When the enzyme is added to the nascent beer near the end of fermentation, it gives the yeast the ability to break down all of the remaining sugars.
It's not unknown to brewers; they've employed it to reduce excessive sweetness in high-strength beers such as imperial stouts. Sturdavant had been using amyloglucosidase on his triple IPA to bring down the sugar character, so he tried it on a traditional IPA. The result was an India pale ale that was bone dry, highly aromatic and effervescent. Sturdavant thought about naming it Champagne IPA, but he didn't want to irritate the fine people of France (or meet their lawyers). He and a friend then came up with the appropriate Brut IPA.
Since its inception, brewers have worked through several challenges, e.g., how much bitterness to aim for in such a light-bodied beer, what hop combinations are ideal and original, and the role of malt in such a fully fermented brew. Some have introduced rosé bruts. As hundreds of professional brewers have demonstrated, the possibilities go on and on.
Connecticut consumers can enjoy Brut IPAs from Stony Creek, Two Roads, Hanging Hills, Black Hog, Thimble Island, CT Valley, Outer Light and others. In Rhode Island, check out the bruts from Newport Craft, Revival Brewing and Proclamation Ale Company.
A couple of questions are dangling out there in beer land when it comes to Brut IPA. One is whether it is an actual beer style or just a substyle, a slight variant of the American IPA. It appears to be too early to tell based on popularity and sales. The other is about its survival. Is it just a fad? Its stunning rise in popularity was immediately accompanied by "widespread speculation about its potential longevity," according to a trend report in Beer Advocate. Still, the popular website added 600 bruts to its enormous database as of early this year. It's still pretty new, so time will tell.
Jack Kenny has been writing The Beer Column for The Connecticut Beverage Journal since 1995. Write to him: thebeercolumn@gmail.com.