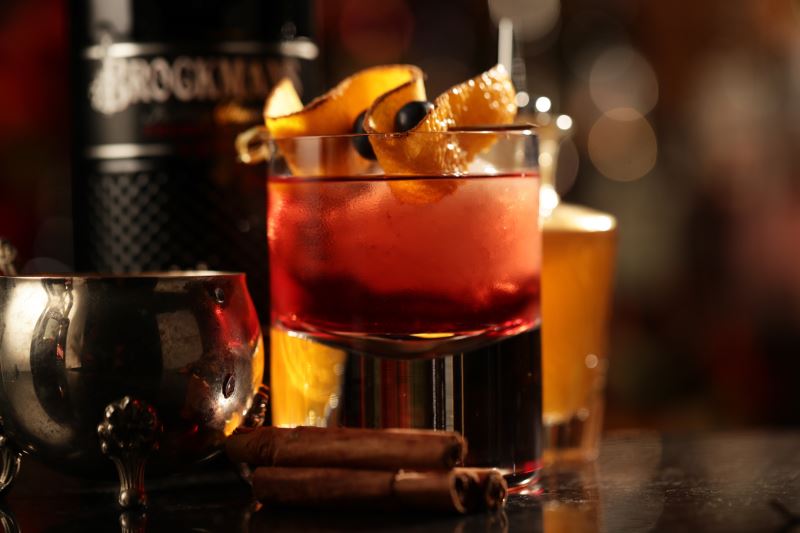 Short days and cool nights signal the seasonal change of tastes. Fall flavors needn't be limited to toasty tastes or apple, pumpkin and nutmeg; but let's face it, they work well.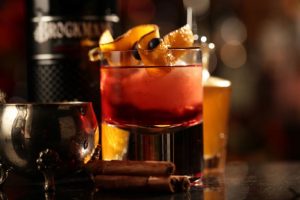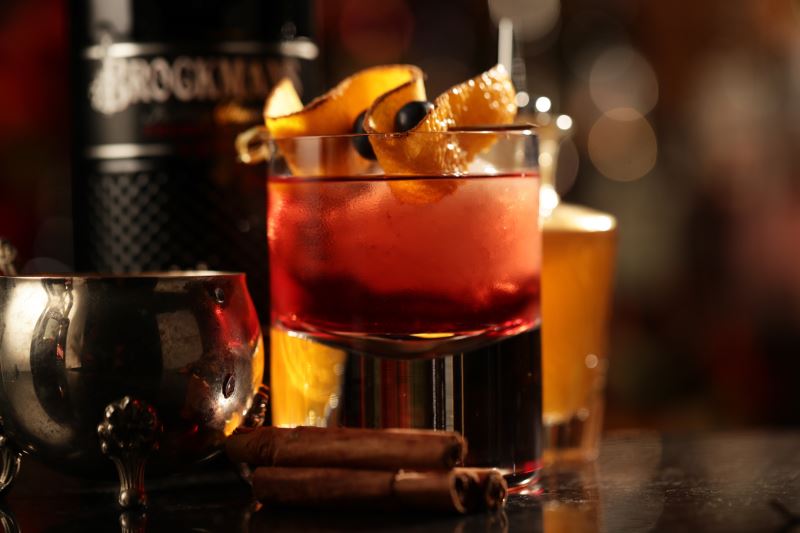 Brockmans Dark Night Negroni
Ingredients
• 1 oz. Brockmans Gin
• 1 oz. Blueberry liqueur
• 0.75 oz. Rosso Vermouth
• 0.75 oz. Campari
• 2 dashes of orange bitters
Method: Build all ingredients in a rocks glass over one large ice cube to chill the drink without diluting too much. Stir and decorate with garnish of a wedge of orange* with the edge dipped in cinnamon and two blueberries/or thick orange peel with one edge dipped in cinnamon and skewered with blueberries. If making this cocktail in January-February, try it with blood orange.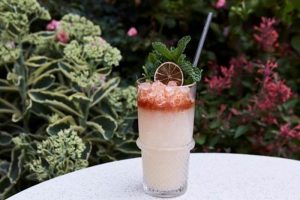 Mexican Muay Thai
Created by Evan Hawkins, Broken Shaker New York
Ingredients
• 2 oz Patrón Reposado
• .75 oz Patrón Citrónge Pineapple
• 1 oz Tahini Date Orgeat
• .5 oz Lime Juice
• 3 dashes Angostura Bitters
Method: Build ingredients in a shaker, shake and strain into a tall glass over crushed ice. Garnish with a mint bouquet and lime wedge dusted with nutmeg.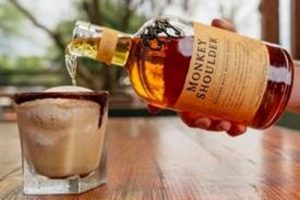 The Doc Is In
Ingredients
• 1.5 parts Monkey Shoulder
• 3 parts Dr. Pepper soda
• Glass dipped in CTC Chocolate Dr. Pepper sauce and sprinkled with cracked pepper.
Method: Take a chilled old-fashioned whisky glass (short glass) and dip in CTC Chocolate Dr. Pepper sauce. Use a squeeze bottle that's filled with the DPCS to add more sauce on the rim to get a dripping effect. Sprinkle rim lightly with cracked pepper. Fill the glass over half way with Dr. Pepper soda (100 ml)
Add measured amount of Monkey Shoulder whiskey. Add generous scoop or swirl of CTC creamy vanilla soft-serve.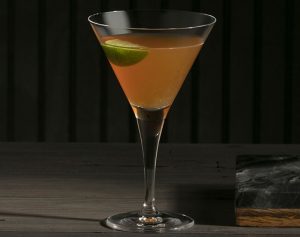 Bourbon Cider Twist
Ingredients
• 6 oz. Evan Williams Kentucky Cider
• 2 oz. Apple Cider
• 1/2 oz. Fresh Lime Juice
• Lime wedge
Method: Combine Evan Williams Kentucky Cider, apple cider and lime juice over ice in a shaker. Cover and shake. Strain into a martini glass. Serve with a lime wedge.
Spider Island Sling
1.5 oz. Sebago Lake Distillery Spider Island Rum 
0.5 oz. Cointreau (triple-sec works too)
3 oz. fresh pineapple juice
0.5 oz. fresh lime juice (juice of ½ lime)
Grenadine for color (about 0.3 oz.)
Method: Shake with ice and strain into a Collins glass. Garnish with a slice of pineapple and a cherry.