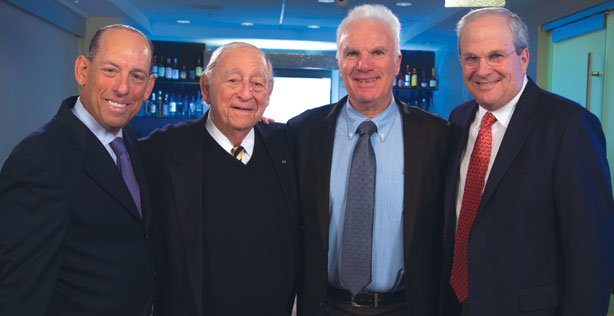 By BevNetwork
As the wine and spirits industry top to bottom takes stock after another busy holiday season, the distributor landscape is about to take on a decidedly different shape, thanks to two wide-reaching combinations.
Breakthru Beverage Group
The Charmer Sunbelt Group and Wirtz Beverage have joined to become Breakthru Beverage Group. Official as of January 1, 2016 operations of the company and its affiliates will span 19 markets and represent more than $6 billion in annual sales.
"Breakthru Beverage is built upon the best of our legacy operations while setting a new path and approach forward," explained Greg Baird, Breakthru Beverage President & CEO. "Our vision for the future is focused on excellence and how we can be a stronger and more innovative partner for our suppliers and customers in all of our markets."
W. Rockwell "Rocky" Wirtz and Charles Merinoff will lead Breakthru Beverage Group as Co-Chairmen of the Board. Daniel Wirtz will serve as Vice-Chairman and on the Operating Committee with Charles Merinoff. "The name Breakthru was chosen very deliberately," noted Danny Wirtz. "We truly believe we can challenge the boundaries of the traditional distributor."
Breakthru Beverage replaces legacy house names in CO, DE, FL, IL, MD, MN, NJ, PA, SC, VA, WI and DC. Nevada will transition to Breakthru soon; Wirtz Beverage Canada and Alliance Beverage in Alabama, Arizona and Mississippi will maintain their names.
In New Jersey, R&R Marketing will now operate as Breakthru Beverage New Jersey. The leadership, expertise and brand portfolios remain unchanged.  The company will also maintain existing facilities and continue to employ more than 200 people statewide.
Southern Glazer's Wine and Spirits
Southern Wine & Spirits of America, Inc. and Glazer's, Inc., have signed an agreement that will create the largest wine and spirits distribution company in North America.
Stretching coast to coast (41 states plus DC), the new company—Southern Glazer's Wine and Spirits—will distribute more than 150 million cases annually and cover nearly 90% of the legal drinking age (LDA) population in the U.S.
The company will be headquartered in Miami, with significant ongoing operations in Dallas. The new leadership team will draw from both Southern and Glazer's, with Wayne E. Chaplin serving as Chief Executive Officer and responsible for day-to-day execution. Sheldon "Shelly" Stein will serve as President and lead business development activities and long-term growth.
Wayne E. Chaplin noted, "The combination of two of the wine and spirits industry's leading distributors will create unmatched value for our business partners. Southern and Glazer's have highly complementary cultures marked by an uncompromising commitment to superior service. Quite simply, we will have the best team and the most extensive reach in the business."
Bennett Glazer, now Executive Vice Chairman, added, "We are embracing a uniquely compelling opportunity to unite our proud family traditions and create an undisputed industry leader."
A joint team will ensure a seamless transition for employees, suppliers and customers alike. The transaction is expected to be completed in the second quarter of 2016.