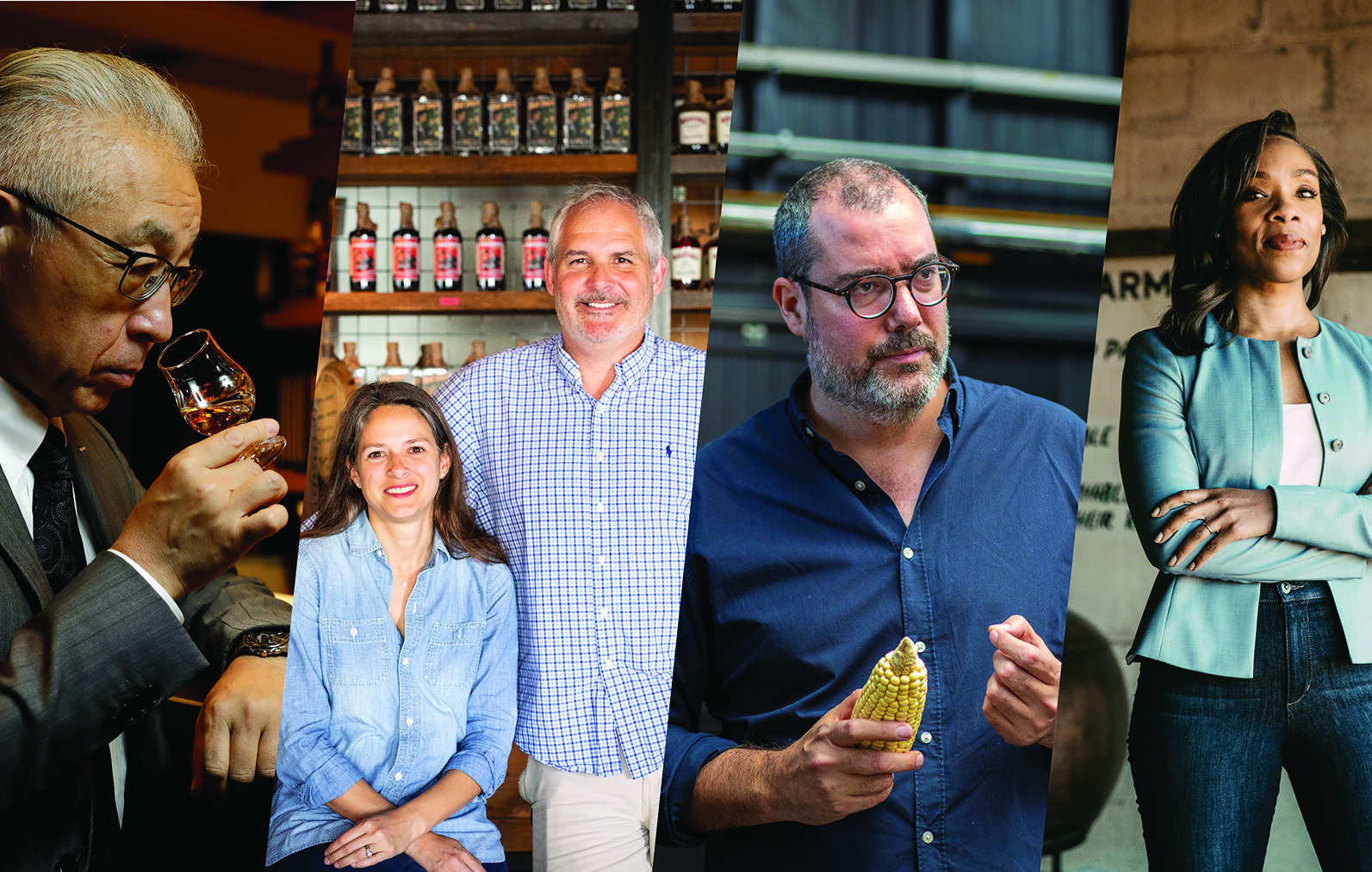 Meet 25 innovators bringing dynamic new ideas, techniques, and ingredients to revolutionize the world of whiskey
By Noah Rothbaum
When I first started writing about whiskey more than 20 years ago, it was all about history.
After the category's crash in the 1970s, whiskey brands were in free-fall for several decades—trying to hold on while working out ways to win drinkers back from vodka. History (whether true or finessed) became the anchor of marketing efforts, many of which appealed to a new generation obsessed with craft products of all kinds. At the time, innovation was a no-no, and there was a fervent insistence that whiskey, whether made in the U.S., Scotland, or Ireland, was made the same way it had been hundreds of years ago.
In 2014, legendary drinks historian David Wondrich asked me to help him research and edit the massive Oxford Companion to Spirits & Cocktails. For the next seven years, we worked with more than 150 contributors from around the world to understand and explain how drinks have evolved and developed. My work on that book (published November 2021), as well as my role as editor of The Daily Beast's Half Full section and the podcast Life Behind Bars—which I host with Wondrich—unearthed stories that showed a major shift for whiskey.
There has been a tremendous evolution in the whiskey industry. As sales skyrocketed and new innovators entered the category—at both established distilleries and new start-ups from India to Wales to Colorado—the category has been, and continues to be, reinvented. Creativity is surging. It now seems almost like nothing is off-limits as distillers and blenders experiment with new techniques, ingredients, and even philosophies of production and maturation. It has been truly fascinating to watch and report on.
So as you can imagine, putting together a list like this wasn't easy. There are now so many people in the industry breaking new ground. But the people I wanted to recognize are the ones who are making meaningful contributions to our industry that will change not only how we drink today, but also in years and decades to come.
Read on to meet 25 people who are currently leading the charge and shaping the category's dynamic future.
Trey Zoeller, Jefferson's Bourbon, Kentucky
For Bringing Back  Ocean-Voyage Aging
While many recent whiskey innovations have revolved around maturation, one of the most interesting of these new techniques has a very long history. Trey Zoeller, the founder of Jefferson's Bourbon, has been experimenting with aging his whiskey aboard a ship on the high seas. It is an age-old idea that dates to when liquor was first transported around the world in casks. Distillers found that their spirits not only survived these lengthy voyages, but also tasted better. This epiphany led to distillers embracing the idea of barrel aging on dry land, which wasn't usually done. Zoeller's Ocean Bourbon is well traveled, visiting 25 ports and five continents before being bottled.
---
Todd Leopold, Leopold Bros., Colorado
For Reclaiming the Extinct Three-Chamber Still
Distiller Todd Leopold stumped many whiskey know-it-alls with the introduction of his Three Camber Rye Whiskey. Several years ago, while reading a government study from the turn of the century, he discovered the long-forgotten three-chamber still. This key piece of distilling machinery had famously been used for decades to make rye before disappearing in the 1930s. Leopold was fortunately able to convince Kentucky-based Vendome Copper & Brass Works to fashion him one of these stills. After several years of trial and error, he just released the first rye whiskey made on the still, and it's an incredible taste of liquid history.
---
Nicole Austin, George Dickel, Tennessee
For Shaking Tennessee Whiskey Up 
It takes quite a bit of gumption to start making bourbon in Tennessee. Distillers in the state have historically gone out of their way not to call their whiskey bourbon, but that's what distiller Nicole Austin did this year. What no doubt helped squash any dissent is that Austin is one of the best distillers working in America today—and the whiskey is delicious. Her annual bottled-in-bond releases are eagerly anticipated and the first one was named Whisky Advocate's whiskey of the year in 2019. Given Austin's creativity and curiosity, I can't wait to try what other whiskeys she'll dream up.
---
Rob Dietrich, Blackened American Whiskey, Colorado and Drew Kulsveen, Willett Distillery, Kentucky 
For Creating an Unlikely Whiskey Collaboration, Blackened X Willett
Distillers can be a closely guarded bunch, not known for collaborating with the competition. So it's heartening to hear how distillers Rob Dietrich from Blackened and Drew Kulsveen from Willett joined forces to create a special release, Blackened X Willett—with a little help from the legendary heavy metal band Metallica. This cask-strength rye whiskey was aged in both American oak barrels and Madeira casks—all the while being blasted with the music of Metallica, which is the Blackened signature maturation technique. Look out for more collaborative releases from Dietrich and other whiskey makers.
---
Matt Hofmann, Westland American Single Malt Whiskey, Washington
For Taking Local Ingredients to the Next Level
Several whiskey makers are trying to use local ingredients and invest in their communities. But few have taken this idea more seriously than Westland cofounder and master distiller Matt Hofmann, a leader of the American single malt movement. The brand is proudly from the Pacific Northwest and Hofmann not only grows his own heirloom grain varieties, but has also experimented with local peat and an indigenous species of oak to make his barrels. Hofmann and his colleagues continue to find new ways to connect their single malt whiskey to their region, showcasing the power of provenance.
---
Kevin O'Gorman, Irish Distillers/Midleton, Ireland
For Widening the World of Oak
While much of the whiskey world has fixated on using either old bourbon barrels or old sherry casks, famous Irish distillery Midleton is using very rare Irish oak for its series of Midleton Very Rare Dair Ghaelach whiskeys. Last year, the distillery introduced the third whiskey in this pioneering series, which had been finished for two years in barrels made from oak grown in the Knockrath Forest in County Wicklow. The trees had been planted in the 1870s. Midleton master distiller Kevin O'Gorman helped choose the oak and closely monitored the whiskey until he felt it was ready to release. The Irish wood imparts a subtle spice and hint of a sandalwood-like flavor.
---
Brian Nation, O'Shaughnessy Distilling Co., Minnesota
For Making the First Modern Irish-American Whiskey Blend 
Brian Nation had one of the best jobs in the world. As master distiller of Midleton in Ireland, he was responsible for making Jameson and several other legendary whiskey brands. He surprised everyone when he left his post there to join upstart O'Shaughnessy Distilling Co. in Minneapolis in 2020. While he waits for the whiskey he's making in the Twin Cities to age (the first release will be in the next couple years), he is currently producing for the distillery's Keeper's Heart line a whiskey that combines Irish pot still and Irish grain whiskey with American rye to create a so-called Irish-American blend. It is unique and delicious, and will no doubt inspire other companies to create international whiskey blends.
---
Meredith Meyer Grelli, Wigle Whiskey, Pennsylvania
For Bringing American Whiskey History to Light
Thanks to Lin-Manuel Miranda's hit musical Hamilton, the story of Alexander Hamilton's life and untimely death is once again well known. Hamilton also played a pivotal role in spirits history when he instituted taxes which caused the Whiskey Rebellion in Pennsylvania. This moment in American history inspired Meredith Meyer Grelli and her family to open Wigle Whiskey, which is named for one of the protestors. She co-wrote the book The Whiskey Rebellion and the Rebirth of Rye with her father, Mark Meyer, and created the Whiskey Rebellion Trail that stretches from Pittsburgh to Baltimore. There are few people who have been able to connect whiskey to meaningful local and national history the way that Grelli has done.
---
Meghan Ireland and Mitchael Mahar, WhistlePig, Vermont
For Aging Whiskey On the Road
From small barrels to heavy metal sound waves, there is no dearth of cutting-edge ideas for aging whiskey. But WhistlePig's distiller Mitchael Mahar and blender Meghan Ireland have tried something very different with their RoadStock Rye Whiskey. They filled a tractor-trailer full of barrels—christened the "Rolling Rickhouse"—and drove more than 6,000 miles across the country, including cruising Route 66. A mobile warehouse is a fascinating idea and offers a lot of interesting possibilities for innovation: What would happen if you aged a brand's whiskey in different climates or elevations? Mobile aging is most certainly a new frontier in experimentation.
---
Heather Greene, Milam & Greene, Texas
For Bringing a Bit of Scotland to the Lone Star State
Texas-based Milam & Greene stunned the drinks industry this summer when its Port Finished Rye was named Best in Show by the American Craft Spirits Association (ACSA), beating numerous iconic craft spirits for the prestigious honor. But for folks who have been following the career of Heather Greene, the brand's cofounder, CEO and talented master blender, the news was no surprise. Greene has been in the industry for nearly two decades, working first for William Grant & Sons and later writing Whisk(e)y Distilled: A Populist Guide to the Water of Life. (She also wrote some stories for my Daily Beast section Half Full.) Greene has brought her experience blending Scotch to the Lone Star State to create a range of bottlings from both sourced and produced whiskey.
---
Garrett Oliver, Michael James Jackson Foundation for Brewing & Distilling, New York
For Making the Distilling Industry More Diverse 
Garrett Oliver is one of the world's preeminent beer experts, brewmaster at the Brooklyn Brewery, and editor of the Oxford Companion to Beer. He also runs the Michael James Jackson Foundation for Brewing and Distilling, which this past March began offering educational scholarships to Black, indigenous, and people of color who want to further their drinks knowledge or enter the spirits industry. This year the organization is awarding 13 scholarships and next year hopes to offer even more of them. His important program has the potential to positively change the direction of the spirits industry and attract a new generation of whiskey makers.
---
Marianne Eaves, Freelance Distiller, Kentucky
For Being the Go-To Distilling Expert for Whiskey Entrepreneurs 
Distiller Marianne Eaves is the force behind some of the whiskey industry's most interesting projects, whether it's helping tennis champ Andy Roddick start a Tennessee bourbon or assisting California winemaker Lindsay Hoopes turn her smoke-damaged grapes into brandy. Eaves was trained by Chris Morris at Brown-Forman before helming the relaunch of Castle & Key as the brand's first master distiller. She is currently a distilling consultant, hired by many entrepreneurs who need her expertise in attempting groundbreaking—and challenging—new whiskey endeavors.
---
Mark Reynier, Waterford Whisky, Ireland
For Rethinking the Role of Barley and Terroir in Whisky
After reopening the Scottish Bruichladdich distillery on Islay and then selling his company to Rémy Cointreau, no one would blame Mark Reynier for wanting to rest on his laurels. But the entrepreneur isn't ready to retire. He recently launched Waterford Whisky in a former Guinness brewery in Waterford, Ireland, to celebrate and explore the beauty of Irish barley. Central to his new brand is the idea of terroir: that whisky should reflect the environment and climate where the barley is grown. Similar to the single-vineyard concept in the wine world, Waterford has a whole series of whiskies made from grain that comes from single specific farms. (The brand also sells blends of these whiskies as well as ones made with organic and biodynamically grown barley.) While this is a fairly controversial concept for whisky, these ideas will no doubt become more common in the coming years given Reynier's track record.
---
Fawn Weaver, Uncle Nearest Whiskey, Tennessee
For Correcting A Historical Injustice
Nathan "Nearest" Green helped start Jack Daniel's, one of the world's most successful spirits brands. Green was the brand's original distiller and taught Daniel how to make whiskey. But Green's name and his pivotal role were largely forgotten, as Black people are largely absent from the story of American whiskey's origins. Fawn Weaver wants to set the record straight and celebrate Green's achievements. She started a Tennessee whiskey brand named Uncle Nearest, which not only honors Green's memory, but also the contributions of countless Black distillers who helped create the American whiskey industry. Hopefully this is just the beginning of telling this story.
---
Rachel Barrie, GlenDronach, BenRiach, and Glenglassaugh, Scotland
For Breathing New Life into Classic Scotch Single Malts
Master blender Rachel Barrie has a gift for figuring out how to get the best out of some of the most historic single malt distilleries. She has an innate sense of which barrels should be used—and which barrels should not be used—to showcase a brand's signature style and quality potential. During her nearly 30-year career, Barrie started as a whisky research scientist before her role as master blender at Glenmorangie. She has since held key positions across the whisky industry and is currently working with GlenDronach, BenRiach, and Glenglassaugh. These three single malts really allow her to experiment with whiskies made with a range of techniques—from traditional floor malting to a third distillation to peated barley—and produce an ever-evolving portfolio of bottlings.
---
Alex Munch, Stauning Danish Whisky, Denmark
For Reinventing Traditional Techniques to Create a New Whisky Category
No one would blame you for thinking the sprawling modernist facility in West Jutland, a remote village on the western coast of Denmark, was an avant-garde art museum. But the gorgeous building with glass walls and soaring peaks houses the Stauning Distillery, which was started more than 15 years ago by nine friends, including CMO Alex Munch. The company has become a leader in Scandinavia's rapidly growing whisky industry. Stauning's impressive facility features 24 old-fashioned, direct-fire stills, and remarkably the brand only uses local, floor-malted grains to make its range of rye and single malt whiskies.
For the full list  of the 25 innovators profiled , click here and choose the Connecticut or Rhode Island February 2022 issue.