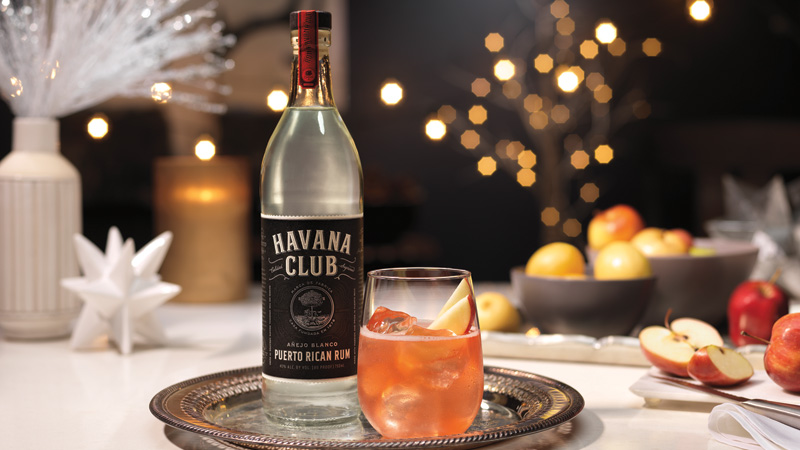 Six bottles and one box to sell to stay on trend in months ahead
By Robert Haynes-Peterson
Peering into the months ahead, here are a few trends taking shape that retailers and mixologists ought to keep an eye on. Hot topics range from whole categories to new packaging to niche-y spinoffs to the "Craft" movement itself.
Sipping Cuban-Style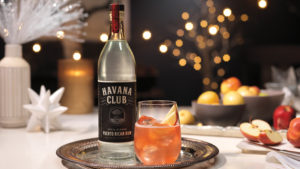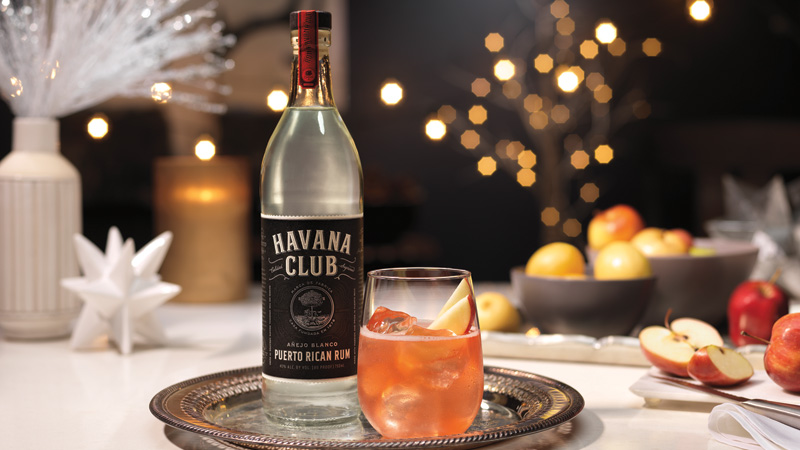 Rum drinkers (and cigar smokers) received a pleasant surprise last year when travel restrictions to Cuba were relaxed. Now drinkers and bartenders eagerly await the arrival on our shores of Cuban rum brands like Santiago, Union and especially Havana Club, a joint venture product between the Cuban government and Pernod Ricard.
But there is room for confusion: While Havana Club 7 is the coveted cane-spirit of the casual smuggler, there's another Havana Club already on the U.S. market. This label, by Bacardi, while produced in Puerto Rico, is far from a knock-off: it purports to contain the original pre-Castro Havana Club recipe. Following exile from Cuba in 1959, Bacardi set up shop in Puerto Rico (but clung defiantly to their Cuban heritage), and eventually purchased the Havana Club recipe that the also-exiled Arechabala family had held on to.
The Bacardi-vs-Pernod dynamic had simmered within industry circles for months, then it hit prime time via the first 60 Minutes broadcast of the year. For bars and stores in the U.S., this controversy isn't necessarily a bad thing: American consumers have heard about, or tried, the Cuban label but can't get it. A little education on the history of the two brands, and you've got a customer happily sipping aged rum that still sports authentic Cuban heritage.
Flavored Gin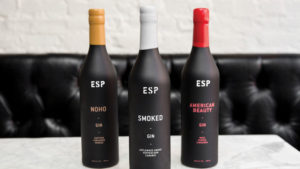 Stay on the lookout for a whole new crop of gins with very non-traditional botanical mixes. "Flavored gins" is a bit of a misnomer, since all gins are flavored—generally with juniper, citrus peel, angelica root, cassia and the like. But now, thanks to the explosion of inventive "GinTonic" cocktails in Spain and the expansion of less juniper-forward New American Dry Gins over the past decade, we're seeing even more experimentation in the botanical mix.
This has been going on in Spain for quite a while, with brands like Port of Dragons (extra floral), Cool (purple and fruity) and Blanc Ocean (sea beans!), among others. Now a number of inventive expressions are showing up on American shores. New York-based ESP (Empire Spirits Project) launched late last year with three expressions: NoHo (saffron, cardamom, orange), American Beauty (rose, ginger, cinnamon) and Smoked (applewood smoke, peppercorn, caraway), each ripe for creating unique Gin & Tonics.
Others hail from distant lands: Italy's lemon-powered Malfy, England's Boodles Mulberry, and from Australia, Four Pillars, whose Rare Dry incorporates local Australian botanicals, while the Spiced Negroni Gin benefits from extra Tasmanian pepperberry, blood orange and ginger.
While these flavor expansions might seem adventurous, in the gin category they seem more logical than some of the outlandish vodka or whiskey flavors that have come down the pike.
Amaro on the Rise
Thanks to the huge popularity of classic craft cocktails in the past decade or so, Americans are increasingly comfortable with European bitters, digestifs and amaros. Campari, Averna, Fernet Branca and the like are all on the front bar, and sometimes consumed on their own. The surge in low-alcohol cocktail sections on bar menus is making these astringent options even tastier to bar goers seeking to get home safely or extend their night, and there's even a colorful (and informative) new book called Amaro: The Spirited World of Bittersweet, Herbal Liqueurs, with Cocktails, Recipes and Formulas by Brad Thomas Parsons.
Now traditional brands like Amaro Sfumato and Luxardo are expanding their portfolio in the U.S. (Luxardo recently released a clear bitters, perfect for the white Negronis showing up on some menus), and manufacturers in America and Canada are getting in on the game in a big way. Amaro Angeleno is an intriguing, terroir-inspired new option out of Southern California. The brainchild of LA-based photographer Stephen Sakulsky (who co-owns an Italian restaurant and Amaro bar called Osteria La Buca), the brand is promoted as "Uniquely Californian, Distinctly Italian."
Liquid Instagram
Perhaps no social media trend has more influenced dining and drinking in recent years than Instagram. Sandwiches are sliced in half; waiters are asked to pause while guests take pictures; cocktails glimmer before they are quaffed. Restaurants like Catit in Tel Aviv and 2nd City in NYC deliberately plate "Gram-Worthy" dishes as part of their marketing strategy. Now it seems liquor brands are clueing into this potential.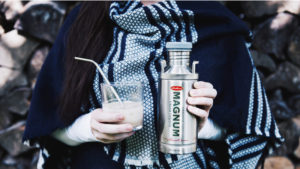 Magnum Cream, a cream liqueur out of Scotland, is bottled in a miniature steel milk can. Last fall they sent out mailers to editors and influencers that included a mooing sound effect and the social media reverb was, if not deafening, at least filled with lots of cows. "The bottle stands out on shelves," says the brand's publicist. "Look at that cute thing!" (Just in time, too, as sales of cream liqueurs, led by iconic Baileys, are on the rise.)
It's not the only brand to stray from traditional packaging. Highland Park single malt Scotch whisky aims to turn heads with their latest release, HP Fire. Following their successful high-end series dedicated to Norse gods, this latest elemental series includes (so far) Ice and Fire. The bottle arrives encased in wooden frame shaped somewhat like a mountain (or volcano). The visually arresting bottle generated better-than-average likes on social media, and is a bit reminiscent of the 1960s and '70s when backbars were filled with bottles shaped like sea captains, mermaids and rifles.
Go for the Green
With California legalizing recreational marijuana, the percentage of the nation living in pot-friendly states will jump significantly—and will ensure that legal weed stays in the public eye through 2017. This fact was demonstrated wittily on New Year's Day when enthusiasts transformed the famous Hollywood sign to "Hollyweed." Now the spirits industry has a product that could hitch a ride on pot's newfound status.
Humboldt's Finest is vodka infused with legally grown hemp seed, which is part of the cannabis family (cannabis sativa). It features a unique botanical character and an aroma reminiscent of fresh herb (and cannabis), leading into a smooth finish. The producer—Humboldt Distillery, based in Fortuna, CA—recommends it as a replacement for gin in cocktails. The combination of its mixability, weed-ish identity and distinctive flavor profile give Humboldt's Finest (80 proof, SRP $25) some compelling selling points.
Craft Momentum
Craft distilleries are on the rise globally. In the U.S.—where every state now boasts a distillery—the Distilled Spirits Council reports the number of small distilleries has risen from 92 in 2010 to over 750 in 2015. We could see upwards of 1,000 in another couple of years. Amidst the ever-expanding roster of passionate mad scientists and booze-hungry investors, we're seeing the beginnings of the acquisition phase: Constellation Brands recently bought High West (Utah); Rémy Cointreau has Westland (an American Single Malt in Washington); Beam Suntory snapped up London-based Sipsmith Gin.
So where do we stand? Will the bubble continue? What happens next?
In general, confidence seems high. No one projects an immediate abatement to the continuing expansion of craft distilleries, or craft offerings at stores and bars. But of course shelf space is limited and consumer interest is still relatively small in the big picture.
"There is going to be shakeout over time," says Dennis Carr, President and CEO of Anchor Distilling Company, which produces Junipero Gin, Old Portrero Whiskey and Hophead Vodka (along with importing a slew of small brands), and celebrates its 20th anniversary this year. "Ultimately, what consumers are looking for is premium: they're looking for the best quality product they can afford. So what it's going to go from is this concept of 'craft,' which is what everyone is hot and heavy about right now, to 'Why is that important? Does craft make it better?'"
Look for a few trends to appear, according to Carr and others:
Introduction of new and different whiskey expressions, taking a cue from the craft beer world.
A redefining of categories emphasizing regional production not unlike the traditional Scotch whisky regions.
Local distilleries playing up their regional game rather than trying to take over the country.
"We are 100% local," says Jason Barrett, founder and head distiller of Black Button Distilling in Rochester, NY. "We work with three farms to grow everything we use. We do just fine in Alabama and Georgia, but no one in Georgia cares that we had a bumper grain crop this year. There's an allure, of course, to selling in many states, but in reality, what works in craft is making super products and making them unique."
For Rob "Whiskey Rob" Dietrich, the head distiller at Colorado's Stranahan's Whiskey (founded by innovator Jess Graber), the opportunity to get adventurous is part and parcel of the future of craft distilling. Each year, the company releases a special limited expression—dubbed "Snowflake"—featuring unique combinations of barrel finishes.
And he sees no reason for craft distillers to ease up on the experimental throttle: "I think the move for different categories [Stranahan's is an American Single Malt] is going to spearhead the opportunity to create more categories and open whiskey up to a lot of weird stuff. We're going American-style. We're going outlaw on this. That's what we do as Americans: we break tradition to create tradition."