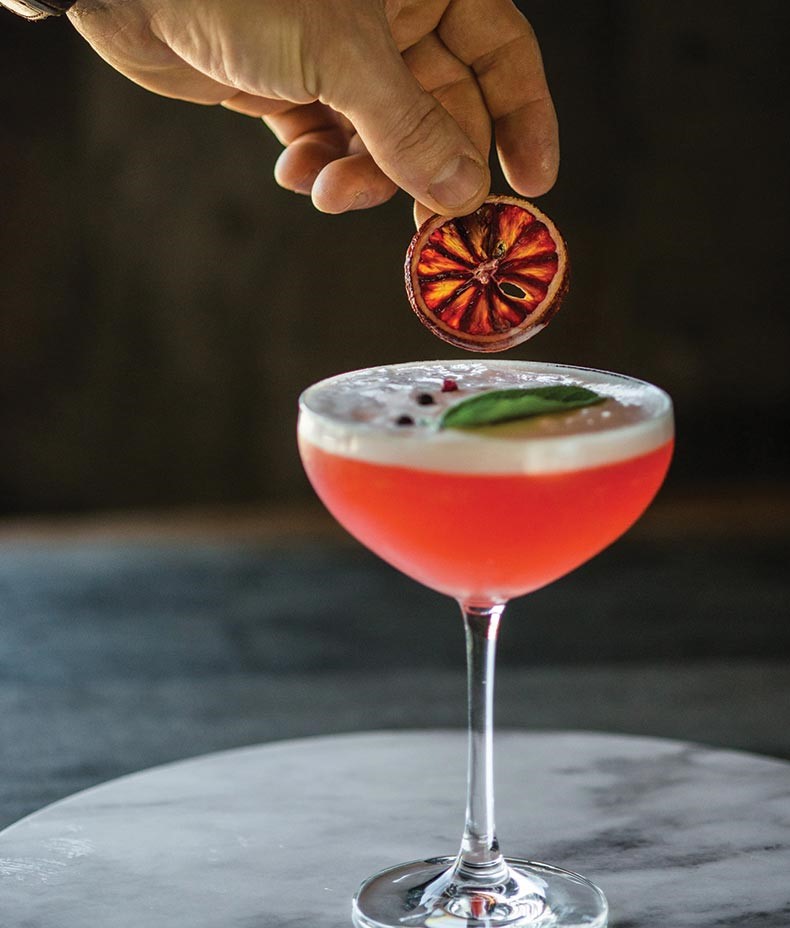 Forks & Fingers
670 Main Street
East Haven, CT
Co-founded by husband-and-wife culinary team Mark and Stephanie LeFrancois, Forks & Fingers Catering by Design creates food and beverage menus to reflect each individual client's tastes. Special events from within the guests' homes or at venues across the state offer avenues of creativity. Cocktail Specialist Dave Blomberg crafts custom cocktails for any occasion from a backyard barbecue to a lavish wedding, marrying up themes and tastes. For New Year's Eve and beyond, the Aperol Sour cocktail with Sweet Vermouth Foam is both a festive and welcome departure from the expectations of a typical winter sipper.
Cocktail Specialist: Dave Blomberg
Cocktail: Aperol Sour with Sweet Vermouth Foam
Ingredients Cocktail:
» .75 oz. Aperol
» .75 oz. Your favorite gin
» .75 oz. Natalie's Lemon Juice
» .5 oz. Simple syrup
Ingredients Foam:
» Blanc Vermouth
» Chamomile simple syrup
» Lemon juice
» Egg white and salt
Method: To make an Aperol Sour, combine all ingredients in a shaker. Shake and double strain into a chilled cocktail glass. To make the Sweet Vermouth Foam, add all ingredients except egg whites to a glass and stir to combine. Add mixture and egg whites to whipped cream canister charged with N2O. Close canister tightly and give it a quick shake to incorporate ingredients. Top your Aperol Sour with Sweet Vermouth Foam.
"Our Aperol Sour with Sweet Vermouth Foam is the perfect New Year's Eve drink, for when you are tired of pumpkin spice, cranberry and apple cider cocktails," said Stephanie LeFrancois, Director of Events, Forks & Fingers. "The Sweet Vermouth Foam is a simple but exciting finishing touch that will impress any guest."