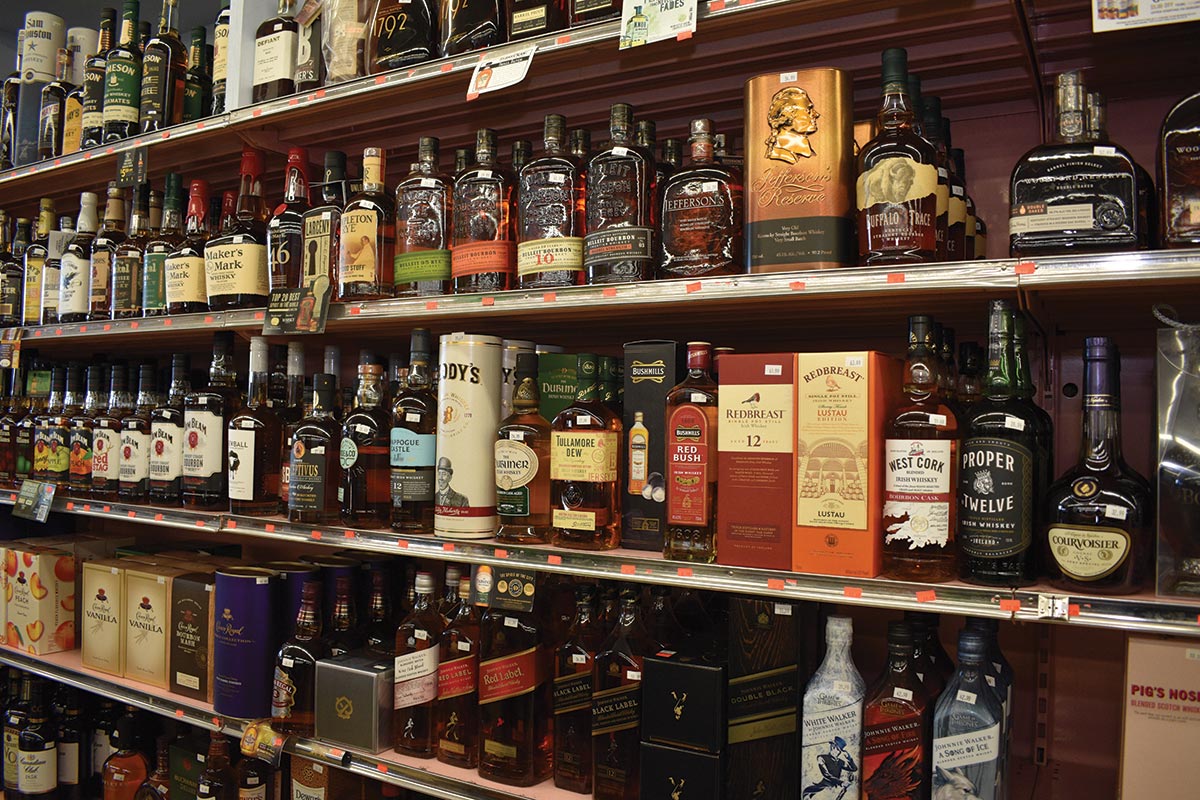 Mineral Spring Liquor
1005 Mineral Spring Avenue
North Providence, RI
Square footage: 3,150
Years in operation: 56
By Sara Capozzi
The family-owned Mineral Spring Liquor has served the North Providence area for 56 years. While much has changed through the decades, the founding family's philosophy on customer service has remained the same. "We've just always believed in good service," said second-generation Owner John Saccoccia. "It's important."
"That's our primary concern," said Jayne Saccoccia, John's wife, who works in the store as well. "We have a good rapport with the people around us and we have a good customer base. The people, the locals … we think there's something to be said for the small business stores. They seem to appreciate [seeing] the same faces and our being customer-oriented, very much so."
John's mother, Evelyn Saccoccia, and aunt and uncle, Emily and Sal Saccoccia, founded Mineral Spring Liquor in 1963. John started working in the store in 1996, transitioning into ownership shortly thereafter. Manager Stephanie Waters has been with the team for 18 years, with third-generation family members Jake Stabile and Cheryl Stabile also core staffers, rounding out the store's continuity.
The Saccoccias have served area generations of family members as well, with the majority of their customers stopping in from the North Providence, Providence and the Pawtucket areas.
"Being here 56 years, we've gone through generations of families," said John. "I remember seeing people bring their babies in and then years later we're waiting on them as 21-year-olds or older."
Anchoring a shopping plaza, Mineral Spring Liquor features a large selection of beer, wine and spirits, with displays and a team helping guide shoppers. Local customer tastes tend to change with the seasons, said John, with red wines, wine blends and "brown goods" such as bourbons and whiskeys selling more in the winter.
No trend trajectory would be complete without a nod to craft beer, another focus at Mineral Spring Liquor. "A lot of it has to do with the breweries that are popping up," said Jayne, leading customers to become "connoisseurs" of craft beer, especially among young people. "They come in because they've had it on tap somewhere and they want to buy it," she continued. "And having so many restaurants around here … we'll bring products in based on customer requests."
"I've never seen the craft beer category or the bourbon, whiskey, Scotch categories as popular as they are now. Ever," said John.
The store stocks a rich inventory of each in response. "The selection is so much bigger now but that's because of the popularity – it's not like we chose to go that way, the industry went that way," said John.
Shoppers seeking quality versus quantity is another national trend that the team sees locally. "People seem to be tending to drink more of quality, I think, than quantity. That's why you get the craft beer craze, the prices are higher than that category's ever been," he said. It's the same across most spirits categories, he said. "With the concerns about drinking too much, people are saying, 'I'm not going to drink as much, I'm going to drink a little better.'"
Across the generations of Saccoccias, furthering the service-centric experience is a common thread, from prepackaged or customer holiday gift baskets to locating and stocking "hard to find" items.