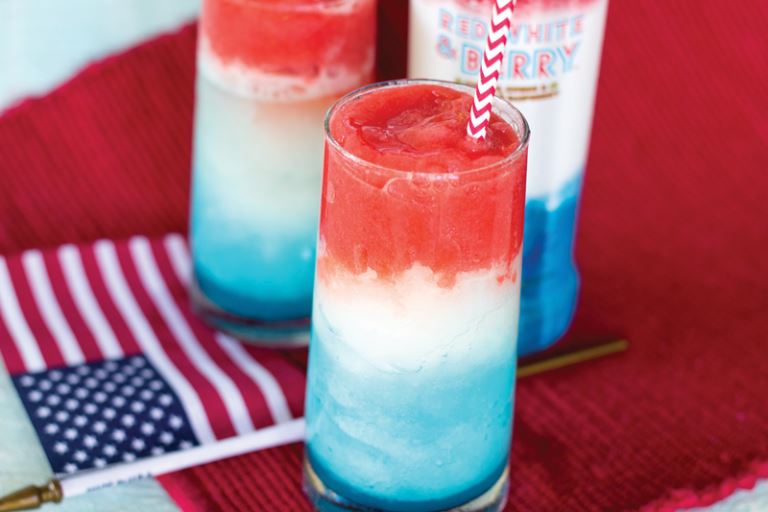 Brighten this year's Fourth of July with colors beyond the red, white and blue. Add some pink and gold seasonal sippers for the holiday, and beyond.
Red Fire Sparkler
½ oz. Jack Daniel's Tennessee Fire
4 oz. Korbel Brut
1 oz. cranberry juice
Method: Stir ingredients. Pour into an ice-filled glass and serve chilled.
Absolut Sparkler
1 oz Absolut Vodka
½ oz Blue Curaçao
2½ oz Cranberry Juice
2½ oz Lemon Lime Soda
Lime squeezed
Method: Fill a highball glass with ice. Add all ingredients slowly. Squeze lime juice into the glass. Garnish with a lime wedge. Important: Add the layers/liquids slowly.
Sparkling Cognac
¾ parts Courvoisier® V.S.O.P  Cognac
2 dashes Angostura® bitters
1 sugar cube
Champagne
Lemon peel for garnish
Method: Soak sugar cube in bitters, drop into glass and add cognac. Top with Champagne and garnish with a lemon peel (optional).
Pink Palmer
(Use 90 oz pitcher)
2 cup KAS Krupnikas
3 cups of unsweetened tea
3/4 cup fresh squeezed lemon juice
2 cups fresh watermelon juice
Method: Pour all over ice and stir. Garnish with slices of lemon and watermelon.
Figenza's Garden Party
½ oz Figenza Fig Vodka
2 oz Lemonade
2 oz Strawberry Purée
Method: Mix and serve on the rocks and garnish with a strawberry.
Red, White & Blue Slush
Red Slush Layer:
1¼ cups Strawberries, quartered
2 oz Smirnoff Red, White & Berry Vodka
¼ cup homemade Lemonade
White Slush Layer:
2 cups Ice
2 oz Smirnoff Red, White & Berry
1 cup homemade Lemonade
Blue Slush Layer:
2 cups ice
2 oz Blue Curaçao
1 cup homemade Lemonade
Method: Blend each layer separately until smooth. Store in freezer until ready to build your cocktail. Pour each layer into a highball glass and serve immediately.
Red, White and Boom Punch
1¾ parts Svedka Vodka
¾ part lemonade
½ part triple sec
1 part cranberry juice
Juice of six whole limes
12 cups ice
Whole blueberries & quartered strawberries
Method: Combine all ingredients in a punch bowl. Add 5-6 cups of ice, stir, and garnish with blueberries and sliced strawberries. As the party continues add more ice and fruit as needed. Yields 25-30 servings.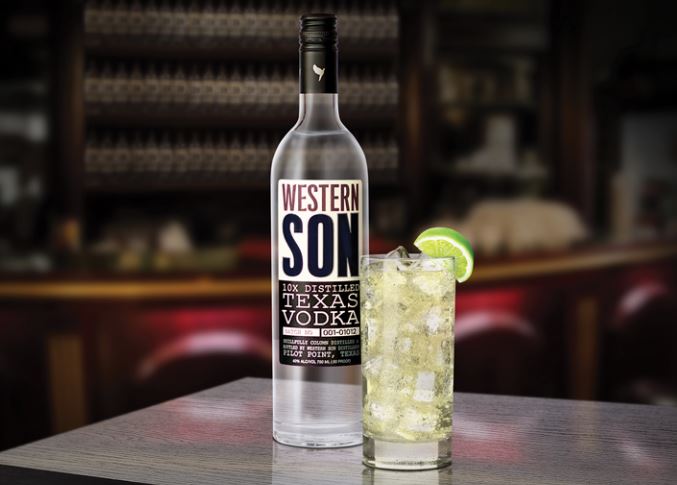 Western Sunset
1½ oz Western Son Original Vodka
½ oz Elderflower Liqueur
1½ oz Fresh Lemonade
Top with Club Soda
Garnish with a Lime
Method: Add all ingredients, shake, pour in a high ball glass, and garnish with a lime.