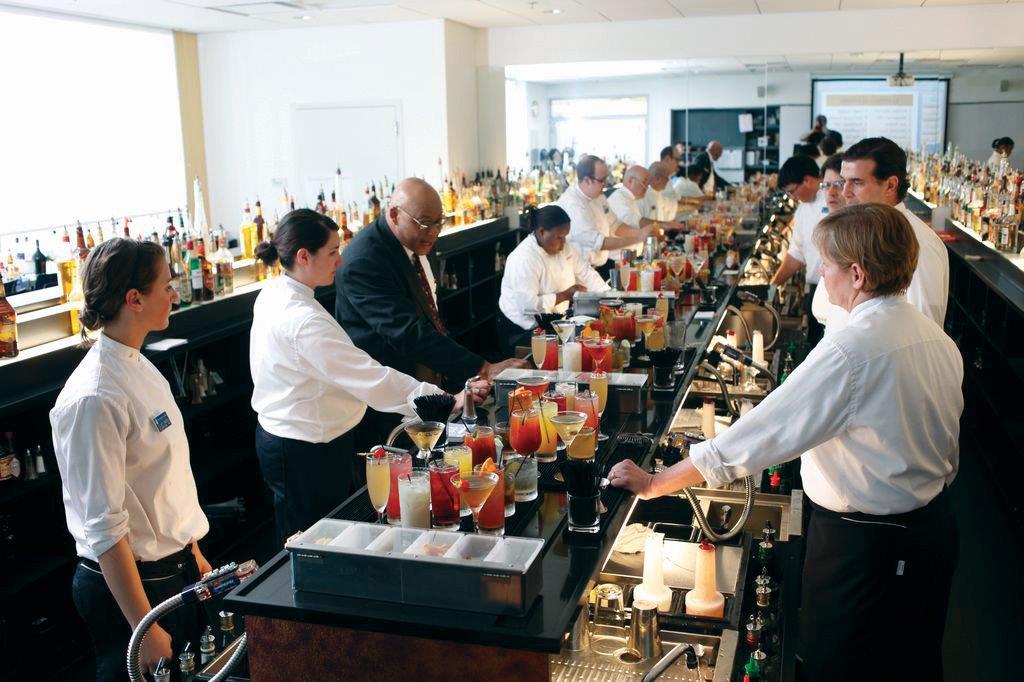 Extensive Beverage Program Preps the Next Generation of Beverage Industry Workers
By Lauren Daley
There was a time when people entering the food service and hospitality industries didn't need a specific degree. A student might graduate high school, start waiting tables, and eventually become a head bartender, or Front of House staffer. That's all rapidly changing, said Associate Professor and Chef Edward M. Korry—and he is spearheading that change."I want to professionalize the
entire industry. And our program is at the vanguard," said Korry, the Department Chairman of the Center for Culinary Excellence at the College of Culinary Arts at Johnson & Wales University in Providence, R.I.  Korry founded JWU's intensive Beverage Program at their Providence campus in 2006; he also oversees the Beverage Program at their Denver, Colo. and Charlotte, N.C. campuses.
"We are creating professionals. We are setting people on a career path," he said, adding that a degree in Beverage Education "doesn't confine (someone) to being a sommelier or a Front of House person. Some graduates want to go on to do off-premise retail or work with distributors—they still have to know about the products they're selling."
The program at Johnson & Wales is as close to a PhD in Beverage Studies as one can get. Students can minor in Sommelier studies and they take courses covering "Classic Old World Wine & Spirits," "The Business of Alcoholic Beverage in Retail, Distribution and Sales" "Brewing Arts" and "Advanced Dining Room Procedures," "Food Safety and Sanitation Management" and "Beverage Operations Management."
The program culminates in "a unique hands-on rotational internship experience at one of our partner properties or a JWU-owned facility," the site explains. Students can be also certified in:
• ServSafe® Alcohol, a training program in responsible alcohol service recognized by the National Restaurant Association Educational Foundation (NRAEF)
• National Sanitation, a training program recognized by the Conference for Food Protection
• International School of Mixology Bartending.
The Providence campus has three state-of-the-art beverage labs where students practice mixology, brewing, wine-making, tasting and more. The labs are in the Cuisinart Center for Culinary Excellence on JWU's Harborside Campus in Providence. The 82,000 square-foot building
opened in 2009. Korry said it would cost more than $6 million to use real spirits in every class, so often times they use colored water. He said they do "get industry support" from E&J Gallo, Trinchero Family Estates, Kobrand, Francis Ford Coppola Presents, Chateau Ste Michelle, Sopexa, Mionetto USA, Banfi Vintners, PJ Valckenberg, Quady Winery, Boston Beer Company, Jim Beam, Serralles USA, Proximo and Luxco.
Intensely academic courses are becoming essential for the next generation of workers entering the beverage industry, said Korry, who is also the Education Liaison and on the Board of Directors Executive Committee for the Society of Wine Educators. 240 students are enrolled in the program currently; almost all are undergrads, said Korry, adding that there are 900 Culinary Arts freshmen who take "less intense" versions of the beverage courses.
The program could soon become even more rigorous. Korry is working on developing a Beverage Management Major, which, if approved by JWU this fall, could become a Major by the 2014 academic year. "Returning students," or people already working in the beverage industry who want refresher courses or want to earn their degree, can also enroll through the Adult & Continuing Education office. The Providence campus also offers non-credit beverage certifications for hospitality professionals.
"As the beverage industry becomes more professionalized, industry certification will soon become the standard," Korry said. "Our students not only get a great education in responsible alcohol service, profitability, sustainably and healthy practices, but everybody has to go through the ServSafe® alcohol certification process, which more and more states are requiring. Plus, employers are saving a lot of money by not having to train new employees."
The beverage industry has changed over the last few years, and is rapidly continuing to do so, Korry said. Students and professionals already working in the industry need to keep on the pulse. "First, there's more emphasis on fresh ingredients now. For example, there was a time
when you could use a sour mix out of the gun—you can't do that now," Korry said. "Also, the entire wine-food pairing paradigm has shifted. We try to cut through these pairing paradigms that have been based on misunderstandings. Most pairing start on the premise that everybody has similar tastes; most people don't have similar tastes," Korry said. ""The typical old pairings are predicated on the development of cuisines in France or Italy, and people adjusting to the wines or foods they had there. But this country is an amalgam; we don't have a defined cuisine, so we get wines from all over the place," he said.
Korry is also on the Editorial Advisory Committee for Cheers Magazine, and was on the U.S. Bartenders Guild Masters Accreditation Team that created the three-tier certification process. He is a certified Wine Educator and a registered tutor of the Wine & Spirits Education Trust. He ran restaurants and had 20 years of hospitality experience before joining Johnson & Wales in 1983.
"When I came to Johnson & Wales, I saw that beverage education was not well-developed," he said. His first task was to get faculty members certified in wine education; now there are four certified wine educators at the Providence campus, two at Charlotte, N.C., and two in Denver, Colo.Now in its seventh year, the program is tremendously popular among JWU students. "We have a very high demand on campus. Courses fill up instantly," Korry said. "But these classes are academically rigorous. Students can tell that on the first day, 'Wow, this is going to be a lot of work.'"
Most graduates of the program go on to enter restaurant management, food service management, become executive chefs, or work with beverage distributors or at wineries. "One of my graduates is now the Cellar Master at Bedell Cellars Winery on Long Island. They served Bedell at Obama's inaugural luncheon," Korry said.