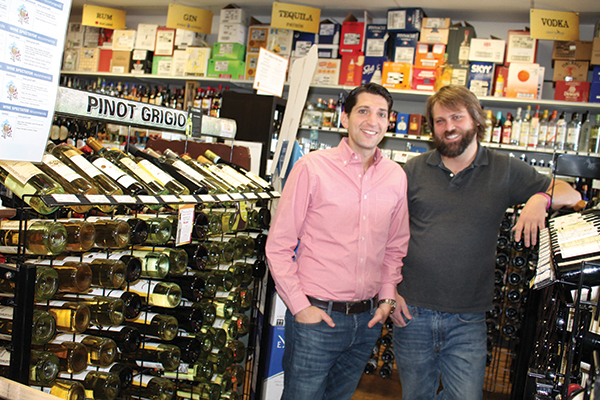 Gold's Wine and Spirits
1374 West Main Road
Middletown, RI
Square footage: 2,220
Years in operation: 7 months
By Savannah Mul
For Jason Gold, wine has always been a passion. It started early because his father, Andrew Gold, worked in the Rhode Island restaurant business. Jason said he would find himself pairing different wines with a variety of foods, a fun aspect for him working alongside his father. Still, he never professionally worked in the liquor industry, until now, as a store owner.
"It's one of those things in life where you spend all your savings and try to find your happiness," he said. And after 12 years of working in finance, that is exactly what he did. Back in business alongside his father, Jason and Andrew are now co-owners of Gold's Wine and Spirits. "He is a huge driving part of this," said Gold. "I couldn't have asked for a better person to work with in my first business venture."
Gold has 12 employees on staff. Three of who, Jessie Rodriguez, Mike Mendonca and Bruce Sherman, have been working for the same liquor permit since its inception more than 20 years ago. The store has gone through three different ownership cycles and was able to retain three dedicated employees. "It's unique how they've worked for the same Class A liquor license," noted Gold.
Every Friday and Saturday evening, the Golds conduct wine tastings. Gold said he is most excited about starting a Gold's Wine and Spirits rewards program, giving customers certain discounts for every dollar they spend. "We want to try to get the locals to shop here as much as we can," he said. "We try to hit the lowest price point to try to be as competitive as possible," he continued. "You're not going to grow if you don't offer people a reason to come to the store."
Gold said when it comes to stocking his store and creating inventory, "it's not about what you like, but it's what other people like. Everyone tastes [products] differently." The main challenge is learning about inventory and being familiar with the trends to know what to stock and when to stock it. About 45-percent of the store's sales are generated from wine and the rest is split evenly between beer and spirits.
Gold credits the City of Newport and its Chamber of Commerce for bringing a variety of events into the city and surrounding towns, which provides an added boost to business. "Based on the events they [Rhode Island] put on, we get tons of people from all over. Newport does a good job on bringing people into the state."
"It's great to talk with people about what you're passionate about," he said. "It's been a complete 180 in my life and I'm lucky to have my wife [Alexa] supporting me when I changed my career."