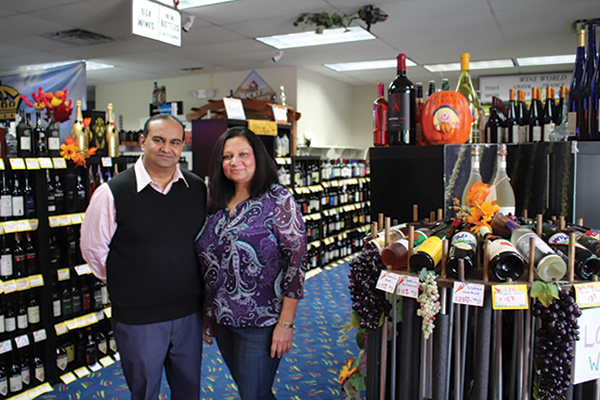 Ruby's Fine Wine and Liquors
71 W. Stafford Road
Stafford Springs, CT
Square footage: 5,000
Years in operation: 3
By Savannah Mul
When Pankaj and Rupal (Ruby) Patel moved from New York to Connecticut, they were ready for a new adventure. They both had professional automotive backgrounds, Pankaj with Lexus and Ruby with Nissan; yet neither wanted to stay within that industry. They saw Pankaj's brother, Sam Patel, and his wife, Krupa, succeed in retail with Harry's Liquor in Enfield, and decided that was their next vocation, too.
The Patels purchased an "existing and rundown" liquor store in Stafford Springs. "We thought it had a lot of potential; being a good size and good location, with a large parking area. We changed everything in the store from A to Z," Pankaj Patel said, which includes the store's name to Ruby's Fine Wines and Liquors.
Among changes, they increased the size of the aisles, installed more coolers, with one dedicated to 50ml bottles due to their popularity, and added to a growing selection of craft beers, reflecting their shoppers' interests, as well increasing and diversifying the wine and spirits inventory. They renovated the space with new carpets, fresh paint and decorative touches, such as beer signage, grape garlands and novelty wine and martini accessories in a glass case beside the register.
Starting a new business meant learning a new industry, too. While the Patels did their research, they also relied on sales representatives to share trends and product information. "We have amazing sales reps; they helped explain everything and they were right there [beside] us, and still are," Ruby said.
The store's sales of wine, beer and spirits are split evenly, Ruby said. She noted a recent increase in sales of Josh Cellars Wines within their customer base, as well as the popular purchases of J. Lohr, Kendall Jackson and Bogle Wines. The Patels often hold in-store tastings featuring products from their large selection of wines and craft beers.
Pankaj believes the reason customers return is the level of service his staff provides. "Customer service is our number one goal. Our big thing is variety and [acting on the] customer request," he said. Reflecting those requests is the continued growing interest in craft beers — the owners keep a record of who buys what brand, and what to keep in stock for them.
Along with the high level of service, many customers return to the store to extend a "hello" to a four-legged friend – Diesel, the Patel's German Shepherd. He can be found greeting visitors among the aisles of the store.
"[It's] a very peaceful life," said Ruby. "We're happy we're in this business and it's a good town to be in. During the day, [the store] is our second home and it's all about taking care of the customers. We have really nice customers who become more like our friends."