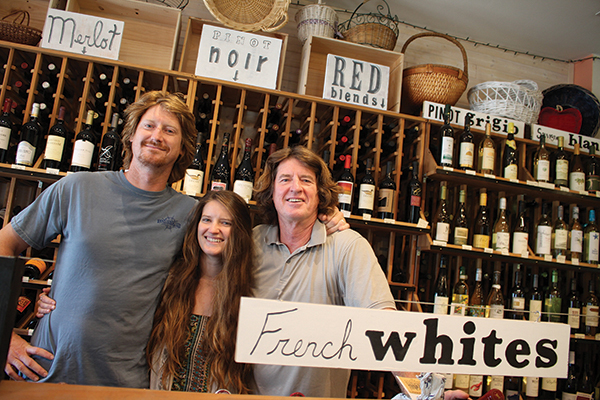 Grapes and Gourmet
9 E Ferry Wharf
Jamestown, RI
Square footage: 1,100
Years in operation: 3 years (under current ownership)
Prior to owning Grapes and Gourmet, William Wilson worked there for five years. When the previous owner decided to sell the business, Wilson saw it as an opportunity that he was excited to explore and purchased Grapes and Gourmet in January 2013. "I enjoyed working here and saw potential," he said.
Wilson kept the same name and didn't want to alter the store very much from its decade in operation, but he moved and expanded the cheese selection, brought in more varietals of wine and created a "shoreline feel" by adding two more windows to the storefront located on the wharf.
Today, the business is a family affair. Amelia Wilson, Wilson's sister, is the cheese manager and handles the ordering, and Bill Wilson, Amelia and William's father, also works in the store. "He's been a big help," said Wilson about his father. His mother and brother also round out the support help.
Wilson designed the store so when a customer first walks through the door they see the cheese case directly ahead. "The focal point of the store is the cheese case and wine. It's a small town, enough for people to do one-stop shopping here," he said. Grapes and Gourmet hosts wine tastings every Friday. "It's slow in Jamestown during the winter, but a lot of people come out for [the tastings]; for them it's like a prequel to dinner," Wilson said.
Amelia Wilson uses the store's Facebook page to preview tastings, cheese offerings and events. "If you're not from here, [Facebook is] how people find out about us," she said. Recently, Grapes and Gourmet was named the "Best Wine Shop in Newport County" by Rhode Island Monthly Best of 2015 Awards. The liquor store also received the 2015 Local Hero Award in the category of Food, Wine and Retail from Edible Rhody.
Wilson said he asks customers a lot of questions about what kind of wine, beer or spirits they like to drink to make recommendations. Once he gathers that information he will recommend something completely different. He said he realizes it is risky, but he likes to give the smaller brands recognition and trusts the customer will enjoy it. "We taste a lot of wines and we talk to pretty much every distributor in Rhode Island," Wilson said.
Wine accounts for the majority of the store's sales, followed by beer. Liquor and cheese sales are tied closely, Wilson said. As the seasons change, he will start to "fizzle out at least 25-percent" of summer rosés and white wines to make room for more red wines, seasonal beers and spirits to showcase.