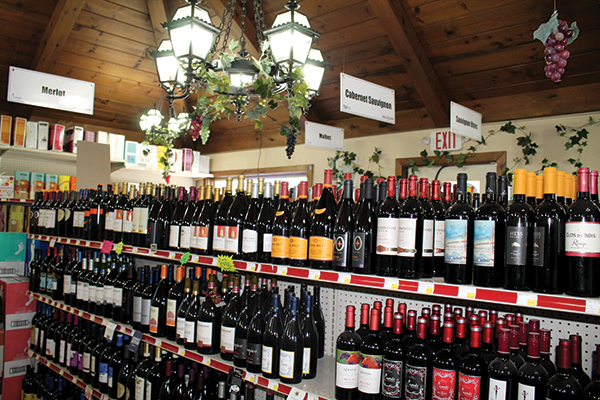 Thompson Liquors
520 Riverside Drive
Thompson, CT
Square footage: 3,000
Years in operation: Celebrated 4 years in June 2015
By Savannah Mul
When Neil Patel purchased an old, 700 sq. ft. daycare center in 2011 and turned it into Thompson Liquor, it was his first retail and alcohol-related industry job.
Patel said it took him two years from when he opened shop to fill its shelves. He did it by asking customers want they wanted so that when they shop at Thompson Liquor, they would find exactly what they were looking for.
"The only thing I knew was Budweiser and Captain Morgan," Patel laughed. "This was a brand new start, I kept reading books, researching [on] the Internet, and learning from customers. I am always learning from customers."
After two years of occupying the original space with one 12-door cooler, an opportunity to expand became available when a tenet in the strip mall next to his store moved out. The same thing happened in 2014, and he expanded yet again to build a wine room.
He decorated the end of the each aisle with street lamps and hung chandeliers with decorative grape vines hanging off them above the wine racks. "I wanted to make it a wine street," he said. "When a husband and wife come here, they want to shop in this aisle."
The store now occupies 3,000 sq. ft. of space with two 12-door coolers, including one dedicated to craft and micro brews. "There is a high demand for it; every day is a new request to bring in different beer," he said.
Thompson Liquor is about a 15-minute car ride to the state lines of Massachusetts and Rhode Island. Patel knew he had to make his store stand out to prevent Connecticut residents from crossing state lines to purchase alcoholic beverages. One way he does this is by offering a nip wall, which consists of over 300 different varieties and attracts a lot of interest, he said.
He also posts tastings and product promotions on Facebook as a means to communicate to the public and compete with surrounding states, and other liquor stores in town. He said the social media outreach draws a lot of traffic into his store.
Patel gets business from out-of-state customers, too, because there are some products distributed in Connecticut that cannot be found in those neighboring states. A popular out-of-state purchase, he said, is Everclear Grain Alcohol 190.
Patel has always supported Sunday liquor sales, mainly because of his boundary-state location. When the Sunday liquor sales law first passed in 2012, Patel said it helped sustain his newly-opened business and allowed him to compete with the liquor stores across state lines.
In the 2015 legislative session, the budget outlined new liquor store hours, allowing owners to stay open until 10 p.m. from Monday to Saturday and until 6 p.m. on Sundays. "The extra hour certainly helps," Patel said, "because we can get people to shop in town. Sunday sales have really helped grow the business to what it is now."