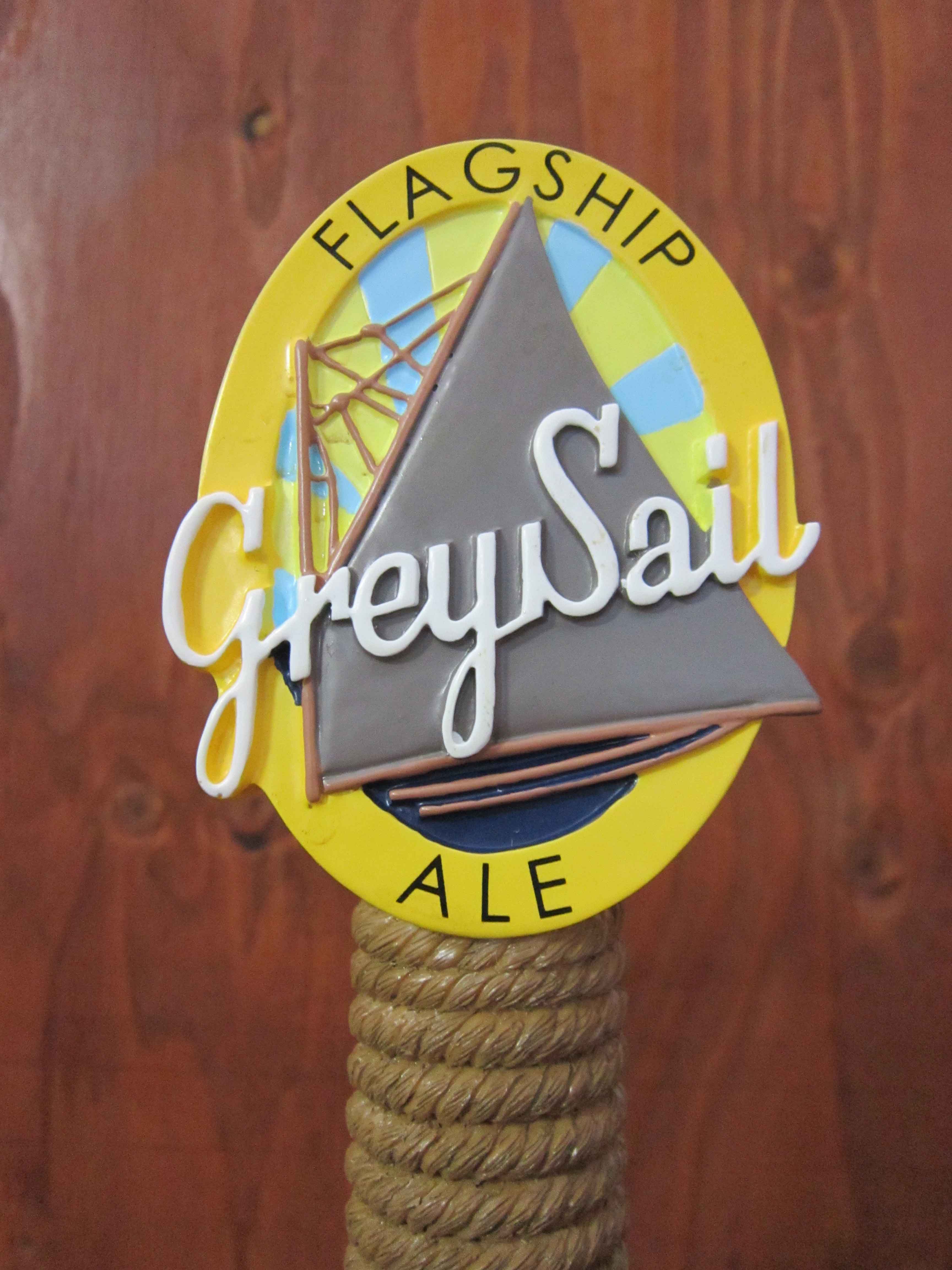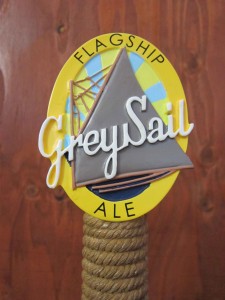 By Liz Boardman
WESTERLY, R.I. – For Dunkin' Donuts' famous Fred the Baker, it was always "time to make the doughnuts." At Grey Sail Brewing Company in Westerly, R.I., it's "time to can the beer."
"The distributors take 100 cases a week," said Daniel Rivera, account manager, as he walks around towers unused cans to get from the lobby of the Westerly-based factory to the brewing area in back. One pallet contains 49 cans. Each is canned manually, two at a time.
"We have a very small staff, and can make two to two-and-a-half batches a week, with a maximum capacity of 1,000 barrels a year," said Jennifer Brinton, who owns Grey Sail with her husband, Alan. "We released a half-batch in November, and it caught us by surprise – it is very hard for the distributors to predict our sales. We are Rhode Island's first home-based microbrew."
The company's first product – Flagship Ale, a cream ale with a 4.5 percent ABV – is distributed through McLaughlin & Moran's Elevated Spirits Division in Rhode Island, and Levine Distributing in Connecticut, and has proven popular in its early days. It is already served or sold in more than 150 bars and package stores in the two states. "We are pleased," Brinton said. "Having come out December 1. The beer market doesn't usually ramp up until May."
Alan, who works full-time as a chemical engineer and acts as head of product development in his spare time, has been a home brewer for 20 years. The beer is crafted by a full-time employee, Head Brewer Josh Letourneau, in the company's 1920s-era factory in downtown Westerly. Letourneau was formerly assistant brewer at Mayflower Brewing Co., a craft beer microbrewery based in Plymouth, Mass.
The initial recipes were years in the making, Jennifer Brinton said "Flagship is a session-style beer. Very crisp and flavorful, a craft brew, but on the lighter side." Alan believes this is a niche the market is lacking – a quality craft beer, but not a heavy beer. "Being Grey Sail, we are branded to the coast, it's active, outdoors," Brinton said. "People drink it on boats, on the golf course. Living where we live, where people vacation, it is a good fit."
They opted to use cans, rather than bottles, in part because the cans allow for 360-degree marketing, and block out the light which can lead to skunky beer, Brinton said. "There is a stigma that canned beer is inferior or lesser quality," Rivera said. "It's not true. We like it because this is a beer that will be consumed at a beach bar, on a golf course, or at yacht clubs." In those markets, cans are less hazardous than glass bottles, but still recyclable.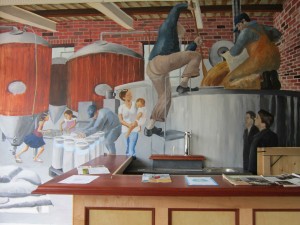 The name Grey Sail was partially inspired by the couple's time at Westerly's Misquamicut Beach, where they and their children would watch boats on the horizon. "When you look at the horizon, it doesn't matter the weather, the sails have a grey tinge to them, because they are so far out," Brinton said. But the name is also inspired by their oldest daughter, Grace, 9. "She is Daddy's little girl, very interested in the kitchen, where the home brewing took place," Brinton said. They pronounce Grey Sail as "Grace Ale."
"The name clicked with our family, and for the lifestyle branding we are trying to achieve," she said. For the Brinton's brewing is a family business that includes Grace and their three other children, Ryan, 10, Emily, 7, and Mary 18 months, who can often be found doing homework at the factory after school. The company's family-friendly image is apparent in the lobby, where a mural depicts the family in the factory, with baby Mary on Jennifer's hip.
For now, the company offers Flagship Ale, Leaning Chimney Smoked Porter, and Flying Jenny Extra Pale Ale on draught and Flagship Ale in cans. For American Craft Brew Week, they will offer their first bottled beer, the limited edition Stargazer Imperial Stout.