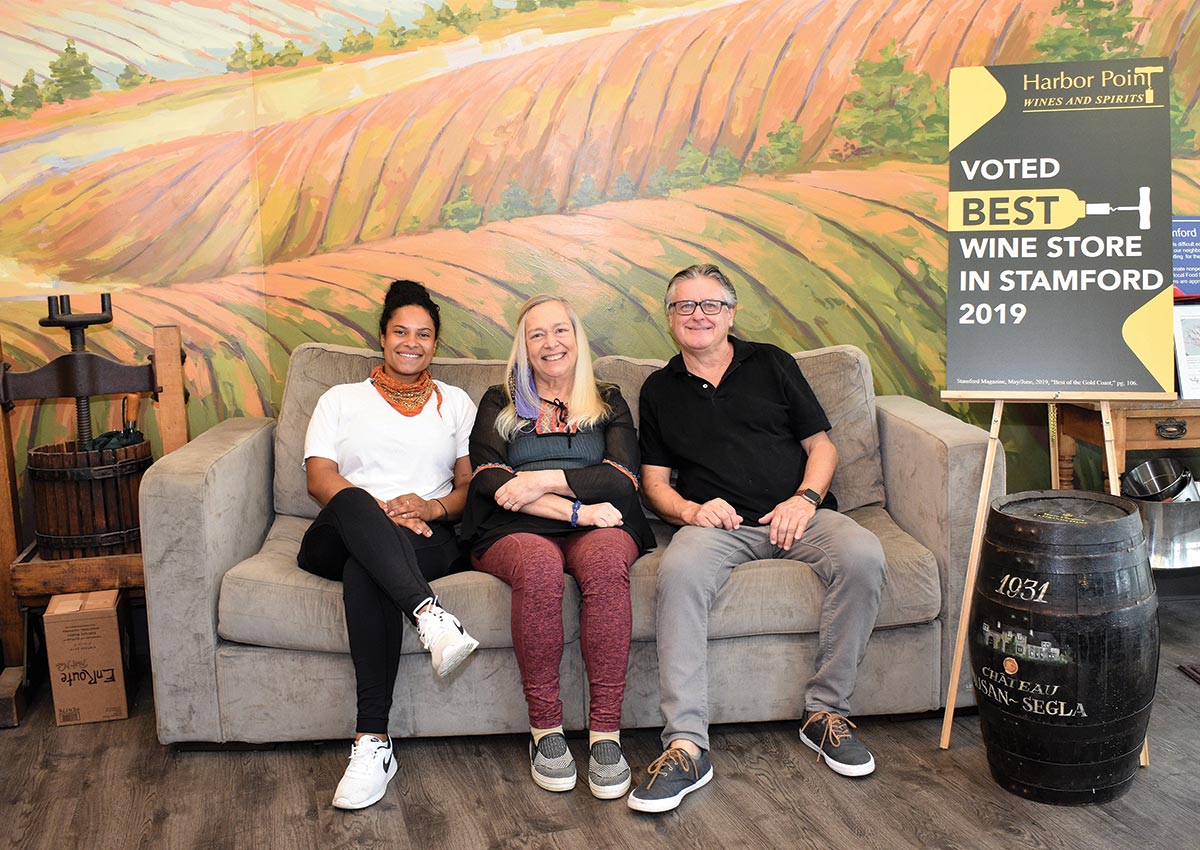 Harbor Point Wines & Spirits
130 Washington Blvd.
Stamford, CT
Square footage: 1,350
Years in operation: 2
By Sara Capozzi
An early interest in wine led Theresa "Terry" Rogers to spend her 40-year career in different facets of the wine industry, beginning with working in marketing to promote up-and-coming European wine brands and ultimately leading to purchasing and running retail outlets of her own. Rogers began her newest endeavor by founding Harbor Point Wines & Spirits in Stamford two years ago.
As one of the first commissioned women salespersons in New York City and Westchester County, Rogers promoted wines from Italian importers such as Neil Empson and celebrated Piedmont winemaker Angelo Gaja. Her start in retail began in 1986 when she purchased her first store, Connecticut Wines & Liquors in Greenwich.
"I felt that because there were more wineries coming in from around the world that it was time to react to the consumer," Rogers said. "It was basically a buyer's market. The object was to teach the consumer. Whether you're an importer, a winemaker or a distributor, the only way to attract the full attention of the consumer is to put the bottle in their hand and discuss it and create the consumer loyalty one by one."
Next came time for Horseneck Wines & Liquors, which became known as the first store in lower Fairfield County to sell finer California wines, then still new to the market and less familiar to area consumers than European wines, she explained. Rogers ran the store with a strong focus on customer education and continued with the same philosophy, purchasing it in 1989.
Rogers sold Connecticut Wines & Liquors in 2005 and Horseneck in 2018, opening Harbor Point Wines & Spirits in July 2018, which is located in Stamford's Harbor Point neighborhood – an affluent waterfront community popular with millennials and transplants from New York City. "They are willing to learn, they love classes on wines. We have a curated wine selection here that I have created. Nothing comes into this store unless I taste it and approve it."
As a startup, it took about two years for the store to "get on its feet," Rogers said. She expanded the business by "slowly but surely building the clientele, building the loyalty and being hands on every single day, watching [my] margins and watching the products that people really go for and then moving them into something new that they may enjoy," she said.
The hard work has paid off as Harbor Point now possesses a strong following. "We are creating a whole community of people that are saying, 'I've never been to a curated wine store. All of the stores that I go to carry all of the national brands and this is so refreshing and so refreshing to learn how to taste and how to develop our palette,'" Rogers said. Popular wine varietals include Super Tuscans, Sancerres and rosés.
A diverse wine selection sees bottles at all price points, ranging from $10 to $350. The store offers beer lovers a diverse selection, too, with more than 200 craft brews in stock, along with hard seltzers. Harbor Point also carries a fine selection of liquors, aperitifs, Scotches and rare bourbons, a selection that "covers the full gamut," Rogers said.
Since the coronavirus outbreak in the spring, Harbor Point has brought its in-store education sessions online, connecting with customers through a weekly one-hour Zoom video class, featuring a different winery representative from around the world each session. The virtual education sessions have been popular with guests and are more economical for the store.
"The consumers basically are traveling to Argentina, California, to all the different wineries and being able to see pictures and virtual tours and the vineyard sites and learning what they wouldn't be able to learn," Rogers said. "They come to the store, they purchase a wine, then they Zoom in … for an hour they have a full question-and-answer period after the presentation, so it's really fun for them."