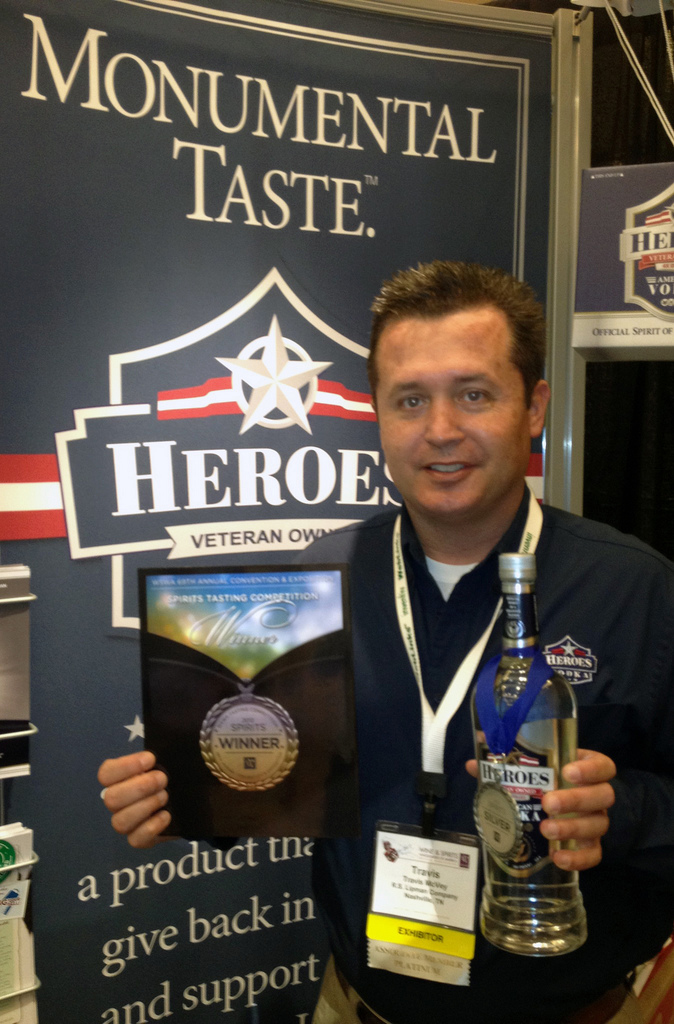 By Bob Sample 
Ask Travis McVey about Heroes Vodka, and you're apt to hear plenty about its smooth, clear taste and hand-crafted quality, not to mention a sensible price that puts it within reach of a broad range of consumers. But you'll also learn about McVey's mission: helping American veterans.
The Marines Corps veteran and one-time presidential honor guard launched Heroes Vodka on Veterans Day 2011. Besides starting a profitable enterprise, McVey wanted to celebrate the sacrifices and heroism of American service-people. But the commitment goes beyond the name or marketing message: He donates 25 percent of his profits to AMVETS and other organizations that provide services to veterans.
"We are the first veteran-owned vodka company in America, and we're certified by the National Veteran Owned Business Association," says McVey, whose company is based in Nashville, Tennessee. In a short time Heroes Vodka has earned accolades for quality and taste and an enviable 90 rating in the 2012 Ultimate Spirits Challenge. It is now available in 10 states; Hartley and Parker of Stratford is the distributor in Connecticut.
McVey was inspired to launch Heroes Vodka in part by the deaths of a close friend in Afghanistan. While visiting a VFW hall he reasoned that a veteran-owned spirits company would have a natural market among the U.S.A.'s 26 million veteran servicemen and women. "But, I wanted to give something back, too," McVey recalls.
McVey's first stroke of luck came when he contacted Robert Lipman, owner of Nashville-based Lippman Brands –the distributor for Country Club liquors, Red Eye Bloody Mary Mix, and a host of other popular brands.
"He saw my passion… and he wanted to help," says McVey. For starters, Lipman lined up a world-class distiller: Buffalo Trace Distillers of Frankfort, Ky. Lipman is the grandson of a European World War I serviceman who emigrated to the U.S. and began Lipman Brands in 1939. Buffalo Trace's owner and production manager are also veterans – the latter was in the first class of women to graduate from West Point. Fifty other veterans work at the distillery as well.
Its veteran-owned status gives Heroes Vodka a leg up in supplier-diversity programs. That helped get Heroes into the supply chain at Marriott Hotels, among other companies. McVey gives occasional thought to launching another kind of liquor – but Heroes Vodka keeps him very, very busy.
"I'm constantly on the road and on airplanes," McVey says. "In addition, I take calls all hours of the night. I tell other people, if you're interested in starting a business, you'd better be prepared to sleep with your phone and laptop because you're always on call. But with me it's more than a product or a business – it's a mission."
Landing distribution deals in the Nutmeg State and in the nearby New York were especially fortuitous, McVey says. "There are a gazillion restaurants in Connecticut and New York – so this is a great place for our product to get exposure," McVey.
Distributors, retailers, and restaurateurs also learn that a heavy dose of face-to-face marketing comes with the deal. "I visit all the places that carry our product, letting them know just how important the product is to me and to our veterans," he says. "It's very, very grassroots. Few brands do this kind of marketing anymore, so such visits resonate with business owners."
McVey plans to reach out to New York-area chefs, noting that Heroes Vodka is tasty in sauces, as a glaze for meats, and in vegetable dishes. "But I couldn't sell a single bottle if it weren't an excellent vodka, low calorie and naturally gluten free," he adds. "People buy it once to help support the vets. They'll buy it again and again because of its superior quality and excellent taste." Heroes Vodka is available in Connecticut via Hartley & Parker, Ltd.
On, November 11, McVey will present a check to AMVETS at the organization's annual Veterans' Day Celebration. The event will take place at the Phoenix International Speedway in Arizona. In partnering with Heroes Vodka, AMVETS will fund community-assistance programs for active-duty military, veterans, and their families. Heroes Vodka has also supported multiple veteran's organizations including Operation Stand Down and Troop Aid.