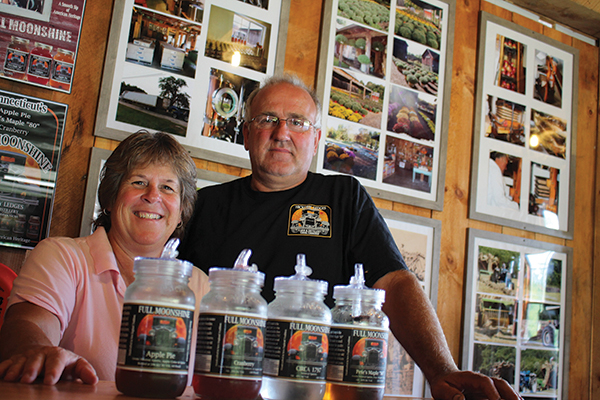 Circa 1797 is the newest addition to the Full Moonshine family, joining flavors Apple Pie, Cranberry and Pete's Maple "80." The story, however, goes back about six generations.
Husband and wife, Bill and Lynne Olson, owners and distillers of Hickory Ledges, have an original permit from 1797 signed by the District of Connecticut Supervisor of Revenue, which allowed Bill Olson's family to operate a still, located on the Hickory Ledges farm. The permit allowed earlier generations to make 30 gallons of spirits during the month of October, and required that they pay a tax of 10 cents on each gallon. Circa 1797 was launched in honor of history.
Hickory Ledges farm uses 100-percent locally grown products to craft their moonshine and is located on Bahre Corner Road in Canton. Circa 1797 became available statewide on August 1 and is available through Eder Bros. Inc. and Allan S. Goodman. Production of Full Moonshine products began in October of 2013 and all products are produced and bottled on the Hickory Ledges farm.