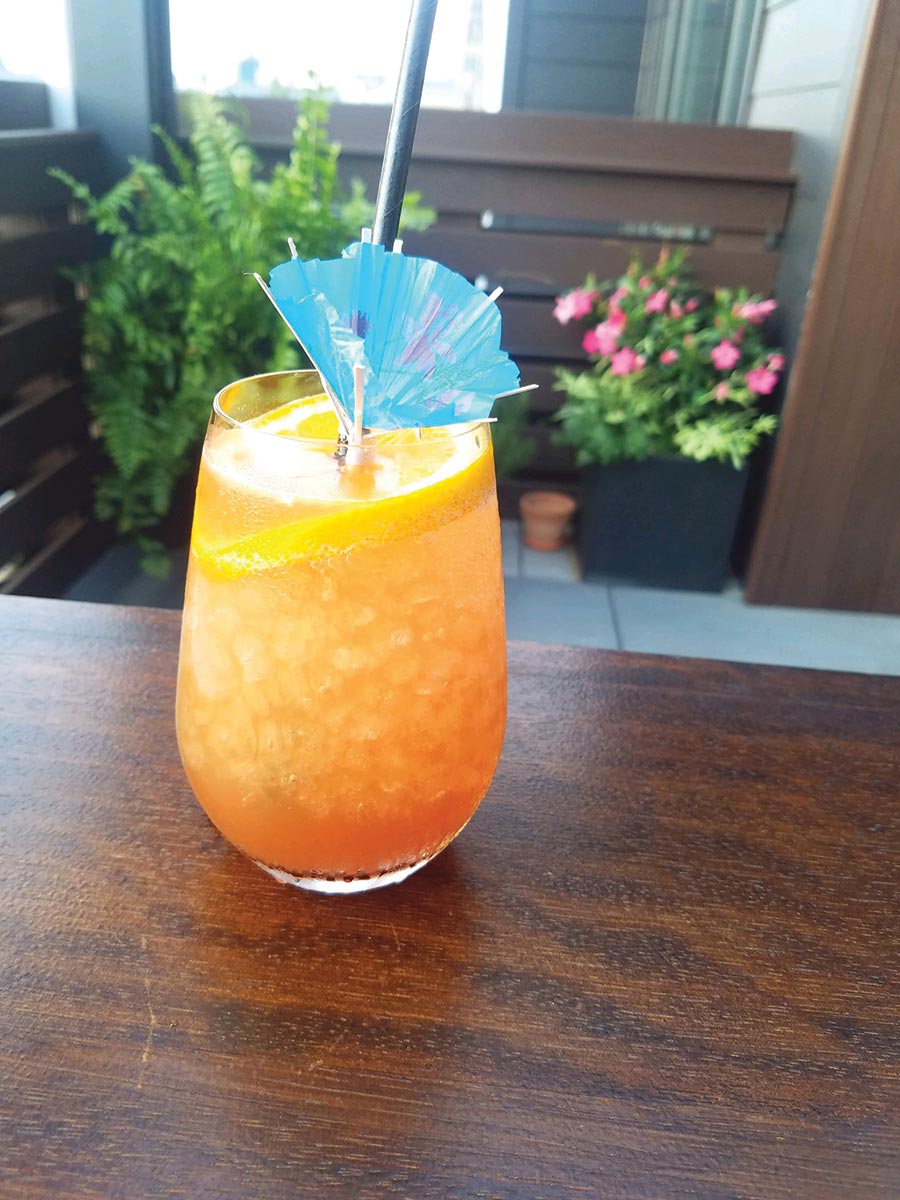 High George at The Blake Hotel
9 High Street
New Haven, CT
Freshly unveiled to the public in June, High George is located on the rooftop of The Blake Hotel at the corner of High and George streets. A collaboration between an all-star team of celebrated Chef Tyler Anderson and A.J. Aurrichio, whose partnership includes Millwright's Restaurant and Tavern and Porrón & Piña along with Tim Cabral of Ordinary, Porrón & Piña and New Haven Cocktail Week, the new venue offers small plates inspired by New England summer classic dishes, raw bar favorites and a beverage program directed by Cabral. Unique cocktail creations as well as curated wine and beer offerings are enjoyed on the buzzing three plus-season rooftop overlooking New Haven, creating a new scene all its own.
Bar Manager: Michela Zurstadt
Cocktail: Category 5
Ingredients:
» 1.5 oz. Appleton Rum
» .5 oz. Tempus Fugit Crème de Banane Liqueur
» .75 oz. Orange juice
» .5 oz. Lime juice
» .25 oz. Spiced cherry syrup
» 1 dropper Liberation Angelic Bitters
» Garnish: Orange wheel, grated nutmeg, destroyed cocktail umbrella
Method: Add all ingredients into a mixing tin, add cube ice, shake and double strain over peddle ice in a stemless wine glass.
"The Category 5 came to life after a trip to Puerto Rico to a famous bar called Jungle Bird," Zurstadt said. "This is our rendition of a Hurricane, using Tempus Fugit Crème de Banane and a spiced cherry syrup made by simmering Luxardo Sour Cherry Syrup with spices."
Part of the venue's "Storm Party" menu, Zurstadt explained that the themed cocktails are offered during storms on the rooftop, which remains active during weather events. "This cocktail is a crowd favorite for its complexity of fruit-meets-baking-spice and its playful appearance," she said. High George's glass roof is fully retractable, so guests can continue to enjoy the view regardless.