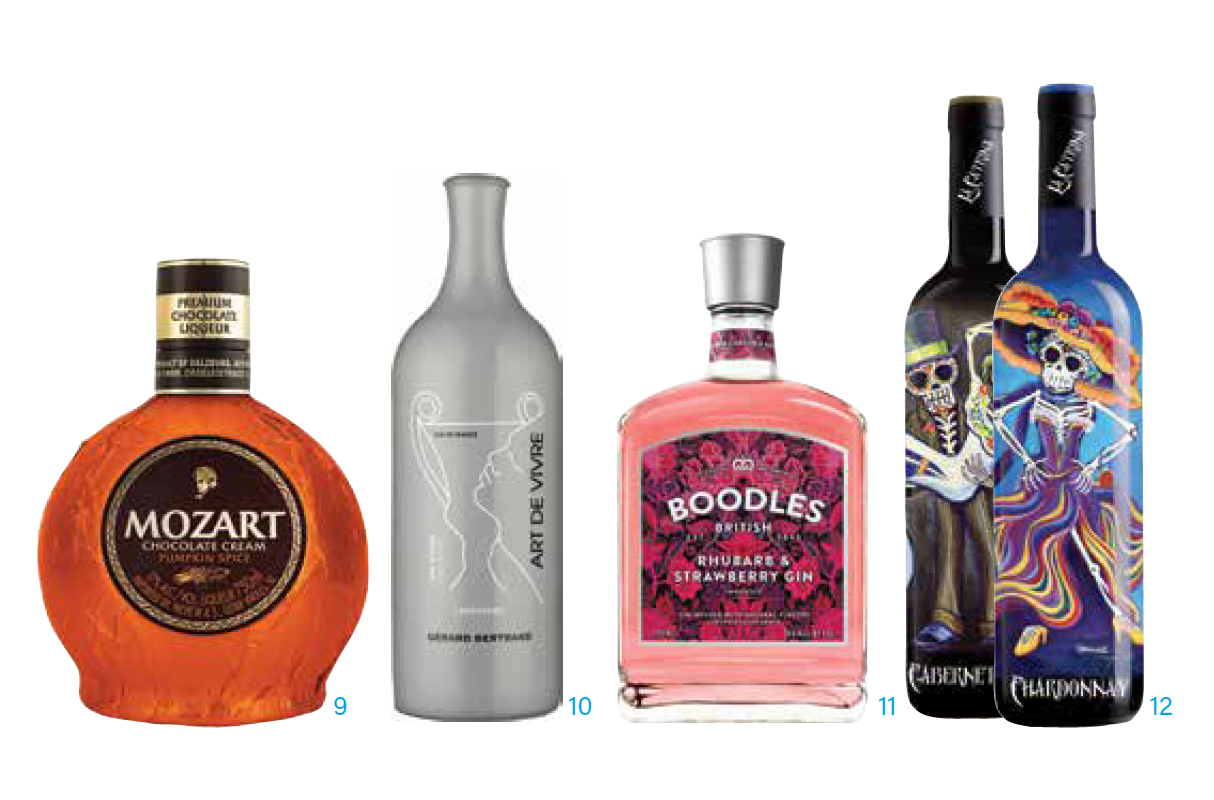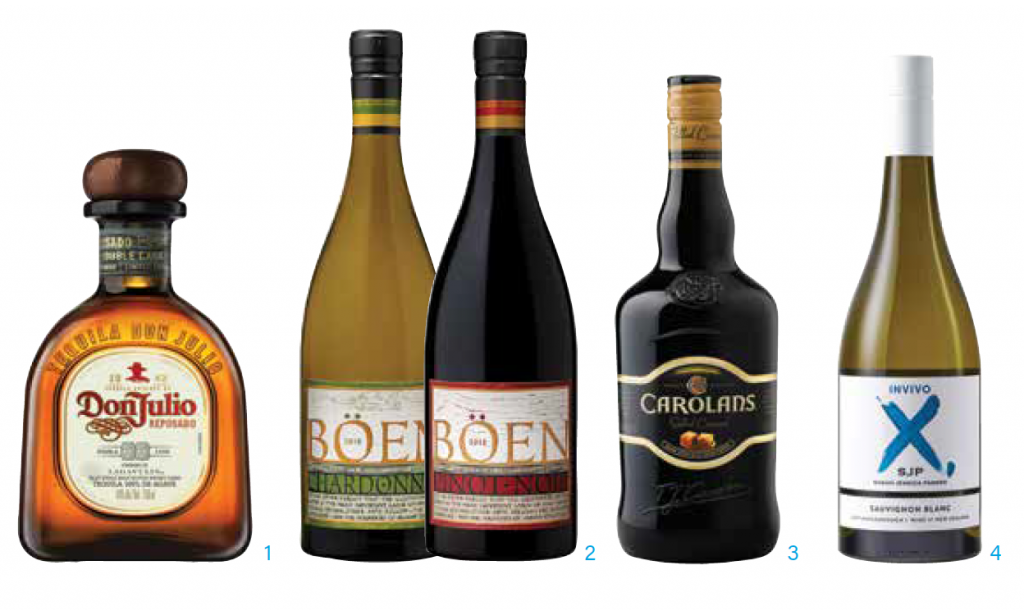 1. Tequila Don Julio Reposado Double Cask, Lagavulin Edition
Don Julio has released their second limited- edition barrel-finished tequila, a traditional Reposado finished in casks that previously held Lagavulin Islay Single Malt Scotch. Master Distiller Enrique de Colsa spent two years experimenting with the vast cask options available within the Diageo portfolio. For the
second Double Cask, he collaborated with Colin Gordon of Lagavulin to ensure the appeal to both whiskey and agave connoisseurs.
SRP: $64.99
donjulio.com
2. Boen Pinot Noir & Chardonnay
Following the success of his Meiomi brand, Joseph Wagner has returned his attention to an accessible version of his signature robust style with Böen. The new brand Böen offers five wines: Pinot Noir and a Chardonnay made from a blend of grapes from Sonoma, Monterey, and Santa Barbara counties; plus
AVA-specific Pinot Noirs from the Santa Lucia Highlands, Santa Maria Valley and Russian River Valley.
SRP: Blends $24.99 | Single AVAs $34.99
boenwines.com
3. Carolans Salted Caramel
A new twist on an old favorite, Carolans Irish Cream is going decadent with their first-ever line extension. Carolans Salted Caramel—the classic Irish whiskey-laced cream liqueur blended with the sweet-and-salty creamy caramel—works well as a complement to both hot and cold drinks. The new expression comes in two sizes; 34 proof. Case cards and recipe shelf talkers (Caramel Apple Pie and Chocolate Carameltini) are available.
SRP: $14.99/750ml | $1.99/50ml
carolans.ie
4. Invivo X, Sarah Jessica Parker Sauvignon Blanc
As announced in late July on Instagram, multi-platform celebrity Sarah Jessica Parker has launched her new Sauvignon Blanc wine in partnership with the New Zealand-based Invivo, and with Taub Family Selections as the exclusive U.S. importer. The final 2019 blend
was selected in May when the Invivo founders Tim Lightbourne and Rob Cameron, met in NYC with SJP, sharing samples of Marlborough
Sauvignon Blanc harvested earlier this year.
SRP: $19
invivoxsjp.com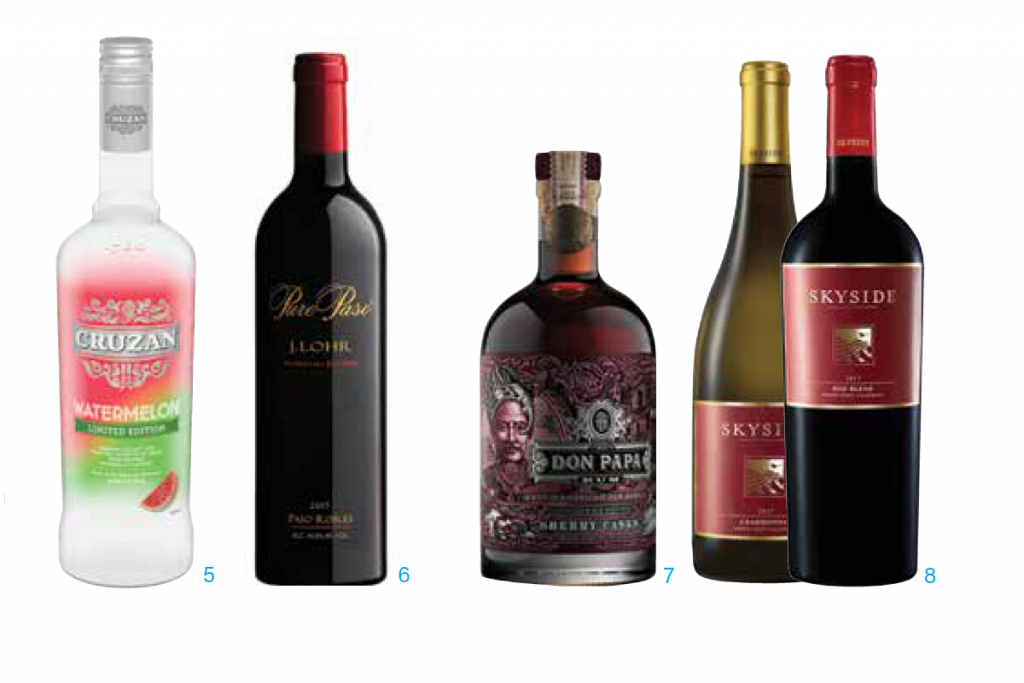 5. Cruzan Watermelon Rum
Taking aim at summertime refreshment, the limited-edition Cruzan Watermelon Rum balances the sweetness of juicy watermelon replete with a hint of it slightly tart rind for a clean finish. Crafted by Master Distiller Gary Nelthropp, its all-natural ingredients include cane molasses and tropical rainwater. For
every case sold, $1 will go to Cruzan's Island Spirit Fund, providing relief following 2017's devastating hurricanes in the U.S. Virgin Islands and across the U.S. 42 proof.
SRP: $11.99
cruzanrum.com
6. J. Lohr 'Pure Paso' Proprietary Red Wine
Showcasing Cabernet Sauvignon, in a blend with Petite Sirah, J. Lohr "Pure Paso" honors both the winery's early roots and their
ongoing commitment to the Paso Robles AVA. J. Lohr's very first wine (1974) was a Petite Sirah, which inspired its inclusion here. The P.S. sourced from the Home Ranch provides jammy, dark berry notes; Cabernet from a cooler area offers savory elements. Whole berry fermentation and early pressing
accentuate the supple structure.
SRP: $26.99
jlohr.com
7. Don Papa Rum Sherry Cask Finish
Why should whiskey have all the Sherry cask fun? The third Don Papa Rum expression to hit the U.S. market, takes cask finishing to a new level. After four years in ex-bourbon casks, the rum is split and finished in four types of Sherry casks: Fino, Pedro Ximenez, Palo Cortado and Cream. The final liquid has notes of plum, dark chocolate and ripe figs; the striking packaging adds various exotic-looking creatures to Papa Isio's image on the label.
SRP: $69.99
donpaparum.com
8. Skyside North Coast Wines
Moët Hennessy Estates & Wines has launched Skyside, essentially a fresh mission for Newton Vineyard Red Label wines. Crafted by Winemaker Anne Dempsey, Skyside strives to combine the Californian legacy of the brand with an inspirational sense of freedom while delivering quality wines at great value. With the 2017 vintage and transition from Newton Vineyard, Skyside expanded to source grapes from all five North Coast appellation
counties.
SRP: $19.99 (Chard, Red) $22.99 (Cab Sauv)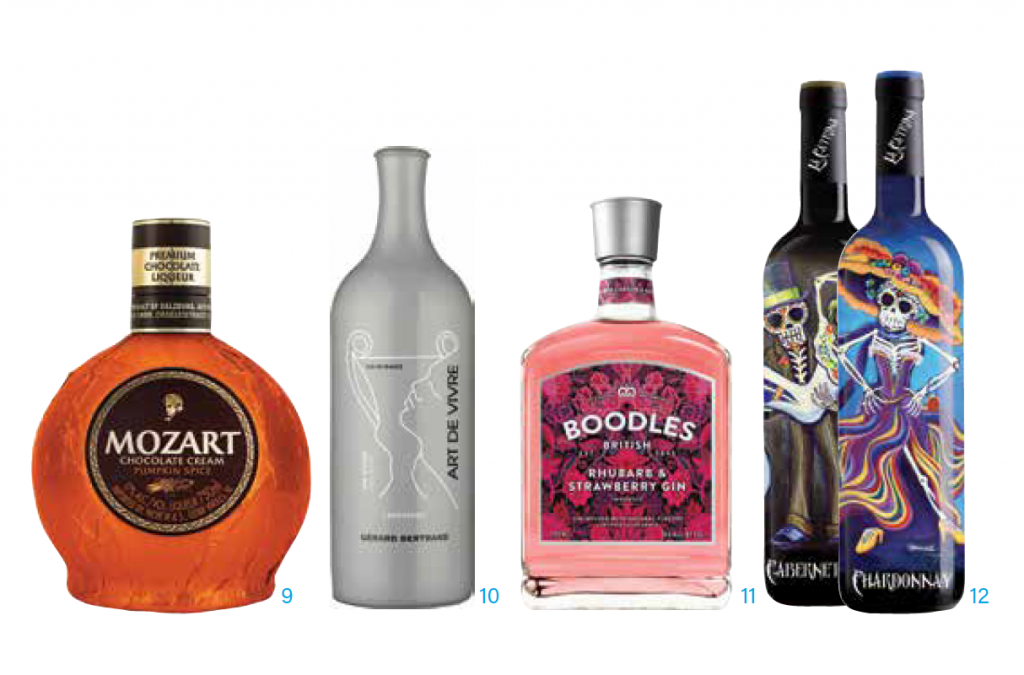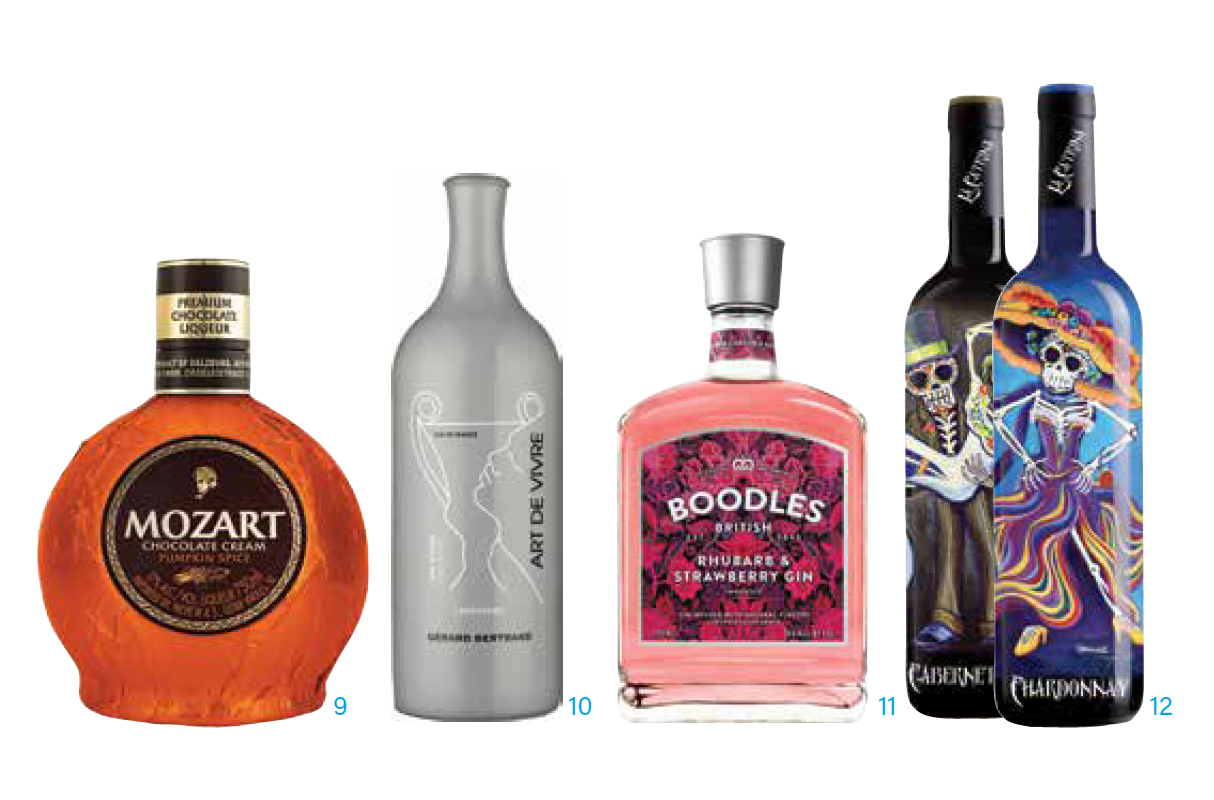 9. Mozart Chocolate Cream Pumpkin Spice Liquor
A seasonal favorite from Austria has a new package. Wrapped in pumpkin orange, Mozart Chocolate Cream Pumpkin Spice Liqueur combines chocolate, caramel and natural pumpkin juice, seasoned with cinnamon, clove, vanilla, and a dash of chili. Can be enjoyed lightly chilled, on the rocks, in coffee or cocktails, over ice cream, even in dessert. Made with fresh cream and real sugar; light, creamy texture; 34 proof.
SRP: $26.99
10. Gerard Bertrand 'Art de Vivre' Langeudoc
Continuing to draw attention to the South of France, Gérard Bertrand's "Art de Vivre" pays tribute to the Mediterranean way of life, its unspoiled nature and its artists. The unique natural ceramic bottle evokes the first amphoras—and for the end-user, it begs to be "upcycled" as a vase. The Rouge is made from
classic grape varieties Syrah, Grenache and Mourvèdre in Languedoc; eight months in oak. Art de Vivre Blanc is 100% Clairette grapes (white ceramic).
SRP: $19.99
11. Boodles Rhubarb & Strawberry Gin
A modern take on an English tradition, Boodles Rhubarb & Strawberry Gin features garden-fresh rhubarb and juicy strawberries. Pink gins are red-hot in Europe—up by 82% this year—but more than just a hue, the new Boodles unites flavors representing true British culinary staples that just so happen to be the coolest color of the year. Cocktail-friendly, especially mixed with lemonade, tonic water, or in a martini. 70 proof.
SRP: $23.99
12. La Catrino Vino
La Catrina Vino is Crafted in California but inspired by the 3,000-year-old Mexican tradition known as Day of the Dead (Día de los Muertos), a holiday that focuses on gatherings of loved ones and reminds us all to embrace life now. The eye-catching, ultra-modern, full-bottle shrink-wraps each feature part of a joyous wedding scene. Available in Cabernet Sauvignon, Chardonnay, Pinot Grigio, Red Blend, Moscato and Sangria.
SRP: $15.99