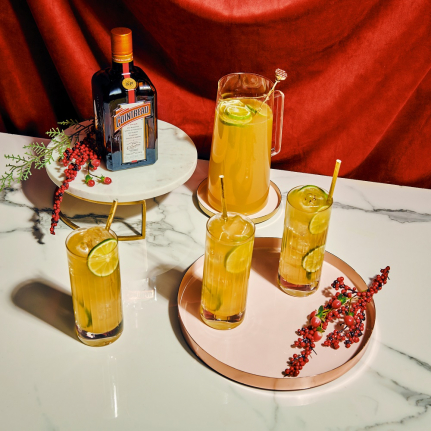 With no shortage of inspiration for any taste profile, herewith a handful seasonal cocktail recipes to put you in the spirit. Happy holidays!
The Merry Mule (batched)
Ingredients:
5 cups Cointreau
3 cups vodka
1 cup fresh lime juice
5 cup ginger juice
5 cup simple syrup
75 cup soda water to finish
Method: Step One-Stir together all ingredients except soda water in a pitcher and refrigerate. Step Two-When ready to serve, add lime wheels to garnish. Step Three-Pour into Collins glasses over ice and garnish each glass with lime wheels.
Laphroaig Islay Have Another
By Miguel Buencamino (@holycityhandcraft)
Ingredients:
1½ parts Laphroiag Select
½ part AppleJack
¾ parts Banana Liqueur
¼ part Honey Syrup
3 Dashes Black Walnut Bitters (optional)
Baked Pumpkin Spice Apple
Method: Preheat the oven to 450°F, cut the apple into slices and lay them on a baking sheet, sprinkle with sugar and pumpkin spice, and bake for 5-10 minutes. Combine all ingredients except for the baked apple into a mixing glass with ice.
Stir and strain into a chilled coupe. Garnish with the apple slice, serve and enjoy!

Puerto Orchard Fizz
Ingredients:
.75 oz. Puerto de Indias Strawberry Gin
25 oz. cloudy apple juice
2 dashes Angostura Bitters
5 oz. Prosecco
Method: Build in a large champagne flute, top with prosecco and gently stir.
Garnish with a slice of dehydrated apple.
Tito's Holiday Thyme
Ingredients:
1 1/2 oz. Tito's Handmade Vodka
1 1/2 oz. cranberry juice
2 tsp. lime juice
3 oz. sparkling water
2 thyme sprigs
Method: Shake Tito's Handmade Vodka, juices, and thyme in a shaker with ice.
Pour into a rocks glass. Top with sparkling water and garnish with a thyme sprig.
Graham Cracker Martini
Recipe by SolToro at Mohegan Sun
Ingredients:
1 oz. Casamigos Reposado
.5 oz Goldshlager
1 oz. Baileys
.5 oz. vanilla agave
Method: Add all ingredients, shake over ice.  Add to a Graham-cracker rimmed martini glass.
Holiday Kraken
Ingredients:
1 parts Kraken® Black Label
1/4 part cinnamon syrup*
1/4 part lemon juice
Top with hard dry cider
*Cinnamon syrup
1:1 sugar to water
4 cinnamon sticks
Method: Combine ingredients in a pint glass. Add ice, then top with dry cider. Garnish with a lemon wheel and cloves.
*Cinnamon Syrup Simmer sugar, water and cinnamon sticks.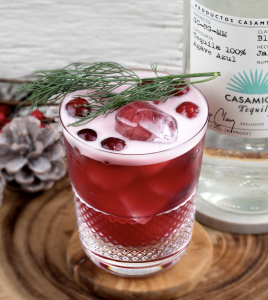 Casa Bells
Ingredients:
2 oz. Casamigos Blanco Tequila
1 oz. fresh cranberry juice
1 oz. fresh lime juice
.5 oz. simple syrup
.25 oz. Luxardo Maraschino Liqueur
Method: Combine all ingredients into tin shaker. Add ice, shake vigorously, and fine strain into rocks glass.
Add ice, garnish with three fresh cranberries through skewer, and add dill sprig over top.