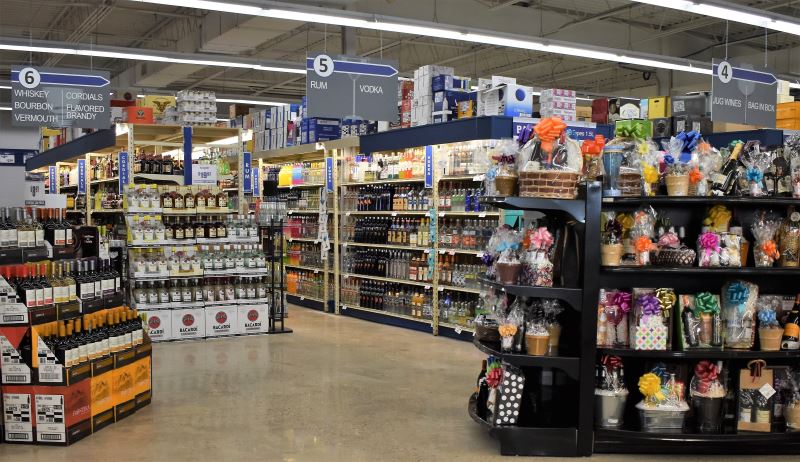 Hopkinton Liquor Depot
229 Main Street
Ashaway, RI
Square footage: 16,000
Years in operation: 14
By Sara Capozzi
With 16,000 square feet of retail space, Hopkinton Liquor Depot lives up to its name. According to Manager David Aidala, "The breadth of the store just blows a lot of people away."
The store's interior was designed to have "a warehouse feel," Aidala said, and buying in bulk is an option for customers who want to stock up. "We try to encourage customers to make case purchases," Aidala said. "That's part of how our pricing goes. We make it affordable."
The retail space holds close to 10,000 SKUs, encompassing a wide range of fine wine to craft beer, spirits and liqueurs, gift baskets to go, gourmet cheeses and accessories — even 24 feet of humidified cigar space.
Regardless of its size, Hopkinton Liquor Depot puts an emphasis on local businesses — there is a section highlighting local wines from Rhode Island, Connecticut and Massachusetts at the front of the store and many brands of local craft brews can be found in the coolers and on the shelves
"We're a big supporter of local breweries, and there's a lot of breweries down in this part of Rhode Island up through Wakefield," said Assistant Manager Kersten Melchiori, mentioning the local Grey Sail and Whalers breweries. "They are on fire right now, they're huge. They're constantly coming out with new things. Our customer base are huge supporters of those breweries in Connecticut, Rhode Island and Massachusetts."
Due to its proximity to a number of campgrounds in the area, the store caters to a large number of campers from near and far during the warmer months. Besides beer, these customers tend to favor boxed wines and plastic bottles, both of which are in-stock at Hopkinton Liquor Depot. The store will also carry more camping equipment this summer, including sunscreen, charcoal and towels, to make it a "one-stop store," said Aidala.
Hopkinton Liquor Depot offers a number of services and perks for its clientele, including delivery through Drizly to customers within a five-mile radius and a loyalty program where frequent shoppers can earn "cheers points" to use toward future purchases.
"We want to make it an easy shopping experience," Aidala said. "Kersten and I work very hard to make sure that our crew is trained and up on the latest trends, and ready to assist customers."
Aidala continued, "If there's something in particular that a customer is looking for that we don't have, if it's available in the state of Rhode Island, we'll get it for them, even if it's just to get a bottle for that customer, if it's something that's trendy … whatever it takes to make the customer happy. And that starts with me and it goes to the person we most recently hired."