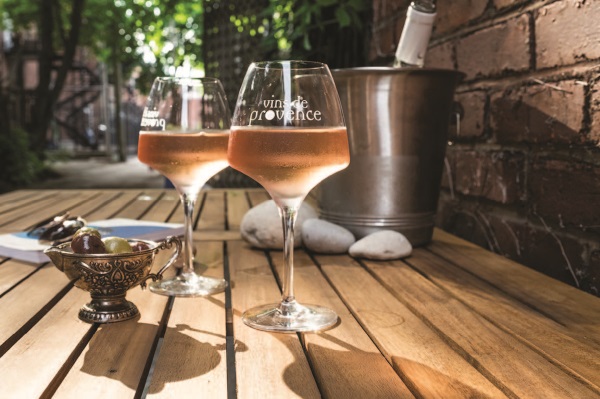 The Rosé Wave Is Still Growing Make Sure to Stay Ahead of the Curve
By W.R. Tish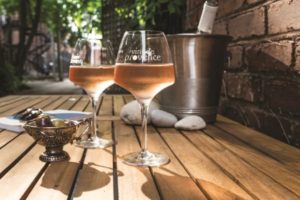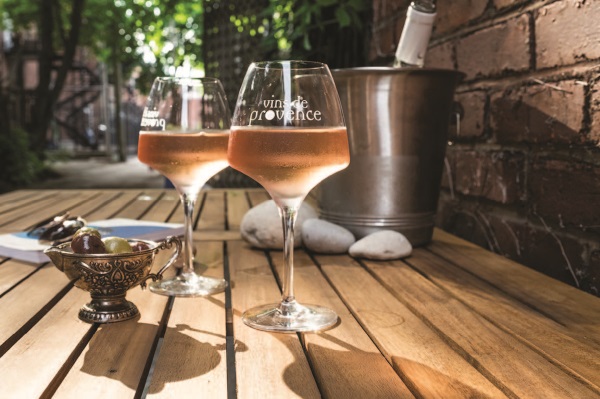 Thanks to dry rosé, pink is the new green. The wine is delightful to drink, yes—light, easy, crisp, fruity, refreshing—but it's more than that. It's the very idea of rosé. This whole year, not just the summer, is shaping up to be rosé's extended moment.
Not since Sideways put Pinot Noir on a pedestal has a particular wine jumped so dramatically into mainstream American culture. People are embracing #roséallday (and the occasional #brosé) on social media, in print media, helping fuel the bonfire of products radiating rosé in real life—from gummy bears, popsicles and flip-flops to  handbags and (mais oui) a wine named Rosé All Day.
Wine media, from bloggers to glossies, are certainly on board. Has any major food or wine magazine not had rosé on the cover? The New York Times flagging kosher rosés for Passover was no fluke.
The trade is all over it. Pink vibes began building at distributor portfolio tastings, where wardrobe choices from salmon to magenta stood out and dedicated rosé stations were jumping. Our email inbox this spring blossomed like so many tulips with pitches from the likes of Ste. Michelle Wine Estates, Kobrand, Treasury, DFV, Terlato, Winebow, Gallo—touting broad pink portfolios. When Eataly opened their "Italian seaside pop-up" Sabbia in May, what's the main attraction? A list of 50-plus rosés (plus housemade frosé). Now in its fourth year, the rosé-only competition Rosé Today saw its entries swell from 89 in 2014 to 239 this year, from nine countries and 12 states. Tellingly, the largest category of entries: domestic dry (172 entries).
Not too suprisingly, Riedel has seized the day, offering the Vinum Extreme Rosé Provence Glass, for the somewhat extreme SRP of $69/pair. Of course, rosé is usually being poured with abandon, without pretense, into whatever clear clean glass is handy. And from coast to coast, savvy retailers are making pink power the centerpiece of their case stacks, end caps, email blasts, window displays and seasonal promotions.
As a trend, rosé is still gaining speed, and it is shaping up to be even stronger than previous wine "waves" (Merlot, Shiraz, Moscato, Malbec spring to mind) for a number of salient, fundamental reasons:
It's plentiful and well-made. Provence gets props, yes, but no single grape or region can claim rosé superiority (it is not all that difficult or expensive to make tasty dry pink wine).
Rosé grabs attention—via creative names, packaging and marketing angles. Plus, that color!
Rosé holds value. With plenty of bottles priced in the teens and some over $20, the category has gained credibility and established a hierarchy for quality.
Rosé is being pumped enthusiastically but not so competitively; less "Drink This," more "Drink Pink." Rosé promotion is lifting all the pink boats, not just Provence.
Anything (Pink) Goes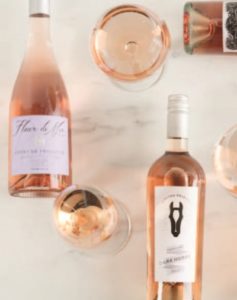 Not to be underestimated as we all enjoy the 2017 pink parade, rosé offers ample opportunity for promotion. Rosé's signature color turns heads more surely than red or white, but also keeps it humble, and averse to snobbery. Critics' ratings? Ha! Rosé is about fun. In fact, considering its diverse sourcing, modest pricing and vivid presentation, rosé is practically begging for outside-the-box promotion.
Which opens it up for selling points that push limits. PR material for Provence stalwart Château Minuty took to dubbing it the "OG" rosé or Original Gangsta. And why not? They back it up, asserting that Minuty is a "return to rosé how it was meant to be…the crisp, bone-dry rosés of Provence— sipped ice-cold along the French Riviera." For an edgier point of distinction, Moët Ice Imperial Rosé is designed to be enjoyed over ice.
There is no shortage of evocatively named pink sensations… Pink Flamingo Rosé; Summer Water; Summer in a Bottle; Day Owl Rosé ("Take one sip and throw on your favorite shades…the day belongs to rosé!"). Any doubt as to the power of pink has been quashed by "Forty Ounce," a brand launched in April by Verity and designed to look like a popular malt liquor brand; it sold out faster than you could say "That can't be 40 ounces." (Indeed, it's a liter, but it's so cool and pink, who's counting?)
No reason creativity should be reserved for the supply tier. Consider the subject line of an April email newsletter from New Jersey's Englewood Merchants: "Pink Crack Is Back: The Rosé You Won't Put Down!" (The wine of that moment was a single-vineyard Mourvedre rosé from Liquid Farm in Santa Barbara, retailing for $28.99.)
Truth be told, there are so many brand-spanking-new rosé wines hitting the market that just stocking a variety ensures a visually grabby section. Brand new entrants range from spinoffs to startups. Jadot has a 100% Gamay rosé. Kim Crawford has gone pink (via Merlot). Henriot is importing Château des Bertrands to the U.S.; new Provence rosés arrive this year from Opici (Âme du Vin) and Gallo (Fleur de Mer).
Surprise: Meomi makes a pink, for SRP $24.99 no less, though the 2016 label does not identify its grape(s). Add to that La Crema, Bota Box, 14 Hands and Michael Mondavi Family's Isabel. When Treasury refreshed the packaging for Sterling, it was the rosé that Rodney Strong led the press release; and when they launched Beringer Main & Vine in April, it was the rosé—make that Dry Rosé (non-vintage)—that modeled the new name, label and sweepstakes
necker.
On top of new launches, there are brands who made rosé on a limited or seasonal basis in the past but now are rolling it out nationally. Long Meadow Ranch's Anderson Valley Rosé of Pinot Noir, for example, went from 800 cases of the 2015 to 2,000 of the 2016. Gallo's Dark Horse jumped from seasonal to year-round. Guarachi Wine Partners extended their tenshen and Black Ink lines into rosé.