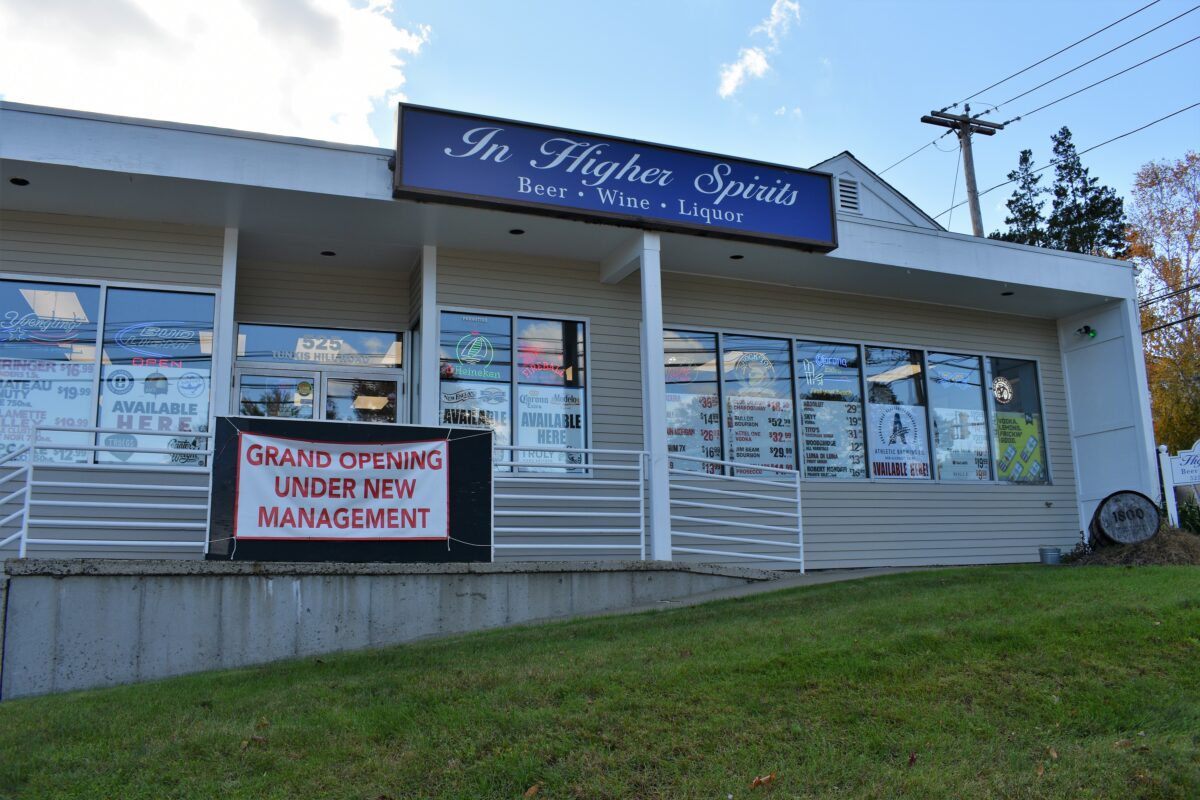 In Higher Spirits
525 Tunxis Hill Road
Fairfield, CT
Square footage: 5,286
Years in operation: 9 months
By Sara Capozzi
A twist of fate led Joel Lall to his latest endeavor as owner of In Higher Spirits, a 5,286-square-foot retail space in Fairfield. A sommelier, Lall had spent the majority of his career in restaurant management and worked for 17 years at a local distributor serving on-premise accounts. But when his position was eliminated during the pandemic, Lall realized what he wanted to do next: turn his passion for and knowledge of wine and spirits into a place to educate the community by owning his own shop.
"I've enjoyed every part of it," Lall said of his journey. "I just wanted to do something for myself, so after I was let go from the distributor, I decided to take the plunge." In April of 2021, Lall's dream came to fruition: a retail space in a great location in his hometown. "This pretty much fell into our lap," he said. "It was a great opportunity … when it came around, it was hard to pass up."
Lall said he also enjoys serving customers in the Fairfield area. "It's a great community," he said. "It's very diverse and family-oriented. We have people in every facet of life that shop here, so it's a great opportunity for us to introduce new products and new wines to them [all]."
In Higher Spirits differentiates itself with superior attention to customer service and by offering products that may not be found elsewhere, Lall said; wines from boutique wineries and fine imported spirits that are a little outside the mainstream, bringing new products to its shelves for customers to try. "It's all about having the new products and having the people who are willing to try them, and this community is very willing to try," Lall said. "We lucked out in that sense."
The store's extensive selection of fine wines includes offerings at every price point. In spirits, shoppers will find a wide range of well-known labels, along with imported selections that have been vetted by Lall, alongside a strong bourbon section, featuring in-demand and allocated selections. For managing inventory, he said the key is to offer a mix of well-known labels with the lesser-known.
"We do take into consideration that we do have to have familiar brands," Lall said. "We have to have comfort brands … they like buying those brands. This way [customers]are more apt to come in and look for their brands and get recommended on something different and try it. So, we try to keep a good balance of those."
While Lall's focus is on wine and spirits, In Higher Spirits' Beer Specialist, Kyle Zeidler, stays on top of the latest trends in the category, taking on most of the ordering and recommendations, with a focus on local craft selections whose variety in breweries and styles is ever-evolving.
"Craft beer is all over the place now. You've got sours, you've got regular lagers that taste like traditional Budweiser. It's come a long way from just hoppy beers," said Zeidler. "We try and get an idea of what people like and when they come in – you can see we have no signage really – we like the idea of going up to people and showing them where things are to start a conversation."
Lall has also taken his love of wine and began to create his own educational offerings for the public. The shop has a dedicated space where he hosts "Wine 101" classes several times per month. The classes also allow Lall to give back to the community: $10 from each $25 ticket is donated to a local charity, including Operation Hope.
The staff's attention to detail is one of many things that sets them apart, Lall explained. "We try to treat everybody as we would like to be treated … service does not cost anything. Good service should be given to a person regardless of what they buy. And it's not something that a lot of people do."